Chart of the day: Singaporeans are not to keen on cryptos and NFTs
This is despite 64% saying they find digital learning as a "good change".
This chart from Blackbox shows the enthusiasm of Singaporeans for some of the newest web technologies like social gaming, NFTs, cryptocurrencies, and the metaverse.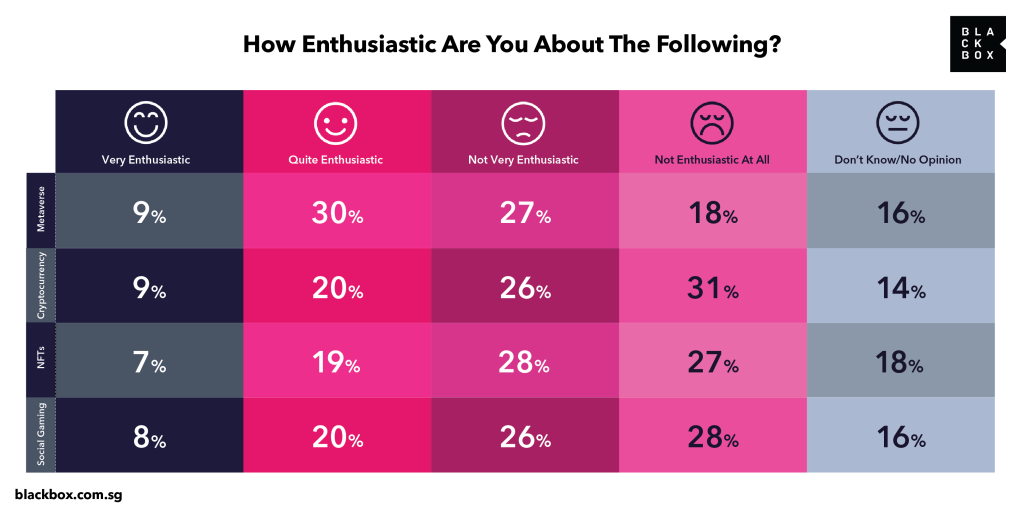 The chart shows that 57% of Singaporeans aren't to keen on cryptocurrencies whilst 55% are unenthusiastic about NFTs.
Meanwhile Metaverse—despite an overall low of 39% of respondents being enthusiastic about it—finds greater approval amongst younger Singaporeans with 1 in 2 (50%) considering it something worth exploring.
ALSO READ: 66% of young Singaporeans prefer renting to buying a property
Only 28% overall have expressed keenness for social gaming, but there's more enthusiasm (43%), on expected lines, amongst the younger cohort aged 20-34 years.
Other digital concepts like telemedicine services, or the concept of a Digital GP, also find approval amongst Singaporeans with 1 in 2 (50%) expressing enthusiasm for online medical consultations.