Singapore's investment banking fees rise 3.3% in first half of 2022
However, DCM underwriting fees were slightly lower than in 2021.
Singapore investment banking activities generated US$451.3 million in fees so far this year, a 3.3% increase compared to the first half of 2021.
Investment banking activities in Singapore continue to tick up in 2022, generating US$451.3m in the first half of the year, according to data from Refinitiv. 
This is 3.3% higher compared to the first six months of 2021.
Both advisory fees for completed mergers & acquisitions (M&A), as well as underwriting fees from equity capital markets (ECM), drove the gains. M&A advisory fees totalled US$171.7m in the first six months of 2022, a 10.9% increase from the same period last year.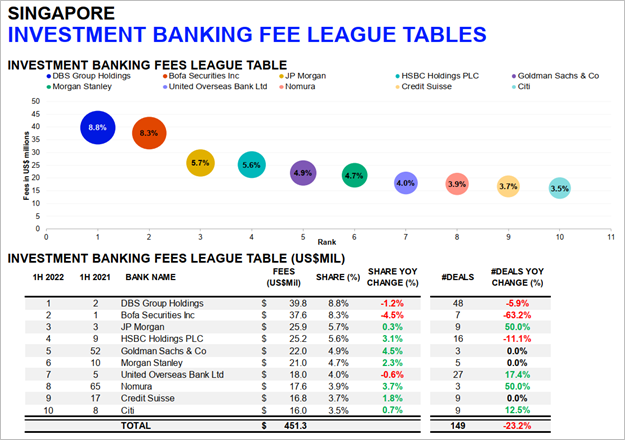 READ MORE: Singapore's $35b green bond sale lifts sustainable financing capabilities
ECM underwriting fees reached US$77.8m, up 9.7% compared over the same period of comparison. These were slightly offset by a 1.7% decrease in debt capital markets (DCM) underwriting fees. Underwriting fees amounted to US$85m so far in 2022.
Syndicated lending fees also fell 6.3% in the first half of 2022 to US$116.9m.
Amongst banks, DBS currently takes the lead in Singapore's investment banking fee rankings so far this year with a total of US$39.8m or an 8.8% wallet share of the total fee pool. DBS has 48 related deals so far.
READ MORE: DBS grants A$295m green loan to GIC
The 10 banks with the highest investment banking fees logged a total of 149 investment banking deals in the first half of 2022, or 23.2% lower than the same period in 2021.