Siddhartha Thimmavajjalla, Head of Artificial Intelligence and Machine Learning in Standard Chartered (standing, centre, in white) and the FRIDAY team.
Standard Chartered stands out in marrying trust with Artificial Intelligence (AI)
The Bank built an AI engine to hold other AI systems accountable.
Standard Chartered has won a Singapore Business Review (SBR) Technology Excellence Award for its outstanding AI on AI capability. The Bank's inhouse Framework Responsible for Intelligent Data and Algorithm Yield (FRIDAY) is a first-of-its-kind AI engine that focuses on meeting the Responsible Artificial Intelligence (RAI) needs within the organisation. The driving force and mantra behind FRIDAY is that "Great (AI) Models need to be Responsible." In short, FRIDAY was created to build trust in the AI systems that run through its network.
Standard Chartered is serious about ethical AI - it even has its own RAI council with an RAI Standard that was first published in July 2021 and updated for a bank-wide launch in January 2022. All implementation and operationalising of AI is closely governed by the Bank to ensure that they comply to this RAI Standard.
As for FRIDAY, it is an RAI engine that is used to perform various tasks related to unstructured and semi-structured data such as images, text and graphs. These tasks are aligned with the Monetary Authority of Singapore (MAS)'s Fairness, Ethics, Accountability and Transparency (FEAT) principles in the use of AI and data analytics in finance. This enables the Bank to review and validate unstructured data robustly whilst meeting these regulations with minimal manual checks.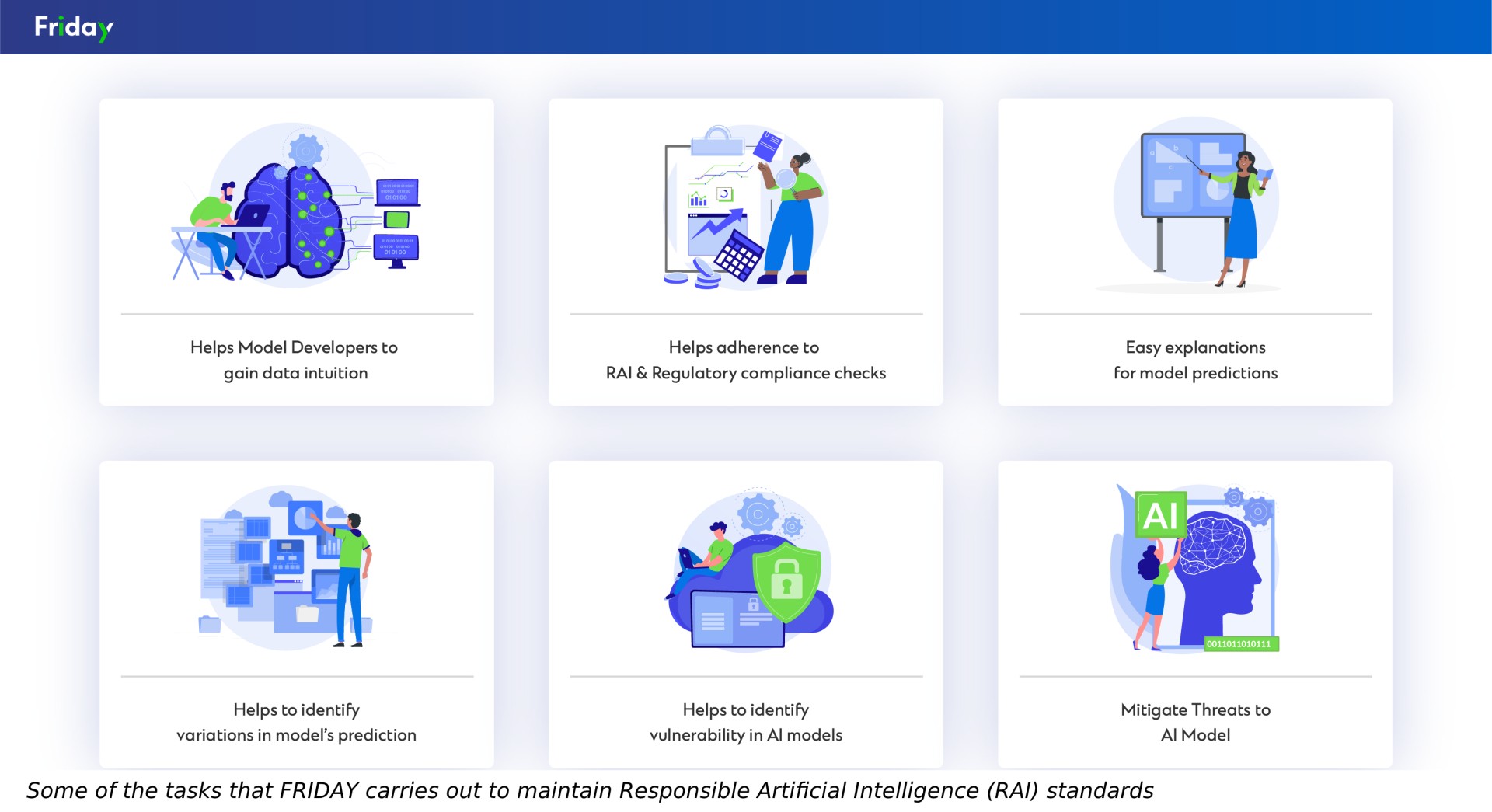 FRIDAY has 5 main engines that are aligned to the Bank's RAI Standards and MAS' FEAT principles:
1.) Explainable AI. FRIDAY helps create explainable AI to understand outcomes even in deep learning models. 'Explainable AI' is used to describe an AI model, its expected impact and potential biases. It helps characterise model accuracy, fairness, transparency and outcomes in AI-powered decision making and is crucial for an organisation to build trust and confidence when putting AI models into production. In simple terms, Explainable AI refers to AI that is transparent in its operations so that humans can understand and trust the decisions generated by AI.
2.) Data Suitability. Sometimes how AI computes information and attaches meaning to them is a mystery. Exploratory Data Analysis (EDA) refers to the critical process of performing initial investigations on data to discover patterns, spot anomalies, test hypothesis and check assumptions with the help of summary statistics and graphical representations. FRIDAY performs EDA on datasets to provide the user with information that he or she can use to select and manage AI models, information such as whether certain datasets are suitable to leverage on to build AI models or if they are private data that should not be accessed.
3.) Robustness. FRIDAY carries out regular, automated resilience checks on images, text and graphical data to determine the AI model's robustness against cyber attacks. It does this by generating synthetic samples through various sophisticated data augmentation techniques.
4.) Model Monitoring and Stability. FRIDAY has successfully automated the monitoring of launched AI models against baseline metrics like accuracy and comparison evaluations, i.e. the F1 score. It also performs hypothesis testing on anomalies to determine data drifts - unexpected changes to data structure that breaks the process and corrupts data.
5.) Model Review and Validation. FRIDAY performs automated tests on AI models to assess their sample data, speed, and scenario-based responses.
The Bank saw a 60% reduction in AI model review and validation and a 30% reduction in model development turnaround time with the use of this innovative AI engine.