ISS Facility Services Private Limited recognised with 2 accolades at SBR Management Excellence Awards
It was lauded for leveraging technology to better support hospitals in Singapore, and efforts in motivating employees to deliver high-quality facility services.
ISS Singapore bagged two awards as Innovator of the Year and Employee Engagement of the Year at the Management Excellence Awards in the Environmental Services Industry. With over 9,000 employees, ISS Singapore is a leader in the environmental services industry thanks to their technology-driven productivity solutions and strong focus on employee engagement.
Presented by the Singapore Business Review, the Management Excellence Awards aims to honor noteworthy individuals or teams who made a huge contribution to a business' success, as well as employee engagements and COVID management initiatives that made a positive impact to its workforce or customers.
ISS's ambition is to become the world's best, tech-enabled facility services company. Through investments in digital capabilities and IT architecture, and accelerating roll-out of customer-facing tools, ISS can improve collection and use of data. These solutions and insights drive better-quality outcomes for ISS customers, who operate in Healthcare, Finance and Banking, Technology, Manufacturing and Life Science industries.
With the pandemic still filling hospitals, ISS is committed to helping hospitals deliver their services while adhering strongly to hygiene and safety standards. Their facilities monitoring technology is extended in areas like toilets where traffic, bin and ammonia sensors are used. Collectively, these alert the cleaning teams to respond to the increased toilet usage, allowing them to focus on other higher-value tasks, such as disinfecting high-traffic spaces. The use of technology has immensely helped minimize the spread of pathogens, which is crucial especially now with the pandemic.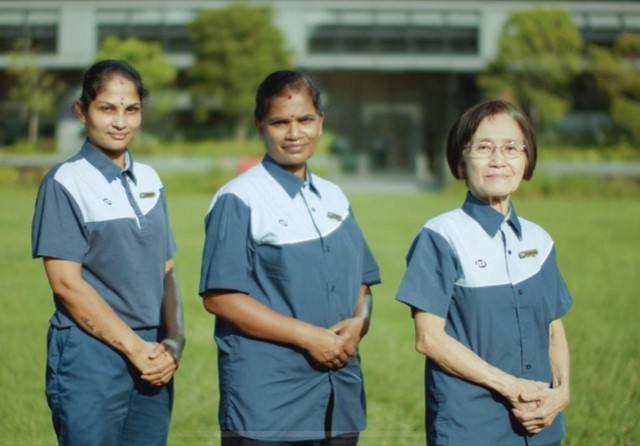 In their effort to help hospitals build resilience, ISS introduced the e-Porter Module, a productivity solution to optimize manpower in the transfer of patients. The e-Porter Module has built-in algorithms that automatically assign a nearby porter to transfer the right patient to the right location efficiently. Adding to the efficiency of the system, jobs are assigned in a matter of seconds by flagging tasks as high-priority, such as emergency situations. This allows porters to respond faster to more urgent jobs, which is especially impactful today with COVID-19 adding to hospital caseloads.
ISS knows that their employees are the heart of the company. ISS lives a culture where everyone feels valued, engaged and respected, and where everyone is treated fairly and equally. At a global level, ISS implements groupwide employee engagement initiatives, such as learning & development programmes for managers and placemakers, and onboarding for new joiners. ISS continues to reward employees through the Apple Award, a global internal recognition program that started in 2014. Here, employees receive monetary awards and achievement pins. The top 3 global Apple Award winners will be invited to the global management conference for a celebration with their top leaders from all over the world.
ISS Singapore even provides Long Service Award for employees who accomplish 10, 20 and 25 years with monetary awards and certificates. During the pandemic, to support and boost the morale of their people, ISS launched the HERO programme. ISS' 9,000-strong workforce received training, and personal protection equipment to help them keep safe and connected. They were also given care packs and appreciation through campaigns in partnership with ISS customers. All frontline employees received up to $1,000 as a Hero incentive for serving with the company and supporting their customers amidst the pandemic.
To support their employees' mental health, ISS launched the "Are you OK" campaign where the staff are given the space to talk about how they are coping. Virtual yoga sessions and cleanup drives in nature reserves were also organised for staff to help maintain wellbeing.
ISS understands that personal safety concerns definitely impact employees' mental health, so they've made persistent efforts to promote a safety-first culture by providing frequent reminders. Not only does this effort keep workers safe, it also maintains efficiency by improving the Lost Time Injury Frequency (LTIF) from 3.1 in 2020 to 2.9 in 2021.
About ISS Singapore
ISS Singapore is part of ISS A/S, a leading facility management services company with more than 370,000 employees in over 30 countries. They provide high-quality placemaking solutions to customers in a wide range of industries, all to achieve their purpose: Connecting people and places to make the world work better.