AETOS Goes Beyond Security with 5G Integrated Command Centre
The solution aggregates data from multiple subsystems into a single agnostic platform.
Leading unified security and safety solutions provider, AETOS, has made concrete steps to champion industry transformation by actively leveraging innovative technologies as a force multiplier to unlock value for its stakeholders.
A member of the Surbana Jurong Group, the organisation has also spearheaded digital transformation in the sector by going beyond security. Its recent efforts have significantly improved the company's operational efficiency and client experience.
Amongst these is the launch of its 5G Integrated Command Centre (ICC). The 5G ICC is the first of its kind in Singapore that delivers enhanced security, safety, facilities management, and sustainability outcomes for clients by aggregating data from multiple subsystems into a single agnostic platform.
Implementing Singapore's largest 3D digital twin, the ICC visualises unified operations island-wide and overseas on a single dashboard. It enables the collection of data from unlimited subsystems across buildings and cities, such as IoT systems, sensors, security cameras, as well as mechanical and electrical systems.
These data are then fed into an AI cloud- and alert-based automated workflow process, which not only helps businesses to achieve outcome-driven operations, but also accelerate their decarbonisation journey towards net-zero and meet the nation's larger sustainability goals.
With AETOS's 5G ICC, virtual patrols can now be carried out through the digital twin platform, and the AI-driven workflow means that operators no longer have to spend time and effort deciphering individual datasets. The ICC itself can now operate with a 50% reduction in manpower as compared to the past, and the deployed operators have more time for incident management and enhanced decision-making.
By increasing efficiency and improving real-time situational awareness, the ICC has helped AETOS's clients to achieve manpower savings and catalyse a 20% increase in overall productivity. The company also envisages a carbon footprint reduction of 50% by 2030 through remote monitoring and analytics.
The ICC, through its expanded scope of capabilities, has opened up new streams of business for AETOS to provide integrated security, medical, and travel risk management services to businesses in Asia Pacific and globally. It has also enabled AETOS to go beyond security by providing an end-to-end non-intrusive monitoring and response solution for seniors to age-in-place at home.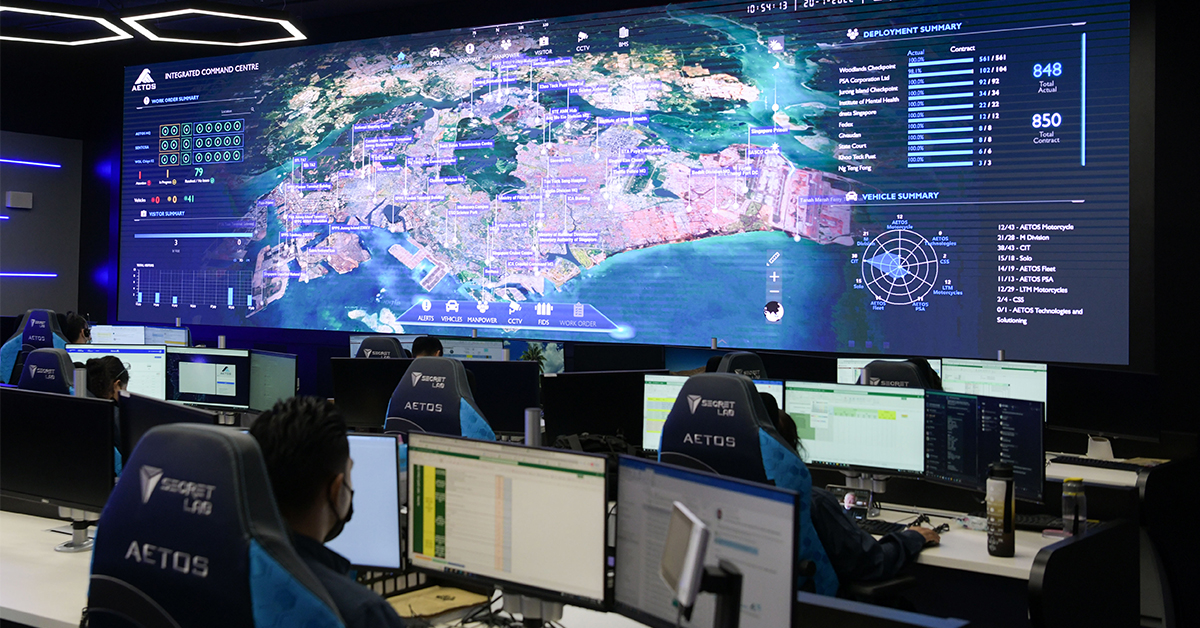 "Being an agile first-mover in championing change, it is important that we empower our workforce and uplift them together with the industry by equipping them with integrated skillsets that supercharge their personal and professional development. In our digital transformation efforts, AETOS sees technology as an enabler of value creation not just for our clients, but our employees as well," said Mr Alfred Fox, CEO of AETOS Holdings.
AETOS's digital transformation efforts have not only enhanced its operations but also the business outcomes for its clients. By leveraging advanced technologies, the company has become a leader in the industry, setting a benchmark for others to follow.
This outstanding feat has been recognised by the SBR Technology Excellence Awards and the SBR National Business Awards, as the company takes home the wins in the Smart City - Safety & Security and Security Services categories, respectively.
The SBR Technology Excellence Awards recognises exceptional companies in Singapore that have pioneered groundbreaking IT products and solutions and impactful technology initiatives, whilst the SBR National Business Awards honours local and homegrown companies in Singapore and recognises their outstanding projects that have greatly contributed to the city-state's fast-growing economy.
The SBR National Business Awards and SBR Technology Excellence Awards are presented by Singapore Business Review Magazine. To view the full list of winners, click here. If you want to join the 2024 awards programme and be acclaimed for your company's exceptional contributions to the local business landscape in Singapore and in pursuit of technological innovation, please contact Jane Patiag at jane@charltonmediamail.com.