HIVE by Income drives innovation in insurance with pay-as-you-earn microinsurance
Income Insurance's Insurance-as-a-Service platform, HIVE wins the Financial Technology Award at this year's SBR Technology Excellence Awards.
HIVE By Income (HIVE), a platform solution that enables innovative insurance offerings, was awarded the Fintech - Financial Technology Award at the 2023 SBR Technology Excellence Awards, which recognises exceptional companies in Singapore that are paving the way for a digital future.
HIVE is the Insurance-as-a-Service (IaaS) platform by Income Insurance, one of the leading composite insurers in Singapore. It enables insurers and digital platforms in the region to launch innovative embedded insurance propositions with speed and agility. With pre-built InsurTech integrations and seamless customer journeys, HIVE brings innovative product offerings to new segments of digital-first customer segments across the region, empowering greater financial well-being for all.
HIVE recently partnered Vietnamese housekeeping agency JupViec and Vietnamese Insurer, Post and Telecommunication Joint Stock Corporation (PTI) to launch JupViec Care, an innovative microinsurance solution designed to meet the specific needs of domestic helpers, who are often uninsured as they struggle with the challenges of low variable income.
Seamlessly integrated within the JupViec mobile app, JupViec Care enables domestic helpers to stack personal accident insurance coverage using a pay-as-you-earn model. With contributions starting at just S$0.11 per premium, which is deducted automatically from the domestic helpers' e-wallet in the JupViec mobile app after they complete each work shift, they can now access up to S$6K in personal accident coverage, even after they have stopped working. HIVE is revolutionising affordable insurance for underserved segments by providing tailored products that align with their daily lifestyle.
"With HIVE's Insurtech capabilities and technology stack, we are able to provide flexible and customised solutions that are compatible with any insurance core system and adaptable to multiple platform partners. With JupViec Care, we have built an end-to-end insurance product that has a simple underwriting process and an easy-to-use interface that gives control back to the user." – Peter Tay, Chief Digital Officer, Income Insurance.
"Domestic helpers are at risk of injuring themselves while on the job given the nature of their work. In the event of injuries, treatments would mean a financial loss which could take away their humble income. JupViec Care cleverly fits as a perfect solution, by allowing the helpers to purchase insurance with an amazingly small, affordable amount and making coverage stackable, giving them extra confidence and protection as they carry out their shifts." – Phan Minh, Founder & CEO of JupViec.vn"
HIVE is revolutionising access to insurance for underserved communities through product relevance and financial education. A series of workshops and outreach campaigns were conducted to help domestic helpers familiarise with the product and improve financial literacy. JupViec Cares' seamless end-to-end customer journey and efforts to educate the community has led to 40% of active users becoming first-time policy owners within three months from launch. The convenience and flexibility of JupViec Care has resulted in more than 50% take up in microinsurance in less than 6 months, insuring domestic helpers aged 33 to 47, including those who are less tech savvy.
Together with like-minded partners, HIVE aspires to transform the insurance industry and create a fairer and more sustainable economy, embedding insurance into their lifestyle activities, one job at a time.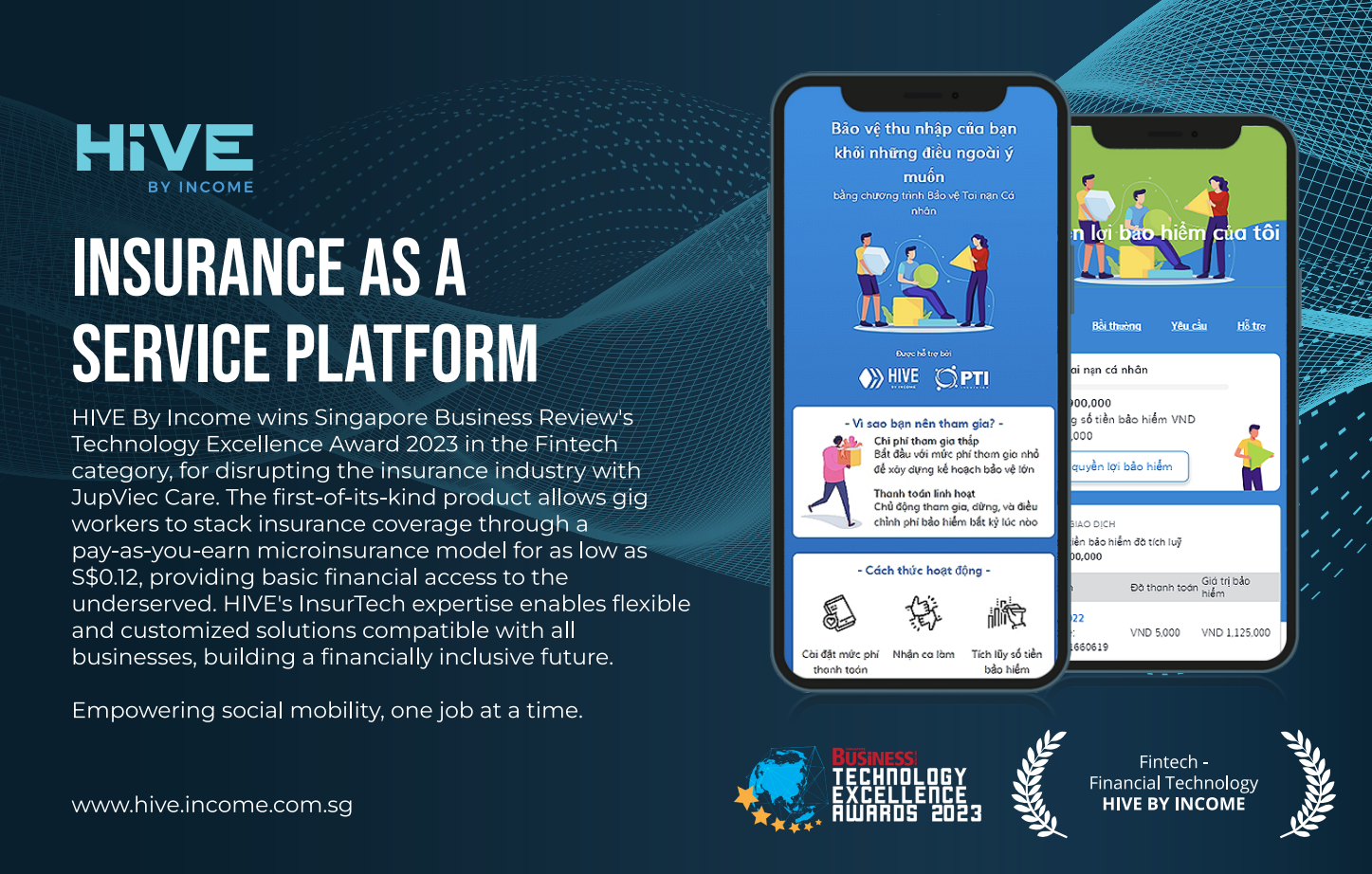 The SBR Technology Excellence Awards is presented by Singapore Business Review Magazine. To view the full list of winners, click here. If you want to join the 2024 awards programme and be acclaimed for your company's outstanding contributions in pursuit of technological innovation, please contact Jane Patiag at [email protected].