Moove Media receives top advertising award for 'The Great Wall'
The digital 40-meter wall at Dhoby Ghaut MRT interchange instantly became a recognisable landmark.
"Moove The Great Wall" (Great Wall) by Moove Media Pte Ltd. is a game changer in Singapore's advertising industry —now labelled as Singapore's longest Digital Out of Home (DOOH) digital wall.
With its precise engineering, advanced technology, and creative execution, it "mooves" campaigns from LED screens onto a gigantic digital 40-metre wall while abiding by local safety regulations.
Located at the Dhoby Ghaut MRT interchange, the Great Wall has become one of the most recognisable landmarks in the high-traffic location. It is now a known medium which provides high-impact storytelling for brands and infotainment for millions of commuters.
As the longest DOOH digital wall in Singapore and Southeast Asia, Moove Media conceptualised and launched the Great Wall in August 2021 to transform the out-of-home advertising landscape with an innovative, effective, and engaging platform.   
The Great Wall is an engineering feat, being an industry-first to use state-of-the-art technology to activate a supersized 28K pixel canvas across a head-turning 40-metre wall. It also requires specialised software, a high level of technical expertise and precision to achieve a cohesive, high-quality, and immersive display.
More importantly, it abides by local regulations as Singapore authorities limit LED screen size in high-traffic underground locations due to fire safety concerns. 
Today, the Great Wall has become one of the most recognisable landmarks at the Dhoby Ghaut MRT interchange which connects three MRT lines.
With its large-scale and captivating visual appeal, the Great Wall has enlivened the daily experience for millions of commuters. As the 'last window of influence', it reaches a captive audience for an average of 65 seconds.  
To date, The Great Wall has screened over 120 campaigns from a diverse portfolio of brands, including McDonald's, Deliveroo, FoodPanda, Coca-Cola, Lazada, Grab, Gojek, Shopee, Taiwan Tourism, UOB, Disney, Royal Caribbean, DBS, Citibank, and Health Promotion Board.  
The Great Wall is lauded for its versatility with impactful storytelling for different campaigns.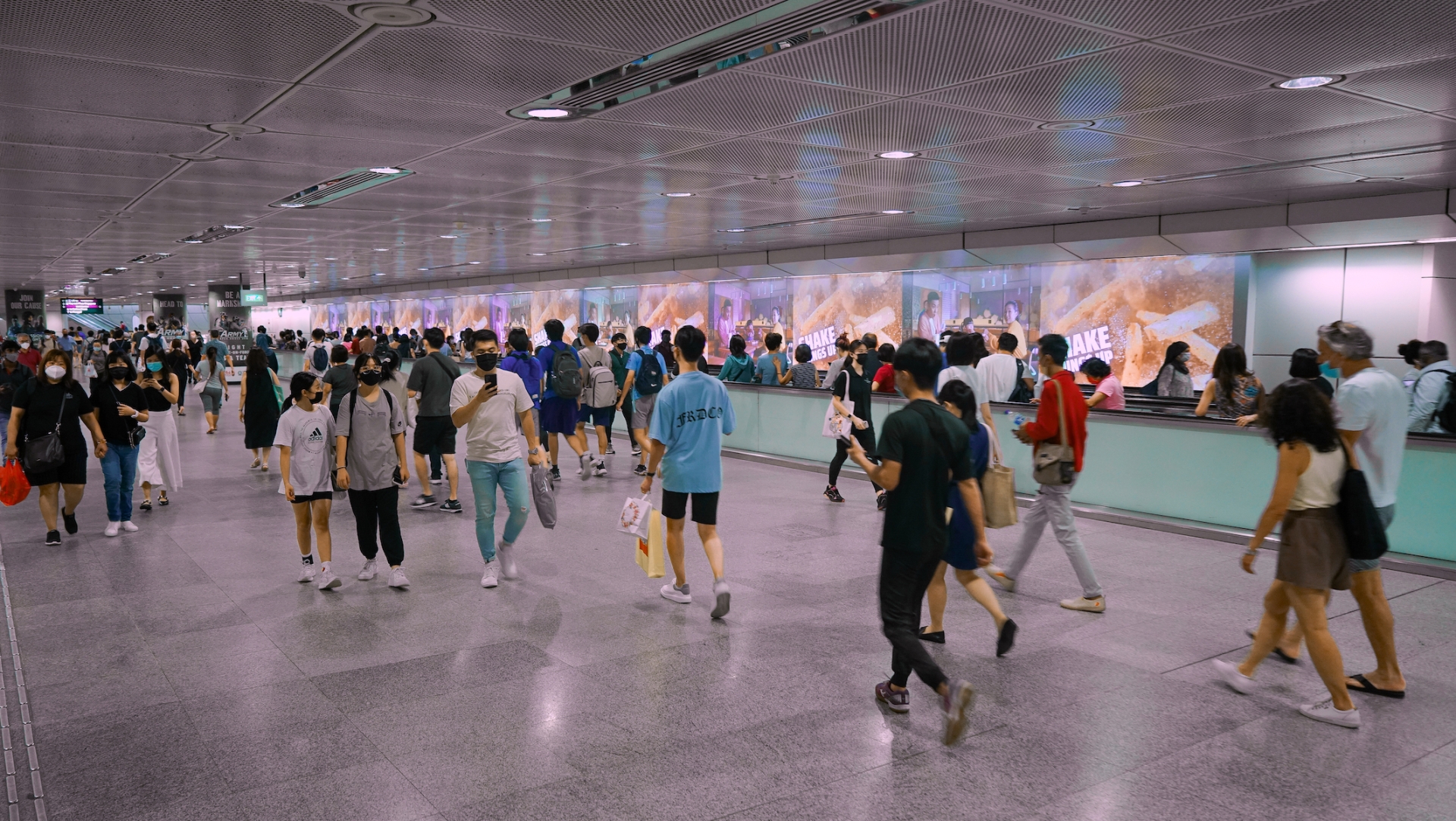 Notable campaigns include   Amazon Prime which ran trailers of its series, Lord of the Rings: The Rings of Power, complemented by floor and wall wraps. Amazon's ad recall was higher for NEL/DTL commuters at 46% versus 38% amongst non-commuters and was instrumental in driving higher calls to action.
Samsung took over the Great Wall from September to November 2021 to launch its latest Galaxy phones. This campaign marked the Great Wall's first full media buy-out of 150 seconds.
Meanwhile, gaming giant Nintendo chose the Great Wall as its first DOOH media buy in Singapore to showcase different sports games in its latest Nintendo Switch Sports gaming console in 2022.
For these innovative products, Moove Media was given the Advertising award in the recently concluded SBR National Business Awards.
The prestigious annual awards programme launched in 2016 honours local and homegrown companies in Singapore and recognises outstanding projects that greatly contribute to Singapore's fast-growing economy.
Since its launch, the Great Wall was fully booked until early 2022. It also generated millions for Moove Media and paved the way for subsequent variations of the digital wall in other high-traffic locations island-wide.
The SBR National Business Awards is presented by Singapore Business Review Magazine. To view the full list of winners, click here. If you want to join the 2024 awards programme and be acclaimed for your company's exceptional contributions to the local business landscape in Singapore, please contact Bianca Peñaranda at bianca@charltonmediamail.com.