Redefining insurance technology for intermediaries
ZA Tech Global wins in this year's SBR Technology Excellence Awards.
Redefining the insurance technology space takes expertise and proven wins in the market – with a relentless focus on delivering meaningful, convenient, and affordable insurance propositions for customers. To enable intermediaries and digital platform players to achieve this, ZA Tech Global Ltd. (ZA Tech) developed Fusion, a SaaS-based digital insurance platform for intermediaries (i.e. distributors of insurance products).
Fusion is a next-generation insurance platform to accelerate and scale intermediaries' insurance business, allowing them to control the customer touchpoints and data, and decoupling from legacy IT constraints of insurers. ZA Tech's Fusion offers key differentiators:
Open APIs: Open API platform for easy integration with any sales channel and partner

Multi-line coverage: Life, Health and P&C insurance can be handled on one platform

SaaS product: Built for the cloud, Fusion is highly scalable, can be quickly deployed and stays evergreen thanks to ongoing free upgrades

No-/Low-Code: Fully configurable and templatised products (from back- to frontend) for faster and lower-cost go-to-market
For this ground-breaking development, ZA Tech, which is headquartered in Singapore and operates across Asia and Europe, received the API - Insurance Broker Award at the 2023 SBR Technology Excellence Awards.
The awards programme recognises the achievements and strides that companies in Singapore have undertaken in pursuit of providing world-class products and services aided by digital innovations. ZA Tech differentiates itself from competitors with Fusion's ability to improve the online customer experience, opening new revenue channels for intermediaries and allowing insurers to access millions of new customers.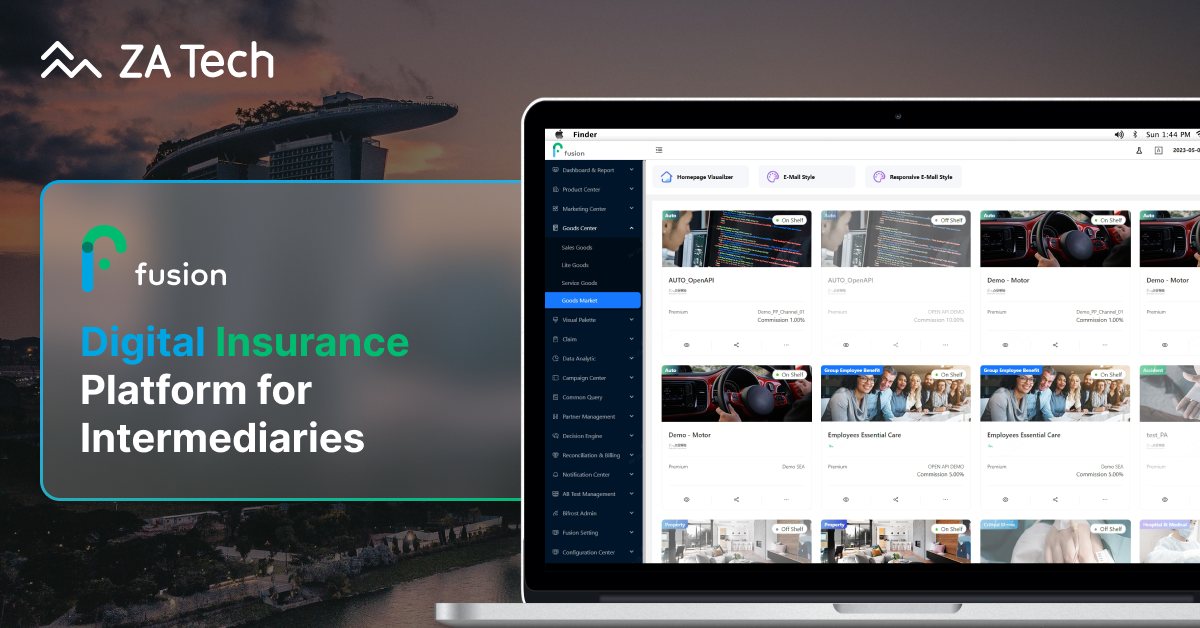 Fusion can be applied to many insurances use cases in a variety of industries, ranging from eCommerce and retail, shipping and logistics, travel and events, automotive, banking and fintech, and real estate.
One example where Fusion is deployed at scale is Southeast Asia's super app, Grab. Grab powers the insurance vertical of Grab, processing hundreds of millions of insurance policies, underwritten by 20+ insurers across half a dozen countries. Examples include trip delay and personal accident protection during Grab rides (to provide peace of mind to passengers) and pay-per-trip critical illness products for drivers (as a new innovative way to provide insurance coverage in the gig economy). Other examples of Fusion customers in the region include, for example, the online travel unicorn Klook and the leading used car marketplace Carro.
With a flexible no-/low-code product engine (for life, health and P&C insurance), an integrated configurable frontend and Open APIs, Fusion accelerates the time-to-market whilst lowering launch costs. Fusion supports innovative and complex policy structures, enabling new business models, including transaction- and event-based policies, seamlessly embedded in other products and services.
Through its microservices architecture and cloud-native design, Fusion delivers high flexibility and performance, being able to scale to thousands of policies per minute to meet any surge in traffic. Fusion complies with PDPA (Singapore's Personal Data Protection Act 2012) and GDPR (Europe's General Data Protection Regulation) and follows the latest cyber and data security standards.
Apart from providing a leading insurance technology platform, ZA Tech takes pride in delivering unmatched (digital) insurance and innovation expertise, bolstered by an ingrained partnership mindset and strong ecosystem experience.
ZA Tech is constantly looking to partner with new (digital) platforms and other intermediaries looking at unlocking the value that insurance can offer to their core business whilst helping close the widening insurance protection gaps in Asia.
The SBR Technology Excellence Awards is presented by Singapore Business Review Magazine. To view the full list of winners, click here. If you want to join the 2024 awards programme and be acclaimed for your company's outstanding contributions in pursuit of technological innovation, please contact Jane Patiag at jane@charltonmediamail.com.