SingPost bags eCommerce award for its POPDrop kiosk
The Smart Posting Box is a future-ready way of sending eCommerce tracked packages, powered by Radio Frequency Identification (RFID) technology.
Sending eCommerce tracked packages is now made easier, more technologically savvy and user friendly and environmentally sustainable with Singapore Post's new Smart Posting Box, POPDrop.
The POPDrop is a self-service drop-off box with in-built trackability, allowing merchants and consumers to have immediate track and trace statuses captured once the items are lodged. Apart from being able to read barcodes, the POPDrop is also future-ready with RFID technology, prepared for future adoption by the eCommerce industry.
This allows the tracking process for eCommerce returns and shipping to commence immediately once the POPDrop accepts the package. Users can track their item status through the SingPost Mobile App right through to the completion of delivery – this elevates the end-to-end visibility that senders have over their items.
The development of POPDrop is driven by SingPost's commitment to continuously innovate and improve its services to meet the evolving needs of the eCommerce industry, its dedication to sustainability and its role as an urban logistics leader.
Value to eCommerce Merchants and Consumers
With evolving eCommerce trends and consumer habits, SingPost recognises the need to enhance existing parcel drop-off options available to its customers. SingPost embarked on the development of POPDrop which is aimed at offering customers a more convenient, efficient, and flexible way to drop off their parcels, enhancing the overall user experience.
Items sent via the POPDrop will be delivered to the letterbox or lockers, providing the most carbon-efficient delivery ecosystem in Singapore for merchants to scale their business. Apart from enabling merchants' growth, these delivery options are also safer and more secure, allowing consumers to collect their items any time of the day.
Enhancing Delivery and Trackability Processes
Currently, SingPost customers who have trackable parcels can select from three options to dispatch their items: courier doorstep collection, drop off at post office counters or parcel lockers, or depositing them in posting boxes.
To have a guaranteed tracking number and first-mile scan of their packages, customers must either wait at home for collection, queue at post office counters or reserve a locker compartment for their drop-off.
Augmenting existing drop-off points and through an intentional nimble design, POPDrop complements SingPost's pervasive network around the island to provide merchants and consumers with conveniently positioned drop-off points, providing a quicker and seamless drop-off experience.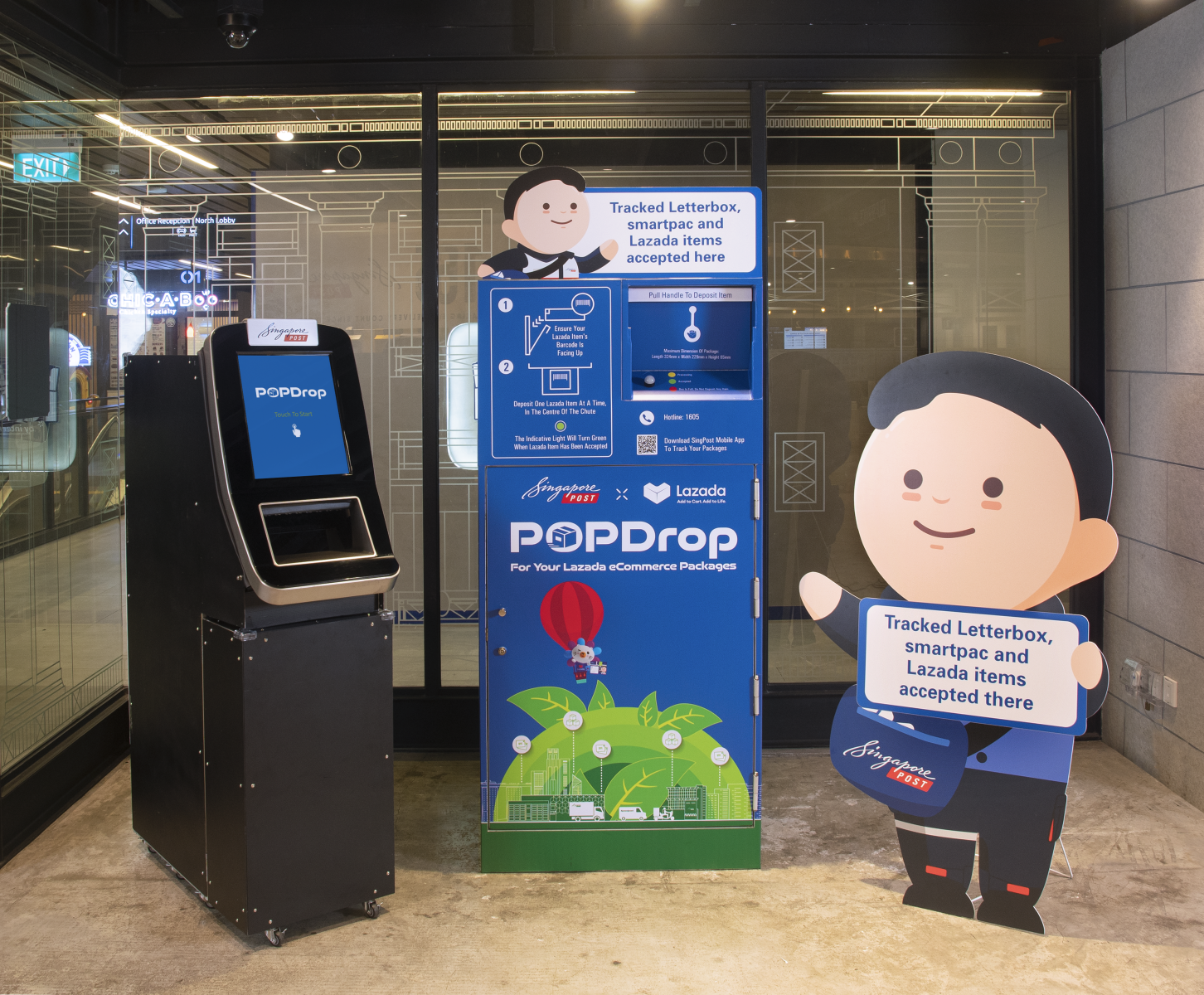 Award Winning Innovative Solutions
SingPost won an award for eCommerce at the recently concluded SBR National Business Awards, for this innovative solution.
The prestigious annual awards programme launched in 2016 honours local and homegrown companies in Singapore and recognises outstanding projects that greatly contribute to Singapore's fast-growing economy.
In giving this award, the judging panel took into consideration the various efforts of SingPost in developing this project.
SingPost is on target to achieve its goal of having a fully electric fleet by 2026, further augmenting its carbon-efficient first-mile, reverse, and last-mile operations.
Similarly, it is set to being the most carbon-efficient logistic service provider, with pervasive first-mile and reverse logistic drop-off touchpoints like the POPDrop and POPStation, enabling last-mile deliveries into letterboxes and lockers.
The project has already shown success and impact, with the POPDrop Proof-of-Concept (POC) being unveiled at the eCommerce Expo Asia in October 2022 and showcased in collaboration with SMRT at "Hive by Stellar Lifestyle". POPDrop was officially launched when SingPost signed a Memorandum of Understanding (MOU) with Lazada in December 2022, to empower the adoption of carbon-efficient delivery options in Singapore.
SingPost's upcoming plans for POPDrop include enhancing the existing features to a kiosk-like experience for the customer. The enhanced POPDrop version will support the expansion of the existing Pick-Up and Drop-Off (PUDO) infrastructure.
As eCommerce volumes are expected to increase, SingPost aims to widely proliferate the POPDrop units throughout Singapore to support and facilitate the growth of first mile and returns logistics in a sustainable manner.
The SBR National Business Awards is presented by Singapore Business Review Magazine. To view the full list of winners, click here. If you want to join the 2024 awards programme and be acclaimed for your company's exceptional contributions to the local business landscape in Singapore, please contact Bianca Peñaranda at bianca@charltonmediamail.com.