Chart from OCBC.
Chart of the day: Baby boomers are better at living sustainably
OCBC found out that green habits suit their life stage.
This chart from OCBC reveals that baby boomers are better at living sustainably than most.
In OCBC's Climate Index 2022, it was found that baby boomers had the highest score in all of the Index's main pillars of Awareness, Adoption and Advocacy.
In their sustainability adoption scores, baby boomers scored higher than Gen Zs, Gen X, and millennials on categories like Home adoption scores, Food Adoption scores, and Goods adoption scores, scoring an overall 6.9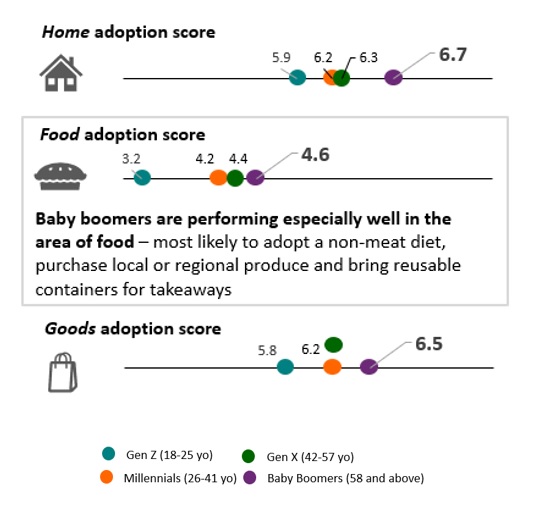 ALSO READ: More Singaporeans want a greener future but are doing more emissions-heavy activities
This is because most baby boomers have adopted good habits since young and have accumulated awareness and knowledge of climate change over time. Some remember initiatives that existed when they were young – the first-ever Keep Singapore Clean Campaign was launched on 1 October 1968 – and have experienced first-hand weather shifts caused by climate change.
Similar to other generations, baby boomers' main motivations to live sustainably are for better health (51%), for a cleaner and greener environment (45%) and to save money (39%).
"Green habits suit their life stage – they said they are less busy and can take the time to walk, cycle or take public transport, instead of opting to drive. Such actions lead to better health and help them save costs as well, another motivating factor in their adoption of greener behaviours," OCBC said.
Meanwhile, Gen Zs scored lowest in all three categories. Whilst they had an overall adoption score of 6.5, their score was only pulled up as they would have travelled overseas by plane less, and take public transport the most as they are not likely to own cars and are less likely to drive.