Source: Singapore Department of Statistics, ING
Chart of the Day: Inflation accelerates to a sizzling 5.4% in March
Prices of basic goods have been on an uptick since February last year.
This chart from ING shows the rate of price increases since January 2019, eventually shooting up to 5.4% in March 2022.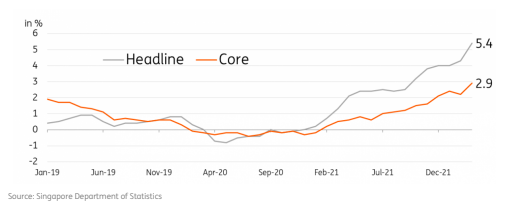 ​
Source: Singapore Department of Statistics, ING
This is a jump from the 4.3% inflation recorded in February, which hiked from 4.0% the month prior.
ING economist Nicholas Mapa said prices could continue to increase in the coming months.
"It does appear evident that current supply chain disruptions will be enough to drive both the headline
and core inflation readings higher. Given tightening supply chains and still elevated global
commodity costs, we believe price pressures will remain evident in the coming months," Mapa said.