Chart of the day: Singapore Q1 trade forecast is 'better-than-expected'
Total merchandise trade grew by 20.8% in the first quarter of 2022.
This chart from Enterprise Singapore (ESG) shows Singapore's first quarter trade performance, which shows total merchandise trade falling to 20.8% compared to the previous quarter.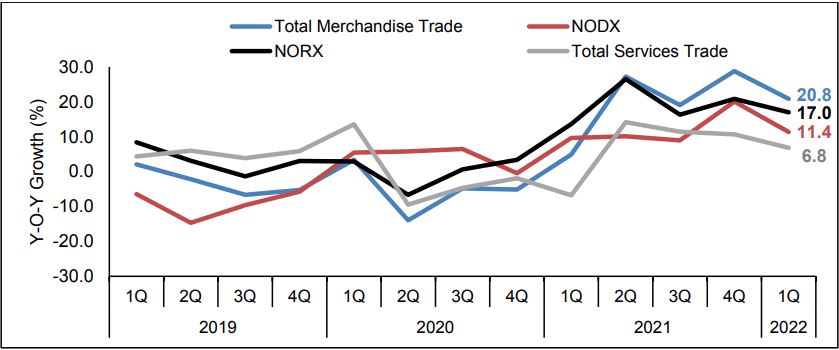 Non-oil trade rose by 16% whilst oil trade expanded by 48.2% amidst higher oil prices than a year ago.
The chart also shows that non-oil domestic exports (NODX) grew by 11.4% and non-oil re-exports (NORX) shot up by 17%. Total services trades increased by 6.8%, reaching $158b in the first quarter (Q1).
ESG adjusted its prediction for total merchandise trade, increasing from 8% to 10% and NODX from 3% to 5%, on account of better-than-expected Q1 2022 performance and higher expected 2022 oil prices to support oil trade and in turn total trade.