Here's the CPF interest rates for Q1 2023
The interest rates for Ordinary Accounts and Special and MediSave Accounts were unchanged.
The Central Provident Fund (Board) interest rates will remain unchanged from 1 January to 31 March 2023.
In a joint statement, the CPF Board, Housing & Development Board, and the Ministry of Health said the interest rate for Ordinary Account (OA) and Special and MediSave Account (SMA) will remain at 2.5% and 4%, respectively, during the period.
This means that CPF members aged below 55 years old will earn interest rates of up to 3.5% annually on their OA monies, and up to 5% annually on their SMA funds.
READ MORE: OCBC enables direct CFP account top-ups from digital app
The interest rates will include a 1% interest paid on the first $60,000 of the combined balances with a limit of $20,000 for OAs.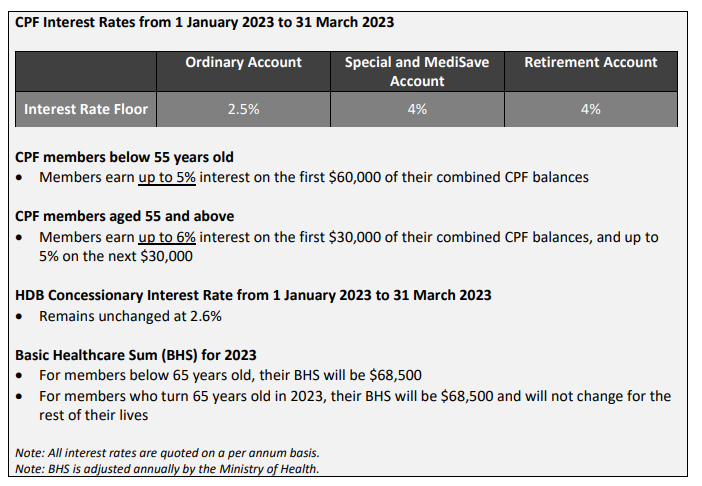 Meanwhile, the government will be paying an extra 2% interest on the first $30,000 of their combined balances, capped at $20,000 for OA, and an additional 1% on the next $30,000 for members aged 55 and above.
These members will earn up to 6% interest annually on their retirement balances, the statement read.
They added that the extra interest received on the OA will go to the member's SA or Retirement Account. Extra interest will still be earned on the combined balances of a member aged 55 and above and part of the CPF LIFE Scheme, including the savings used for CPF LIFE.
"The Government is watching the interest rate environment closely to ensure that the CPF interest rate pegs remain relevant in the prevailing operating environment while taking into consideration the longer-term outlook," the statement read.
The interest rate for Retirement Account will remain at 4% per annual for the whole of 2023.
For the Basic Healthcare Sum (BHS) for 2023, the BHS for members below 65 years old will be raised to $68,500 from $66,000, while for those who turn 65 in 2023, it will be fixed at $68,500.
Members aged 66 and above have their BHS fixed and will remain unchanged.