The team that created SWOOSH, an AIML solution that automates many of the manual processes used in banking.
Standard Chartered achieves rapid automation in banking's manual back-office processes
The financial institution is recognised at the Malaysia International Business Awards for successfully using Artificial Intelligence & Machine Learning (AIML) to boost operational efficiency in onboarding new clients.
Standard Chartered created an in-house Artificial Intelligence & Machine Learning (AIML) solution to automate many of the manual processes used in banking through a cutting-edge product called SWOOSH. This innovative solution is recognised for its exceptional contribution to operational excellence and impact, earning Standard Chartered the Malaysia International Business Awards 2022 trophy in the Banking category.
The Malaysia International Business Awards 2022, presented by the Singapore Business Review, is now in its fourth year. The award recognises outstanding global firms in Malaysia with significant business enhancements and productivity gains.
Many financial institutions, including Standard Chartered, have tried to alleviate highly manual processes by utilising off-the-shelf solutions such as Optical Character Recognition (OCR) programmes. Unfortunately, a rigid set of criteria hinder the smooth and successful extraction of data using these methods. SWOOSH helps the Bank eliminate these challenges by automating such processes and in turn, halving the turnaround time and expenditure.
Standard Chartered's SWOOSH is able to process structured and unstructured data that come in varying forms and formats – this includes text, emails, images and even videos. Using Artificial Intelligence (AI) instead of keywords, SWOOSH is able to perform complex data extraction and assign meaning to these data so that information is clearly classified with an accuracy rate as high as 90%. Numbers, for example, are automatically structured to represent dates, amounts or identity numbers.
This is especially useful when onboarding new clients. The client onboarding process for Retail banking clients is exceptionally tedious because regulatory Know Your Customer (KYC) documents - especially payslips - come in a variety of quality and formats, making standardisation challenging with traditional OCR methods. Combining more than 5 deep learning AI models, SWOOSH's AI engines perform the complex task of extracting information from customers' KYC documents, passing this information to the next stage in onboarding and automating the processing of these requests.
"Our challenges are a bane, but they are also our strength. They help us identify where we may be spending an inordinate amount of resources and in turn, motivate us to find stronger solutions with less downtime and manual oversight," commented Siddhartha Thimmavajjalla, Head of Artificial Intelligence and Machine Learning in Standard Chartered. "It's hard to believe that in this day and age, manual work still plays the role that it does. The notion that there has to be a better way of doing things is a constant, common thread that runs through our innovations."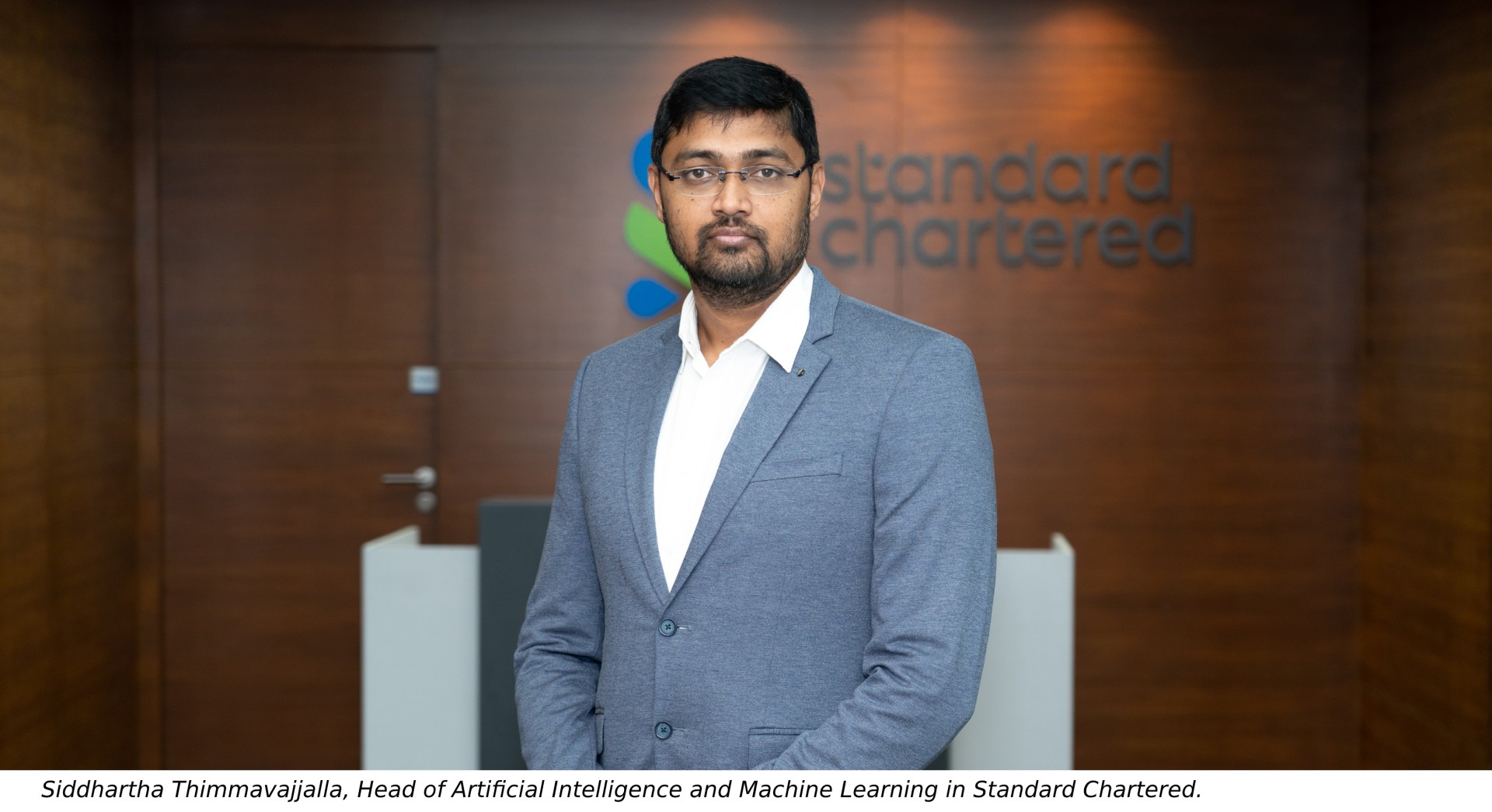 Risk management is crucial to any bank and more so to a global bank such as Standard Chartered. Before going live, SWOOSH went through the Responsible Artificial Intelligence (RAI) governance framework and completed the RAI Impact Assessment under the Chief Data Office (CDO). This means that every AI use case deployed into production by SWOOSH adheres to the Bank's RAI principles and complies with the Bank's RAI Standard. SWOOSH went through multiple rigorous stages of testing in its end-to-end development lifecycle before being certified as technologically compliant and cloud-ready.
Onboarding new clients is just the tip of the iceberg for SWOOSH. With multiple pre-trained AI models that can be used in different combinations and permutations, SWOOSH provides the business users in Standard Chartered with richer information which can be customised as and when needed. The AI models can scale as well as integrate with both internal and external systems, computing at faster speeds with an increasing accuracy rate as the programme learns and trains itself.