Contributed Content
,
Singapore
Here's how Singpass can help organisations digitalise and enhance digital services
Businesses can boost growth by providing a seamless customer experience with Singpass APIs.
With the acceleration of digital transformation and automation adoption on businesses, the best way to compete in the market is to provide seamless digital services backed by strong technological infrastructure. But digitalisation comes at a cost, and many businesses struggle to adapt to today's data-driven market.
Fortunately, businesses in Singapore can turn to Singpass' suite of application programming interfaces (APIs) as an option to kick-start or accelerate their digitalisation journey. With over four million users, the country's trusted digital identity platform, Singpass, currently allows users to access more than 1,700 digital services from over 460 government agencies and private organisations.
Businesses looking to digitalise their services and operations can tap on Singpass' trusted digital ecosystem and infrastructure where data and services transcend the boundaries of organisations. Any locally registered business with Corppass access can use Singpass APIs. The APIs can be integrated with systems to offer a range of services, including user registration, customer authentication, and identity verification, just to name a few.
No more paperwork with Myinfo
For instance, the Myinfo service enables users to pre-complete digital forms with their personal data from government sources for online transactions. Businesses which have adopted Myinfo enjoy a faster and efficient customer acquisition process, as it eliminates the need to manually fill up forms and submit physical documents for verification.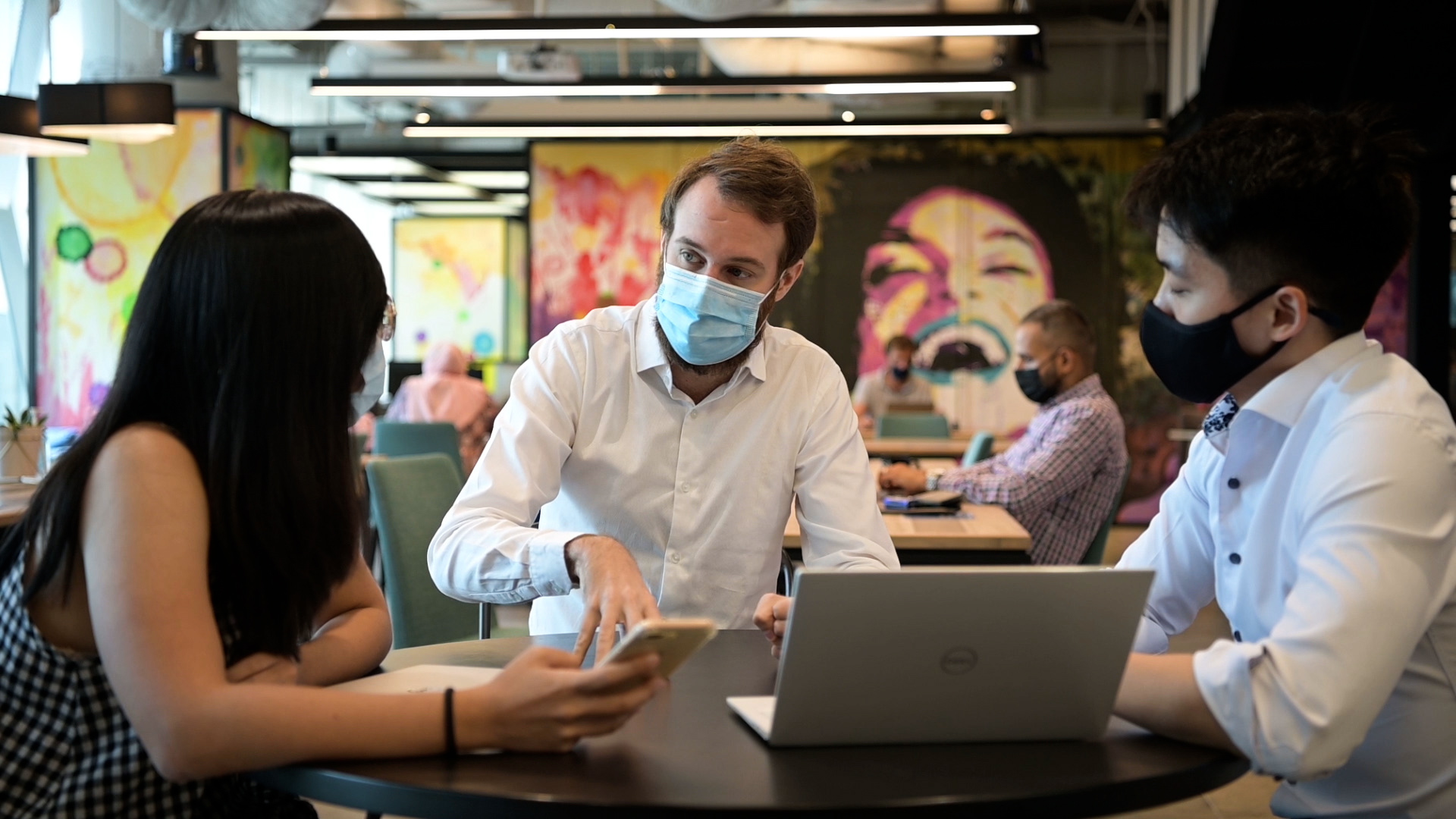 ​
Sebastian Sieber, a Partner at Syfe, with his team.
Syfe, a licensed digital wealth manager, uses Myinfo to efficiently onboard its new clients. "While we offered a fully-digital onboarding experience to our clients prior to the integration of MyInfo, the process required our clients to fill in their personal details manually and upload scanned copies of identity documents," shared Sebastian Sieber, a Partner at Syfe. This was a cumbersome process for its clients and also required dedicated backend staff to verify the information provided.
Myinfo API has helped Syfe improve overall customer experience and optimise productivity. "Myinfo allows clients that opt-in to the service to experience a seamless onboarding process where their personal details are automatically filled in and verified instantly. The benefits are not just limited to the front-end. As a fund management company regulated by the Monetary Authority of Singapore, we are also encouraged to rely on information provided by clients through MyInfo. This has resulted in significant cost savings and increase in productivity for the company," Sieber said.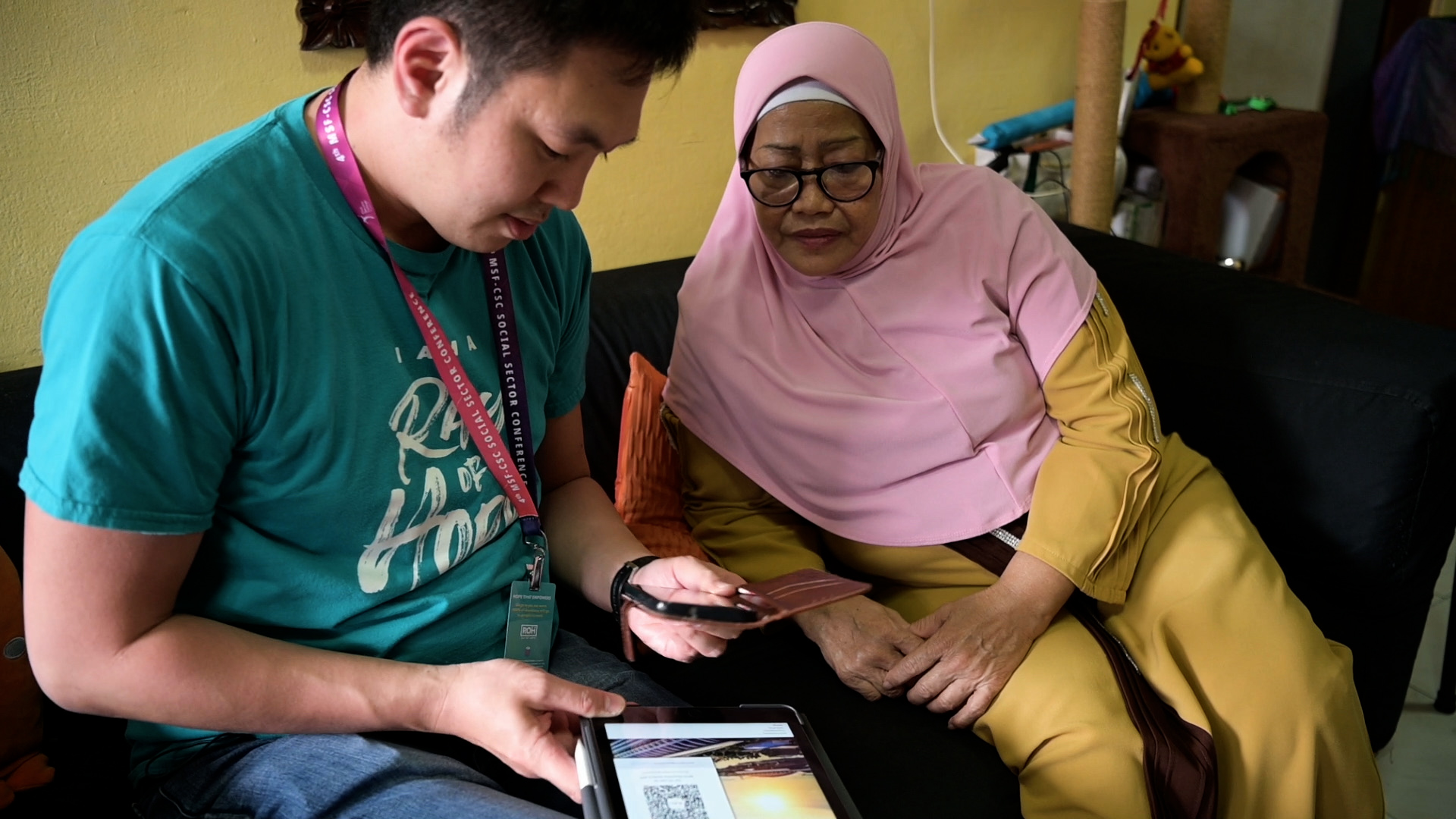 ​
Tan En, General Manager of Ray of Hope, demonstrates the paperless way of documentation to a beneficiary)
Myinfo is used by residents from all walks of life, from wealth management clients to charity beneficiaries. Ray of Hope, a crowdfunded charity, has used Myinfo to verify documents for its beneficiaries.
"From the beneficiaries' point of view, there is very little dignity when applying for financial assistance, as they have to provide the same documents to various agencies," noted Tan En,General Manager of Ray of Hope. "By incorporating Myinfo, both parties win – we save time (productivity increased by 20% to 30% since adding Myinfo) and the beneficiaries just need to scan a QR code and give us consent to the information without having to dig out a mountain of documentation."
To date, more than 600 digital services offered by government agencies and businesses have been onboarded to Myinfo. Myinfo is one of Singpass' most popular services and sees more than 200,000 transactions a day.
APIs for productivity and a peace of mind
Login
Another API that businesses can take advantage of is Login, a secure authentication gateway. With Login, customers can easily and securely access services without having to remember an extra set of sign-in credentials.
By incorporating Login, businesses can have access to a wide pool of Singpass users who are familiar with the platform. Among the private sector organisations that use Login are OCBC Bank, Prudential, NTUC Union, Income Insurance, Singapore Exchange, the Singapore National Employers' Federation, and JustLogin's HR solutions.
Verify
Meanwhile, Verify enables users to perform in-person identity verification and data transfer through scanning of QR codes. Verify is ideal for businesses that require face-to-face registration processes, as it can verify a person's identity without the need for individuals to present or hand over their identity documents.
Verify is currently used by the GivePlease platform for donor tax exemption registrations and at SingHealth Polyclinics for new patient registration. Other organisations—such as real estate companies, financial institutions, the automobile industry, and telecommunications service providers—are also suited to integrate Verify into their platforms.
Sign
Singpass APIs can also be used to digitally and securely sign documents using their Singpass app. The Sign with Singpass service produces a digital signature that is cryptographically linked to the signer, which provides higher assurance of the authenticity and integrity of the signed documents. The digital signature can also be validated independently by other parties, enabling an end-to-end digital workflow even across multiple organisations.
Sign is currently used by AIA Singapore for the new insurance applications and ERA Realty for their tenancy agreements.
Identiface
Businesses that want to offer simpler means of access to their digital services can explore the use of the Identiface face verification service that allows users to simply scan their faces to log in to a digital service. This service taps on a secure biometric authentication platform, equipped with fraud detection technology and stringent data security measures.
The Identiface service can be used to provide higher identity assurance, especially for transactions involving sensitive information or high monetary values, or to serve users unfamiliar with digital technology. More importantly, businesses no longer have to build, secure, and maintain their own biometric database. System implementation and integration are achieved easily through bundled Software Development Kits (SDK) and APIs.
Identiface is currently used for sign-ups for DBS digibank account, logging in to HR solutions on JustLogin and checking of account balance at OCBC ATMs.
Streamlining services and boosting productivity
Businesses have much to gain by integrating their services with Singpass APIs. These APIs reduce operating costs and create a smoother and enhanced customer journey. At the same time, residents can enjoy easier, better, and safer services across sectors, ranging from banking and insurance to healthcare and charities.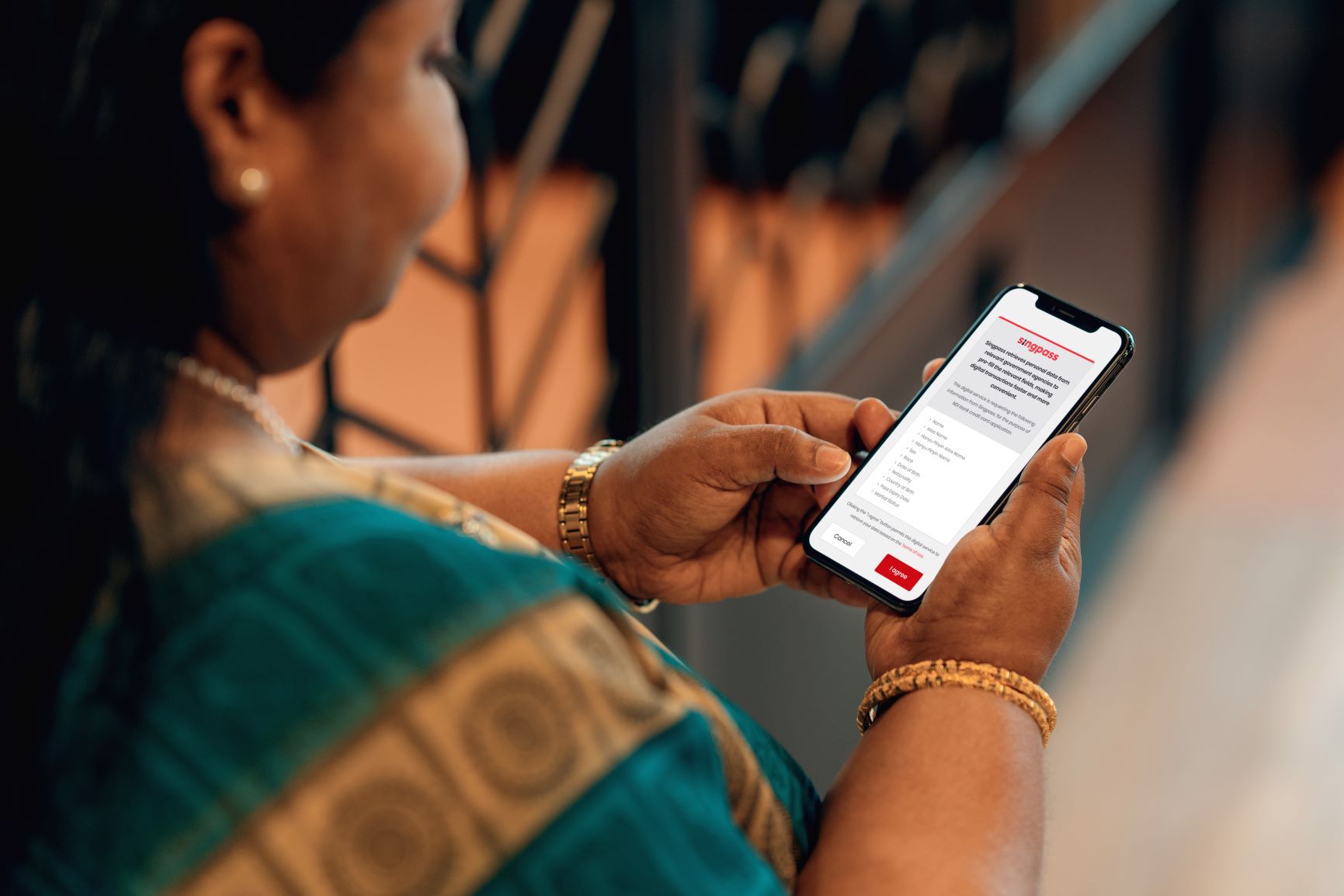 Singpass APIs are designed to be easily implemented for businesses. "The usage of Singpass APIs has brought numerous long-term benefits to the company, and at very little cost," Sieber affirmed. "Integrating Myinfo into our web and mobile applications was straightforward. We did not require any assistance from the Myinfo technical support team at all and had the opportunity to sort out any technical issues in the test environment before releasing it to the public. We would definitely recommend Singpass APIs to other businesses!" he added.
To integrate with Singpass, interested companies may submit a linkup request through the Singpass API Developer and Partner Portal. Once the linkup request is approved, an App ID will be generated, and the company can then configure and deploy the application.
Companies interested in using these services can visit the Singpass API Developer and Partner Portal at https://api.singpass.gov.sg.