CBD Grade A office spaces vacancy rises to 7.4% in Q1
This is the second consecutive quarter that the vacancy rate increased.
The vacancy rate for CBD Grade A office spaces rose by 1.7 percentage points to 7.4% in the first quarter of 2023 as the net take-up of office spaces shrank by around 471,000 square feet, according to Savills Research.
Among the CBD Grade A offices, buildings in the Subgroup saw the highest increase in the vacancy rate to 8.9%, followed by Subgroup AA at 7.7%, and Subgroup AAA which was only at 5.5%.
Within the micro-markets, Tanjong Pagar recorded the highest quarterly increase in vacancy rates to 12.6% from 6.7%, followed by Raffles Place which reached 9.1% from 6%.
READ MORE: Singapore has the priciest office fit-out costs in SEA
Despite this, the rise in the rental price is tapering off with the average monthly rates of CBD Grade A offices posting only a 0.2% uptick to $9.59 per square foot (psf) compared to a 0.6% increase in the previous quarter.
Savills said further rental increases were held down by the "global economic uncertainties and the influx of shadow space caused by tech-sector meltdown and business restructuring."
By Grade, Subgroup AAA saw the highest rental growth with a 4% quarter-on-quarter (QoQ) growth rate, whilst Subgroup AA and Subgroup A only saw a 0.1% QoQ increase.
In the micro-markets, Raffles Place and Beach Road/Middle Road saw rental increases by 1.1% and 0.5%, respectively, whilst the City Hall, Tanjong Pagar, and Orchard Road office rents were unchanged.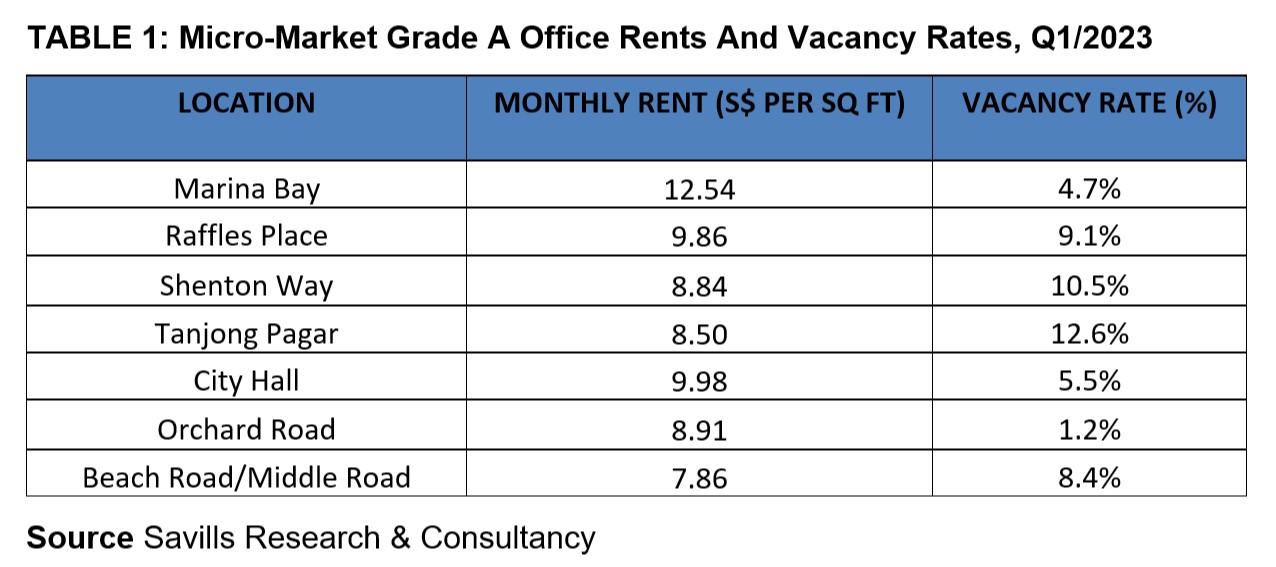 Savills said the CBD Grade A office market "is at the crossroads, facing several possible paths which it can take for the next decade." It noted that the tech sector which is expected to drive occupancy facing funding troubles amidst a rise in rents, coupled with sustainability demand and hybrid working will be the factors the market has to adapt to.
It kept its 2% year-on-year growth forecast for Grade A CBD office rents for 2023, with the vacancy rate at around 7% to less than 8%.