Chart of the day: 62% of the accommodation industry expects improve outlook in H2
Return of tourists in Singapore seen as a catalyst for improve business conditions.
This chart from Singapore's Department of Statistics reveals that out of all the industries in Singapore, the accommodation industry is the highest who expects business conditions to improve in the second half of 2022.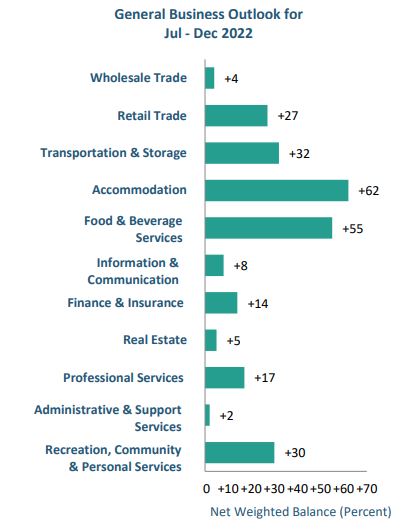 They are followed by the food and beverage services industry at 55%, transportation and storage at 32%, and recreation, community and personal services industry at 30%.
READ MORE: Analysts raises full-year headline inflation forecast to 5.5%-6%
This was largely in part because air transport firms and hoteliers expect a greater influx of tourists into Singapore with the resumption of global travel. F&B firms also anticipate higher business volume with the lifting of restrictions on group sizes for dining in.
However, only 25% of firms are upbeat about the next six months. 65% predict that business conditions will remain the same whilst 10% believe conditions will worsen the H2.