/The Punisher from Unsplash
Hyundai Motor Group Innovation Centre SG looks into cell-based manufacturing
It plans to initially deploy its digital transformation in Singapore before moving globally.
Hyundai Motor Group hopes for a multimodal and personalised future through cell-based manufacturing, but this could entail fewer hires of highly skilled workers.
To achieve this, Hyundai decided to establish the Hyundai Motor Group Innovation Centre in Singapore (HMGICS), which is more than just a research and development facility; it's a holistic business and value chain innovation centre.
"We look at it as a way to interact with customers differently. So, a completely different business model, a completely different customer interaction model, whereby we will try to understand their needs and react to them within a day or within a few days to be able to produce what's needed. And that's where manufacturing innovation, where we're moving from A to B kind of conveyor line assembly, which uses thousands of workers and conditions that are good," Alpesh Patel, Vice President, head of Smart Factory Technology Innovation Group​, HMGICS said at the Industrial Transformation Asia-Pacific (ITAP) 2023.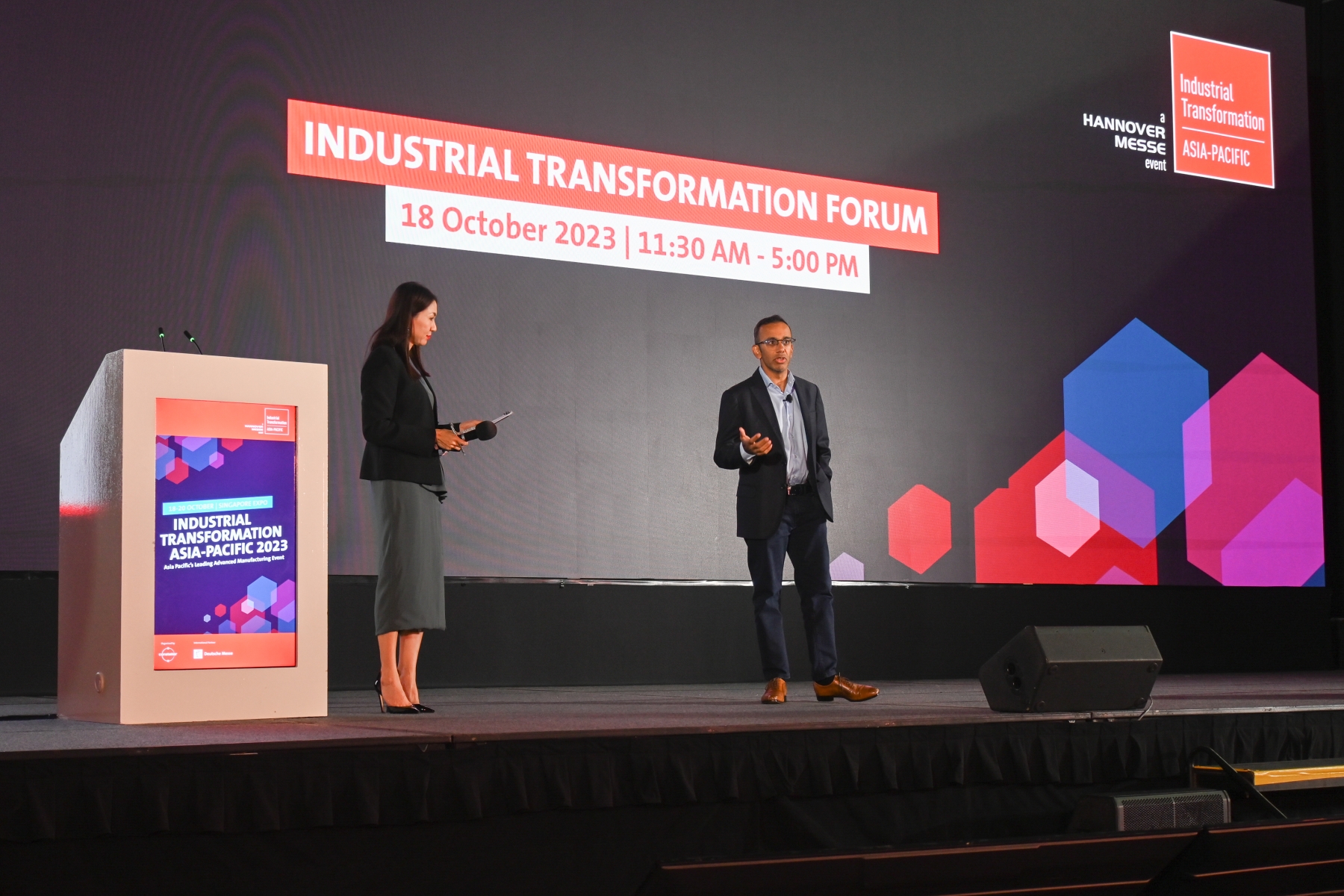 Alpesh Patel, Vice President, head of Smart Factory Technology Innovation Group​, HMGICS at the ITAP 2023. Photo by Emilia Claudio.
Patel also said urban transportation is evolving rapidly, with electrification, autonomous vehicles, and an array of mobility devices gaining prominence.
"And the technology you need to make this happen needs to be both intelligent and agile. Because we're really talking about, at last realising the vision that was exposed when industry 4.0 was mentioned the first time in 2011, which is hyper-automated, and hyper-autonomous, and flexible manufacturing. This is what we're going after," Patel said.
ALSO READ: Boeing SEA president pegs S'pore as a vital contributor to aerospace innovation
HMGICS' vision
The HMGICS, was designed to bring customers and factories closer, revolutionising the way vehicles are built and connecting them more intimately with individuals' lives.
Hyundai is not just stopping at its current capabilities, they said. The company is constantly exploring advancements in automation and flexibility.
It envisions a future where robots can calibrate vehicles with precision, reducing cycle times. Digital twins, high-fidelity simulations of physical processes, are also under development to optimise and visualise manufacturing. Furthermore, digital transformation is key to implementing these advancements at scale.
Hyundai acknowledges that its suppliers play a crucial role in achieving its vision.
They need to be digitally transformed, ensuring transparency and data sharing. Suppliers should also embrace new technologies and potentially integrate Hyundai's innovations into key manufacturing processes.
"McKenzie and the World Economic Forum have highlighted very often that companies are stuck into what we call a pilot trap. So taking the unique lead from there, we've decided that it's very important for us to also have digital transformation as a separate activity from R&D to your continuum of activity. Once the IP is secured, we need a digital transformation angle to deploy it at scale within Singapore and then outside." Patel said.