Photo from Carousell
Mirroring the circular economy, Carousell furnishes HQ with repurposed, second-hand items
The company's 'Snorlax' meeting room has namesake plush toys bought from a Carousell user.
When moving offices, companies would often get rid of their old furniture and leave it behind. Carousell did the opposite and brought along old pieces from its past offices and repurposed them for its new headquarters at LaunchPad @ One-North.
Visitors find these repurposed furniture pieces a welcoming sight right at the entrance of the new office where a lighting fixture in the shape of Carousell's logo icon is displayed.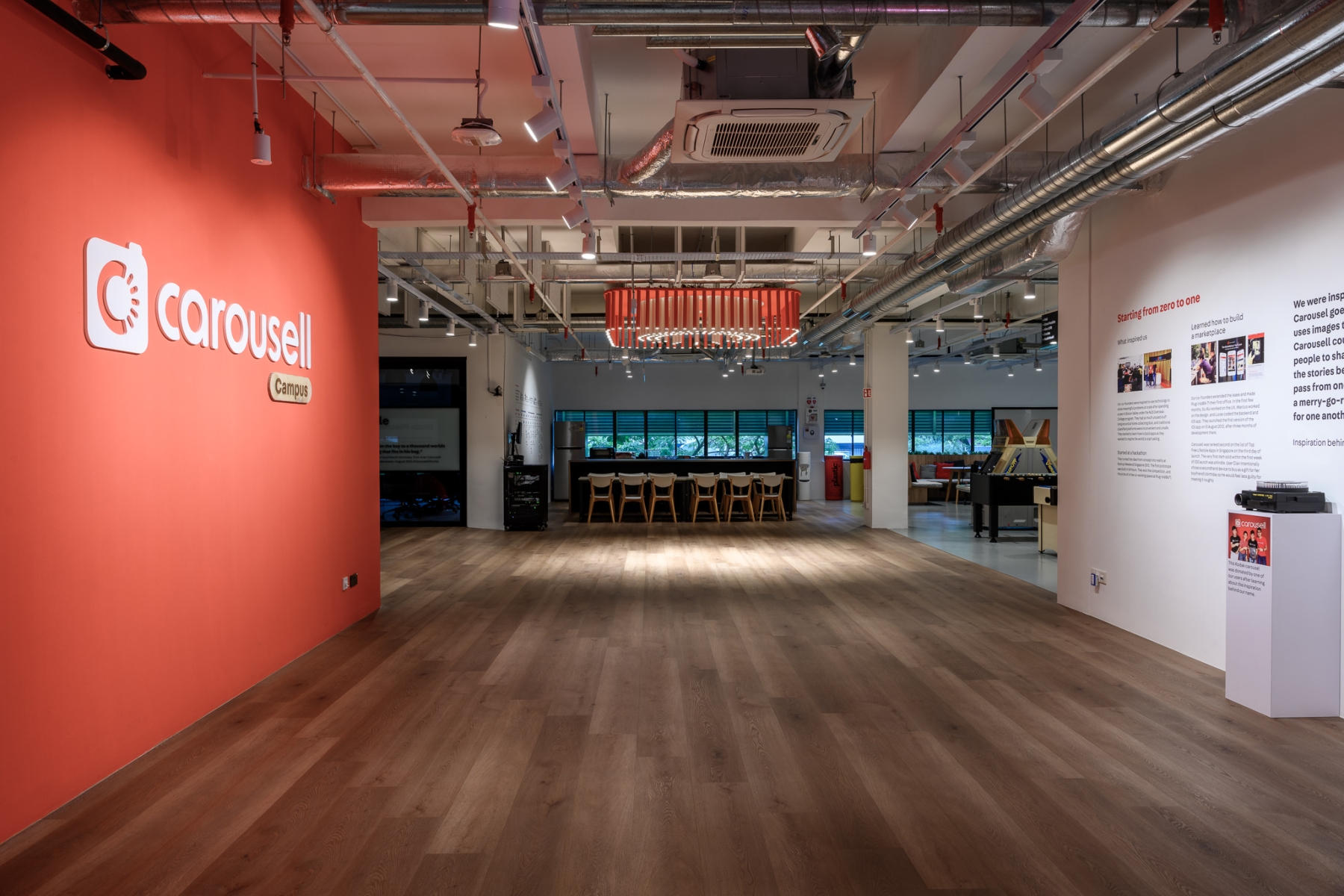 The logo lights are made from table legs of extra office tables that the company had from its previous offices. Making the most of these extra tables, Carousell also converted the table tops as soundproofing panels to improve acoustics during town hall meetings and events.
"We love repurposing old pieces to give them new life. If we have furniture we no longer need, we don't just toss it out. We make sure it finds a new home, either through Carousell or by sharing it with our startup community friends," Vishal Salunkhe, vice president and regional head of Goods at Carousell, told the Singapore Business Review.
Second-hand furniture
Apart from repurposed pieces, Carousell also furnished its headquarters called Carousell Campus, with second-hand items.
Inside one of the meeting rooms called the "Snorlax" room are life-sized plush toys of the Pokemon character which Carousell actually bought from one of its users.
"There was this user who accidentally bought not one, but three life-sized Snorlax plush toys when they actually wanted the mini-sized ones. They turned to Carousell to find new homes for these giant Snorlaxes, and guess what? We decided to get a similar one for our office as a fun reminder of this amusing story," Salunkhe said.
Another unique meeting room at the headquarters is the "Retrogamers," which was named after a pair of Carousell users who had met on Carousell over their mutual love of retro video games, and later donated the arcade machines positioned outside the meeting room.
Salunkhe's personal favourite amongst the meeting rooms is the "Library," which has a secret entrance. Behind the bookshelf of the room lies a cosy lounge equipped with fully-functional video conference equipment, board games, and a trolley of alcoholic drinks.
"Our meeting rooms are named after key moments in our history and some heartwarming user stories. It's a daily reminder for all of us to keep our users at the forefront and stay true to our roots," he said.
Journey in the walls
Carousell's journey is not only displayed in their meeting room fixtures but also across the walls of the Singapore main office. In the main entrance, visitors can learn why the company was started.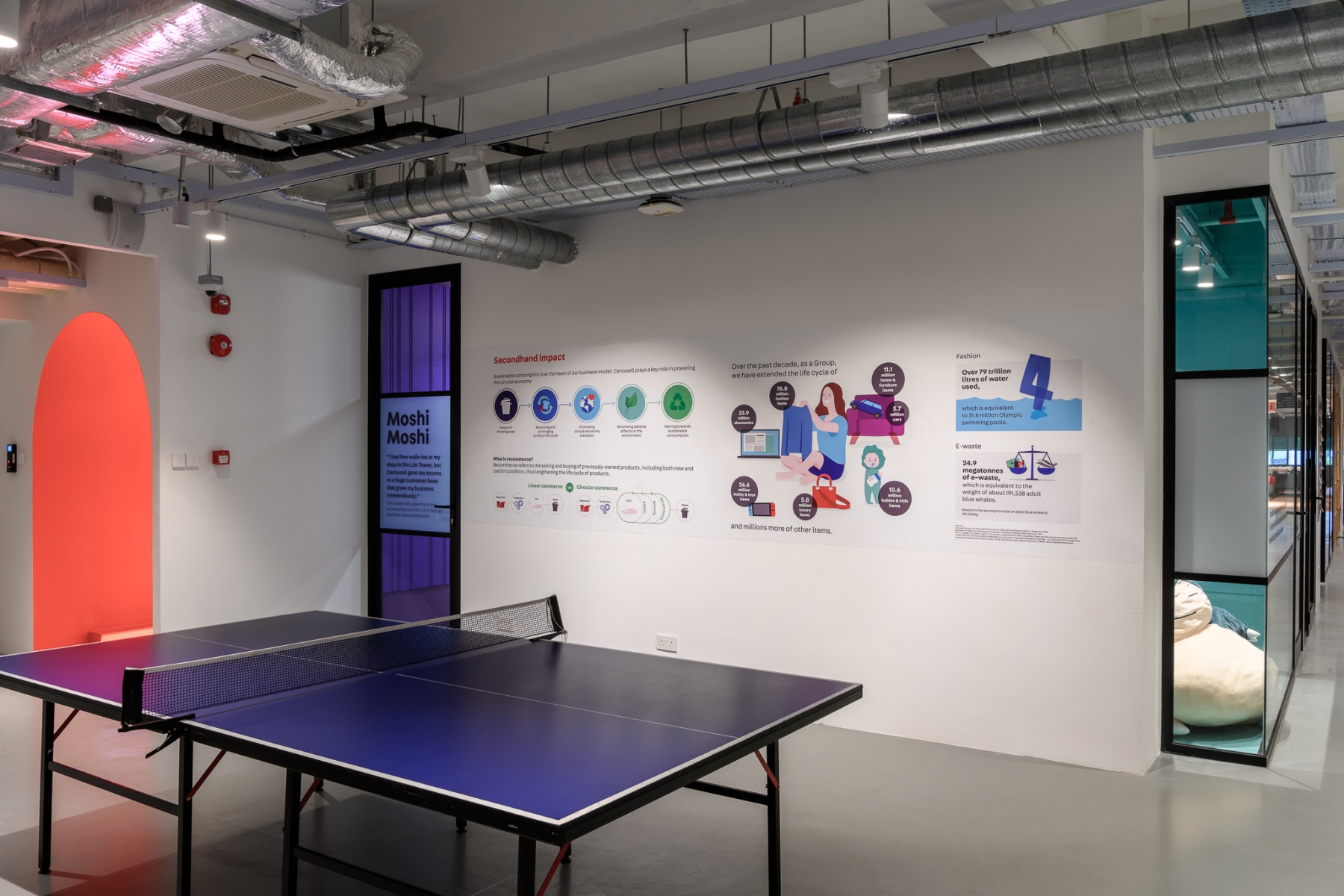 Visitors can also find a Kodak Carousell projector, donated by one of its users, near the wall which was what actually inspired the name of the company.
In the dry pantry, Carousell put up a wall documentign its milestones and visual reminder of their core values: Humility, Empathy, Accountability, Relentlessly resourceful, Teamwork.
Return to roots
Carousell's beginnings were amongst the factors that drove the company to return to its launchpad and establish its regional headquarters in Singapore.
"[We wanted] to be physically closer to the startup community, as we are committed to contributing back to the next generation of tech startups because we benefited from the community in our starting journey," Salunkhe said.
Apart from giving back, Carousell wanted to build its regional headquarters in its hometown to have a space to house its Singapore-based brands under one roof and build its Capabilities Centre.
The Capabilities Centre includes warehouses and space where luxury bags, mobile phones, and sneakers can be inspected and authenticated.
Carousell also has a showroom of luxury bags where users can personally inspect and try on the items, "They can book a private viewing appointment to visit the showroom," Salunkhe said.
Supporting work preferences
Apart from the two reasons mentioned above, Carousell also took into consideration the different working preferences of employees when building the regional headquarters.
"Our main office space is thoughtfully divided into two distinct areas, each tailored to accommodate different work styles and promote productivity and creativity. Team members have the freedom to choose their seating preferences at any given time" Salunkhe said.
The two areas in the Carousell Campus are called "The Front House" and "The Back House."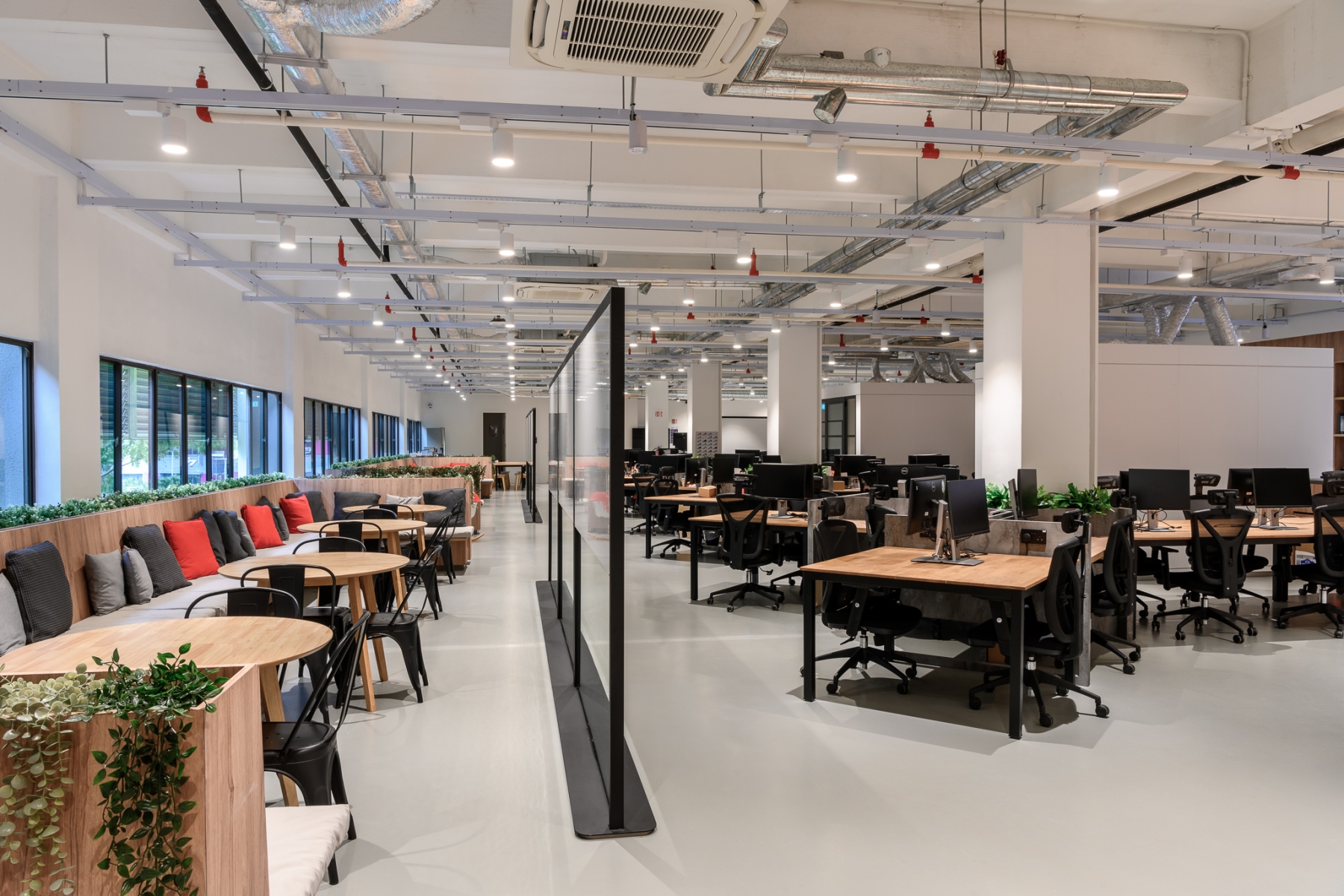 "The 'Front of House' is designed to nurture open collaboration, while the 'Back of House' offers a serene atmosphere for focused work. When events are hosted in the 'Front of House,' we have the option to close the doors to the 'Back of House,' ensuring uninterrupted work for our team," Salunkhe said.
"Our event space in the 'Front of House' comfortably seats up to 100 individuals in a seminar-style arrangement, and we're open to external requests to utilise this area, particularly to support the local startup community," Salunkhe added.
The headquarters also have phone booths where their employees can make video calls. What's unique about these phone booths is that they can be easily dismantled and are movable.
"Our fixtures are designed to be easily dismantled and transported, which means if we ever need to expand to a new office in the future, we can take them with us," Salunkhe said.
As part of Carousell's commitment to creating a greener workspace, the company also retained the building main corridor to reduce construction waste to reduce construction waste, and turned it into a cool tunnel with its mission written out in lights.