Envisioning the Future of Buildings–Sustainable, Resilient, Hyper-Efficient and People-centric
Our buildings leave a huge carbon footprint on the planet – they consume about 30% of the world's energy, and account for almost 40% of annual global greenhouse gas emissions. Reducing the emissions of the building lifecycle will be one of the most important areas in our fight against climate change. 28 cities, including London, New York, Tokyo and Sydney, have joined the Net-Zero Carbon Buildings Commitment, pledging to ensure that all buildings will operate at net-zero carbon by 2050. To achieve these sustainability goals, we need to transform the way we design, build and operate our buildings.
Two key trends will drive new innovation in the next generation of green buildings. Firstly, digitization will enable buildings to leverage Internet of Things, big data and artificial intelligence to optimize its systems. Secondly, electrification will effect a shift from fossil fuel use to renewable sources of energy. This all-digital, all-electric future gives us a foundation to reshape the life cycles of our buildings.
For decades, we have been working with our customers to solve their energy management challenges. Based on what we have learnt, we believe that buildings of the future should be founded on these four key principles: Sustainability, Resiliency, Hyper-efficiency and People-centric.
Sustainability: Towards Zero Carbon and Positive Energy Buildings
How can our buildings achieve carbon neutrality by 2050? First, buildings must become fully electric, and the use of fossil fuels should be replaced with more efficient electric systems. To maximize sustainability, a digitized electrical infrastructure is needed to produce, store and distribute power intelligently.
In many organizations today, energy and sustainability strategies lack cohesion, with each department deciding how to buy and use energy, and having its own fragmented silo of data. Building operators must transition to digitized active energy management, so that real-time data can be collected across all departments and integrated onto a single global platform. This will give organizations a holistic view of their energy strategies, bringing together renewable energy generation, predictive analytics, automated control of facilities and microgrids to drive continuous improvement and reduce carbon emissions.
As renewable energy gains greater adoption, we will increasingly see "positive energy" buildings that can generate onsite electricity and store it as an asset. Intelligent microgrids will be needed to manage distributed renewable energy resources, allow buildings to switch between the most cost-efficient sources of energy, and feed excess energy back into the grid. These buildings will become net suppliers of energy to national grids, rather than mere consumers.
Existing buildings can be digitized too –their power networks can be retrofitted with smart sensors and energy monitoring devices, enabling a more data-driven and sustainable approach to operations and maintenance.
Resiliency: Business-as-Usual Through Times of Crisis
With pandemic outbreaks, natural disasters and cyberattacks on the rise, buildings of the future need to be more resilient than ever. In times of crisis, our buildings must have the resiliency to keep operations running smoothly amidst unpredictable challenges.
For example, in the pandemic's new normal, services that were formerly provided in-person must now be performed offsite. Using connected platforms, more than 70% of a building can be operated remotely. Operators can continue to make data-driven decisions, anticipate potential malfunctions through analytics, and quickly diagnose and resolve facility issues from a distance.
In buildings of the future, we will see a shift from reactive responses to a proactive prevention approach, with time-based and condition-monitored maintenance schedules. Power availability and reliability can be strengthened with uninterruptible power supplies, harmonics control and mitigation solutions. These measures will reduce the risk of costly unplanned downtimes.
The threat of cyber attacks against building management systems is a growing concern, hence cyber-security will be a critical component of resiliency. Devices used by the building must be developed with cyber-security in mind, and processes should be designed to limit the chances of cyber vulnerabilities.
Hyper-Efficiency: Intelligent Ecosystems that Deliver More with Less
The principle of hyper-efficiency is the nexus which makes all other principles possible. With IoT and digital technology, we can completely digitize and connect all systems inside a building. Power and energy management, HVACs, building automation and IT systems will be integrated to form a single interconnected ecosystem. Sensors will be embedded in the fabric of the building to collect data, while artificial intelligence can be used to analyze this data in real-time to optimize operations and maintenance.
A smart, hyper-efficient building will understand people's changing needs and quickly adapt to meet them, creating personalized environments for occupants. With today's new work-from-home and contactless culture, traditional workplace design will be replaced by dynamic, agile spaces that can flexibly adapt to remote working and safe-distancing requirements. Underutilized offices, desks, meeting rooms and amenities can be identified and reconfigured, and building spaces can be flexibly reconfigured based on real-time data.
People-centric: Adaptive and Personalized Spaces
The building of the future will be people-centric. It will put the needs of people first, enhancing the experience, health and wellness of its occupants. Companies are increasingly aware of the importance of workplaces in attracting and retaining the best talents. Employees will have greater control to personalize their work environment, tailoring comfort levels to their preferences using their mobile devices. Sensors can monitor airflow, pressure, temperature and humidity to maintain a healthy environment, and detect areas where cleaning and servicing are needed.
Tomorrow's people-centric buildings will deliver new levels of comforts and personalized experiences, and adapt collaborative workspaces for changing needs. This in turn can boost productivity levels and free up thousands of hours each year for employees.
Digitizing the Lifecycle of Buildings
These four principles should be applied across the entire lifecycle of a building. Through building information management (BIM) systems and digital twin technology, we can digitize every phase of the building life cycle and further reduce its carbon footprint:
• In the design phase, digital simulations of the building can be used to engineer better solutions for improved airflow, insulation and energy usage. AI-powered generative design will help designers discover new possibilities in optimizing design layouts.
• In the build phase, the goal is to connect all stakeholders and data via a cloud-based platform for better collaboration, decision making and construction management.
• In the operation phase, a digital twin of the building provides rich data on infrastructure and assets, which can be used to optimize operations and maintenance.
Buildings are where we spend 90% our lives, and the need to make buildings more sustainable, resilient, hyper-efficient, and people-centric has never been greater. By leveraging cutting-edge technologies such as the Internet of Things, data analytics and artificial intelligence, we can build the foundation for the next generation of intelligent buildings, and pave the way for a greener built environment and a net zero-carbon future.
Case Study: Kallang Pulse, Singapore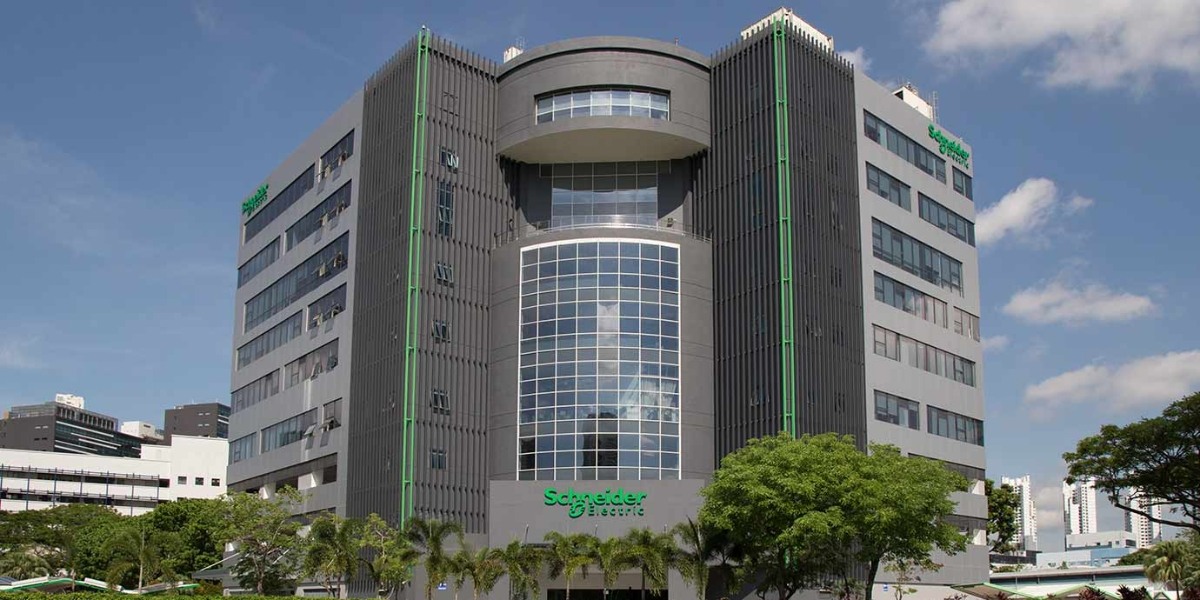 Since its official opening on 29 March 2018, Schneider Electric's Kallang Pulse has been a testament to the organisation's commitment to sustainability. The 18,583m2 building acts as their East Asia and Japan regional headquarters, housing over 1,200 staff within the premise.
This building also acts as a showcase of Schneider Electric's EcoStruxure™ solution which consists of 3 distinct layers, IoT-enabled Connected Products, Edge Control and Software and Analytics.
At Kallang Pulse, they have more than 5000 connected products ranging from mechanical systems (transport & cooling), electrical systems (fully connected), water meters, to security systems which includes access control systems and surveillance systems. This setup allows their system to interface with edge control on application and analytic levels.
Next is the edge control layer which allows the building operation team to manage their operations on-premise as well as from the cloud. This includes connected control platforms with remote access, advanced automation and operator override capabilities.
Lastly, the software and analytics layer provide them with insights and constructive advice on how to improve efficiency while and generating regular reports to help assess the health condition of their building systems.
By integrating these solutions into their building, Schneider Electric saved an estimated 122,000 kWh of electricity and 3,700 m³ of water per year from 2018 to 2020. Moving forward, they also plan to adopt a Digital Twin system that will help them simulate and plan for future improvements.
Below are some of the prominent green features that have been implemented in the building:
• LED lightings are used in the entire building.
• Recycling programmes and specialized waste streams such as E-waste, fluorescent lamps etc.
• Occupancy sensors for common areas and workspace areas.
• Using energy efficient magnetic -bearing chillers.
• PV panels are installed to generate onsite solar power.
• Analytic systems in building BMS to monitor reliability of installed sensors (Power Advisor and Building Advisor).
• Integrated Power Monitoring System for effective power monitoring at granular level.
• IAQ Sensor and Workplace Advisor for zone planning, occupancy, occupant comfort monitoring.
• 5000+ connected products as a backbone to supply real time data to the edge control applications and advisors in the building.
• Priority parking lots for electric vehicles with EV charging points provided.
• Dedicated green committee to drive sustainable education, event