Georgette Chen's Still Life with Big Durian (c. 1965) [Christie's Images Limited 2023]
Auction houses thrive on Asian millennials' art-buying power
Millennials are seen to be particularly drawn to contemporary art as growth for Christie's, Sotheby's, and Phillips are highly anticipated in art hubs Hong Kong and Singapore.
Millennials have proven themselves to be the new generation that paints a profitable path for auction houses. In fact, last year, younger collectors accounted for 34% of Christie's, close to 40% of Sotheby's, and nearly a third of Phillips' buyers.
"Asia-Pacific (APAC) remains the powerhouse of new and millennial buyers with strong buying power," Francis Belin, President of Christie's Asia Pacific, told the Singapore Business Review. In Christie's recent Spring Auctions in Hong Kong, millennials accounted for 45% of all new buyers to the sales.
Sotheby's Chairman for Asia Nicolas Chow said millennials are also the biggest growing demographic amongst their Asian buyers in contemporary art, fashion and luxury.
Apart from accounting for the lion's share of auction houses' buyers, millennials from the APAC region are also spending hefty amounts on art.
In 2022, 62% of the spending from millennials at Christie's globally was from APAC millennials.
Jonathan Crockett, chairman for Asia at Phillips Auction House, said young collectors from Asia, even first-time buyers, are spending millions of dollars on art.
"People in their 20s and 30s in the West dip their toes in the water or start off buying something that costs around US$1,000 to US$20,000. But here [in Asia], it never ceases to amaze me how pretty much every auction we have, new, first-time buyers come in at the million-dollar level and above. Sometimes, to the tune of up to US$10 million. It's something that doesn't really happen in the West, but seems to be prevalent here," Crockett said.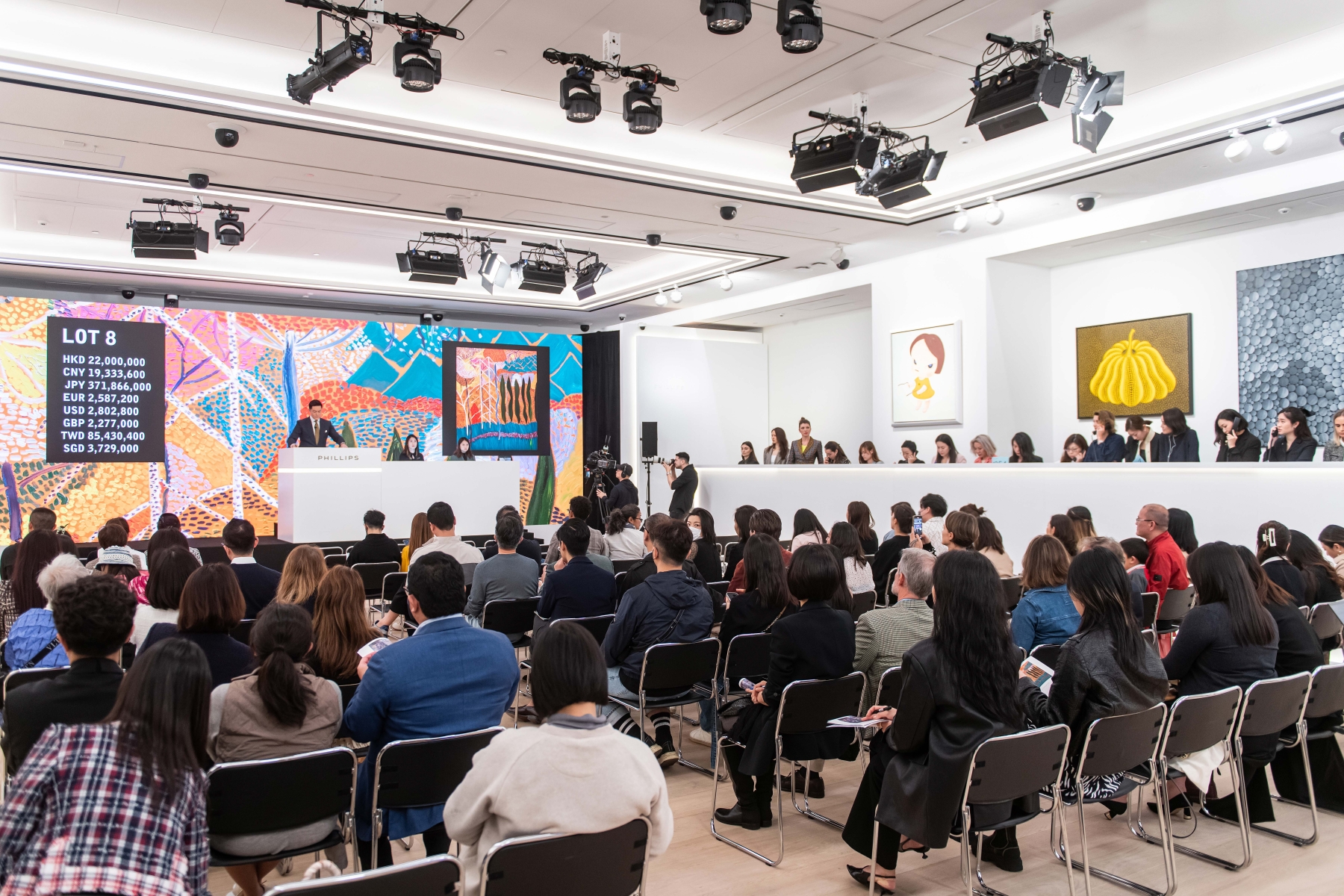 Contemporary art draws attention
In terms of art type, millennials are drawn to contemporary art, particularly those by Western artists.
According to Crockett, Asian buyers have been "increasingly supportive of the Western market" in the last five to 10 years.
"Asian buyers are now responsible for even creating or supporting the entirety of the market for certain artists in the West," Crockett said.
But Crockett thinks that whilst these young Asians are influenced by Western pop culture, this influence could be temporary and can be expected to change in the future. "I think that there's so much talent here in Asia that is being overlooked in favour of their Western counterparts and I think that change will happen sooner rather than later," he said.
Auction houses are brushing up their efforts to ensure that Asian artists get their deserved spotlight. Christie's, for example, increased the number of works by Asian artists in their 20th and 21st Century Art Hong Kong Spring auctions this year by almost 20% compared to 2022.
Asian contemporary art is specifically favoured by Gen X collectors, said Belin. However, millennials are also showing a growing interest in this category.
Chinese art takes centre stage
Apart from contemporary art, Asian buyers are also drawn to Chinese art.
"We saw the resurgence of the Chinese art market, the demand for classical categories, like Chinese works of art, Chinese modern paintings, and Chinese classical paintings," Chow said, adding that the reopening of borders played a part in the market's comeback.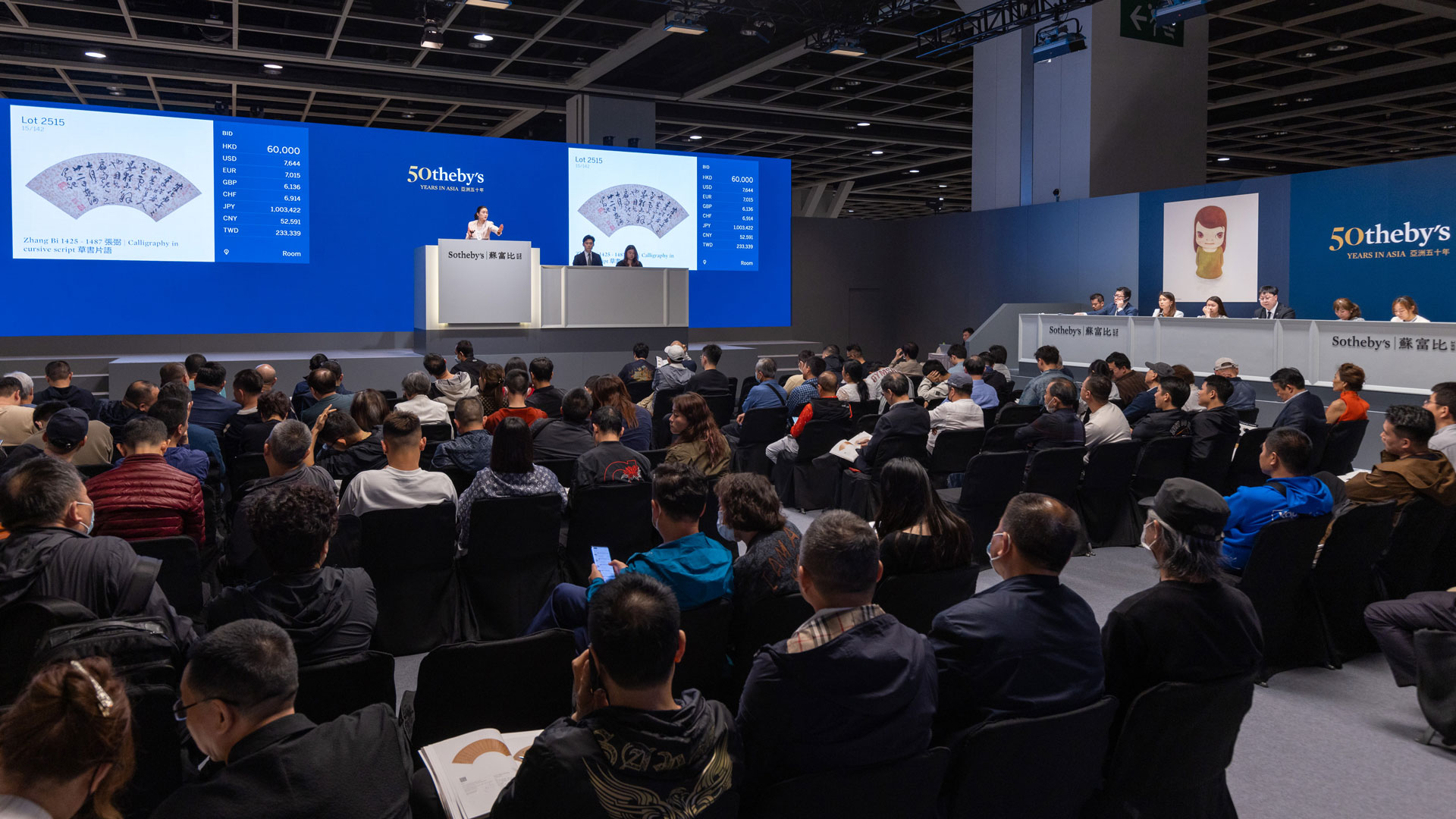 "We had more collectors coming from Mainland China than we've seen in many years during the pandemic. For the last three years, particularly in categories that are very connoisseurship driven, like antiquities, or paintings, where each and every piece requires a physical examination, we posted the nine-year high result for those categories, selling for over US$200m (HK$1.6456b), which is an incredible result," Chow added.
Belin said Chinese classical furniture is also sought after by Asian collectors. An example of Chinese classical furniture sold last year was a Huanghuali Circular Incense Stand. The piece sold for HK$71m (US$9m) in November 2022 at Christie's Hong Kong, achieving a world auction record for an incense stand.
"APAC buyers collect objects that speak to their passion, cultural and historical roots," Belin commented.
Female, modern artists fetch millions
Looking at artists, females and those with modern style are fetching millions from Asian collectors.
"There's been a lot of interest in female artists in the last two years and there's been a huge growth," said Chow, adding that female artists are particularly famous in the contemporary area.
Modern artists are also gaining popularity amongst Asian collectors.
Pieces by modern artists which were sold at Christie's Hong Kong in 2022 include Zao Wou-ki's 29.09.64 for HK$278m, Marc Chagall's L'envol du peintre for HK$22.7m, and Pablo Picasso's Buste d'homme dans un cadre for HK$175m.
In addition, in Spring 2023, Le promenoir des amants by René Magritte reached HK$51m, marking the modern master's auction debut at Christie's Asia, and the artist auction record for Singaporean modern painter Georgette Chen was broken by Christie's again with the work Still Life with Big Durian, which realised HK$14m.
Digital market and NFTs
Unlike the past years, the digital art market has been "a little bit quiet" said Chow. However, the expert believes that digital collectables like non-fungible tokens (NFTs) will see some growth either by late 2023 or 2024.
"Looking at how cryptocurrencies are making a comeback, we expect digital collectables to be pulled along," Chow said.
"I think there are signs that digital collectables, may be on the way back, we have a platform now Sotheby's Metaverse for trading in the primary sector and secondary sector, digital collectables, and we're sort of primed to take this opportunity when the market is expected to bounce back," Chow added.
READ MORE: A new canvas: Why artists are jumping into the NFT space
Despite NFTs being tested amidst the volatility of the broader crypto market, Christie's sold 87 NFT lots in 2022 across all its platforms for a total of US$5.9M (HK$46m) from artists such as Diana Sinclair, Mad Dog Jones, and Fewocious. An auction in May 2023 of digital artworks by Jack Butcher was 100% sold and totalled US$93,000 (HK$724,470).
Moving forward, Belin said Christie's will continue to advance digital art and NFTs as a serious collecting category within Contemporary Art.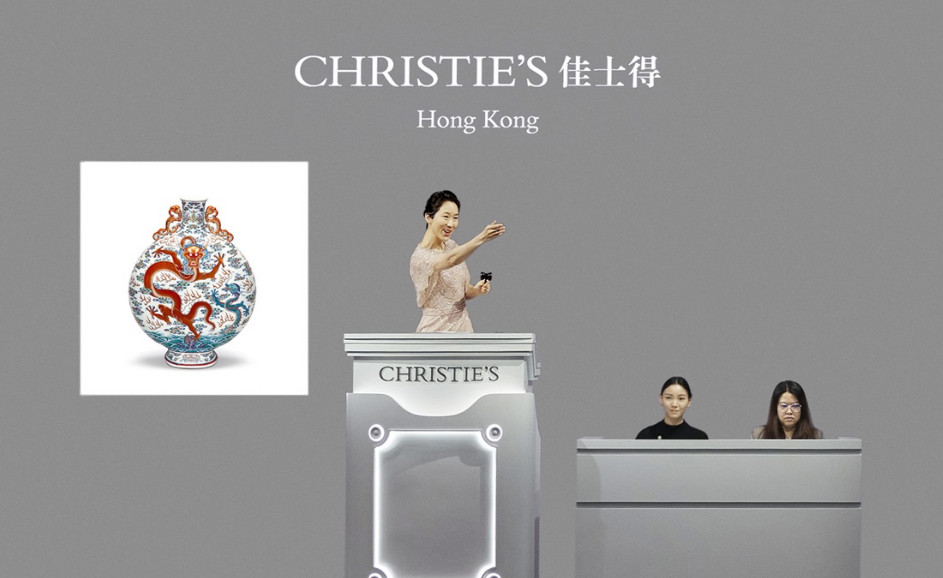 Uptrend in online auctions
Whilst the COVID-19 pandemic halted auction houses from conducting in-person live events, it also gave them a new avenue to recruit new clients.
The online platform of Christie's, for example, was its No. 1 recruiter of new clients in 2022, accounting for 64% of its new buyers.
Phillips was also able to tap into an entirely new database of clients through its online offerings, said Crockett.
READ MORE: Phillips' 'minimalist' HQ showcases diverse collection of Asia's finest art
"Online selling grew out of the requirement to replace our engagement with our clients and replace our in-person live events with something else. With a return of in-person, live events and the ability to travel, the requirement for an enhanced online auction offering no longer exists," Crockett said.
"However, we found that when we had our first online sales, we were able to serve [not only] our existing client base, but we also found that we were tapping into an entirely new database of clients we previously had no contact with," he added.
Going forward, Phillips will have a selection of both online and live auctions, he said.
Art as an investment

Rather than buying art as an investment, the auctioneers advised clients to collect out of passion. But for those who are considering investing in art, Belin said "true masterpieces stand the test of time."
La Montagne Sainte-Victoire by Paul Cézanne, for example, saw a 258% increase in its value. In May 2001, the painting was sold for US$38.5m (HK$301m) and by November 2022, its realised price was US$137.8m (HK$1.08b) during the sale of the collection of Microsoft co-founder Paul G. Allen.
Chinese works of art whose market value also increased throughout the years include a rare Qianlong period doucai moonflask.
According to Belin, the moonflask's market value has soared over 10 times since it was first sold in May 1995 for HK$8.16m (US$1.03m). In May 2023, it sold for HK$108m (US$13.8m) when it was presented at Christie's Hong Kong Spring Auctions.
Chow also had a client who bought imperial seals in the 90s. Back then, his client bought the seals for about US$50,000 (HK$391,140). Ten years ago, the seals were sold for about US$60m (HK$469m).
Chow, however, underscored that he does not encourage buying art as an investment.
"This is not what we're here for and we really try to bring the passion and the precision of the art to the collectors around the region," he said.
Growth for Singapore's art market

Singapore is amongst the emerging art markets of Asia, given that it connects collectors from all over Southeast Asia.
While Hong Kong remains the location of Christie's APAC headquarters as Asia's key art hub, they have continued to invest in Singapore.
In October 2022, Christie's hosted their most extensive cross-category auction preview event in Singapore to date at The Arts House At The Old Parliament – convening collectors from across the Southeast Asia region, and they hosted a further preview at the same location this Spring.
"We have a positive outlook in Singapore, which continues to be our key growth market," said Belin, adding that Singapore's percentage in Christie's new buyer count has increased by 15% in 2022 from 2021.
Belin added that the free flow of capital and people as well as a healthy art ecosystem are some of the attributes that make a global art hub.
In August 2022, Sotheby's also held its first auction in Singapore after 15 years.
"There's been a lot of wealth [in Singapore]. [We are seeing] more and more family offices. [Our return to the Lion City] was a way of addressing that growth. We wanted to bring and let people experience, on the ground, art and luxury," Chow said.
"What we've actually seen with our sales last year was an incredible enthusiasm from the people on the ground," he added.
Hong Kong, an unrivalled art hub

Hong Kong will remain a key art hub in Asia-Pacific, given its competitive advantages that took decades to build and be matched, said Belin.
"[The city] has free flow of capital; talents equipped with experience, expertise, international perspectives, and multi-language proficiency; favourable policies on tax, import and export, with efficient logistics; and geographical convenience that connects mainland China and itself with the rest of the world," Belin said.
"The mature and ever-vibrant art ecosystem in HK also helps cement its status as a key art hub in the region – from museums, international and local art galleries, auction houses, art fairs like Art Basel and Art Central, to seasoned and younger collectors," the Christie's APAC president said.
Showcasing Hong Kong's efficiency as an art hub, Belin said it only takes two to three days for them to transfer a painting from its overseas hubs in New York, London, and Paris to their gallery in Hong Kong and set it up for preview and sale.
The opening of M+ and Palace Museum also strengthened Hong Kong's position as an unrivalled art hub in Asia, said Chow.
Crockett, for his part, said Hong Kong should enable arts and culture to percolate into the daily lives of the average person in the city.
"Hong Kong is a city that was built on trade and commerce and there's a lot of wealth here. In other cities, wealth exists in arts and culture and that's yet to manifest itself here in Hong Kong," Crockett said.
"I think there [is a] need for more world-class exhibitions happening here, more arts events. Art needs to be promoted more as a worthy subject to study at school. It shouldn't just be about maths and economics," he said.