Milieu Insight, in its latest survey, examined how employee demands and expectations have shifted.
The COVID-19 pandemic has forced companies to embrace change at a scale we have never seen before, putting in-person work in a tenuous position. Businesses in Singapore have risen to the occasion, acting swiftly to safeguard employees and migrate to a new way of working – a way that even the most extreme business-continuity plans hadn't envisioned. The employer-employee relationship has been completely flipped on its head and the hybrid dynamic has not only become mainstream but now, expected.
In Milieu Insight's recent survey, we examined how employee demands and expectations have shifted, shining a light on a new progressive corporate structure that values the employee's preferred environment for productivity over traditional employer demands.
Preference for remote work is not going anywhere
Having the flexibility to work remotely appears to be the prevailing choice among employees in Singapore with most (78%) leaning towards a hybrid schedule. Employees are far less enthusiastic about going all in on one environment: Only 12% would prefer working from the office all the time, and 10% want to work remotely full-time.
Besides the majority (90%) indicating they can save time and money on commuting to and from work, those on hybrid work arrangements also highlighted improved work-life balance and a less stressful working environment as perks of working from home. With more time and fewer office stressors, on average, those currently on a hybrid work arrangement seem to experience a boost in their quality of life.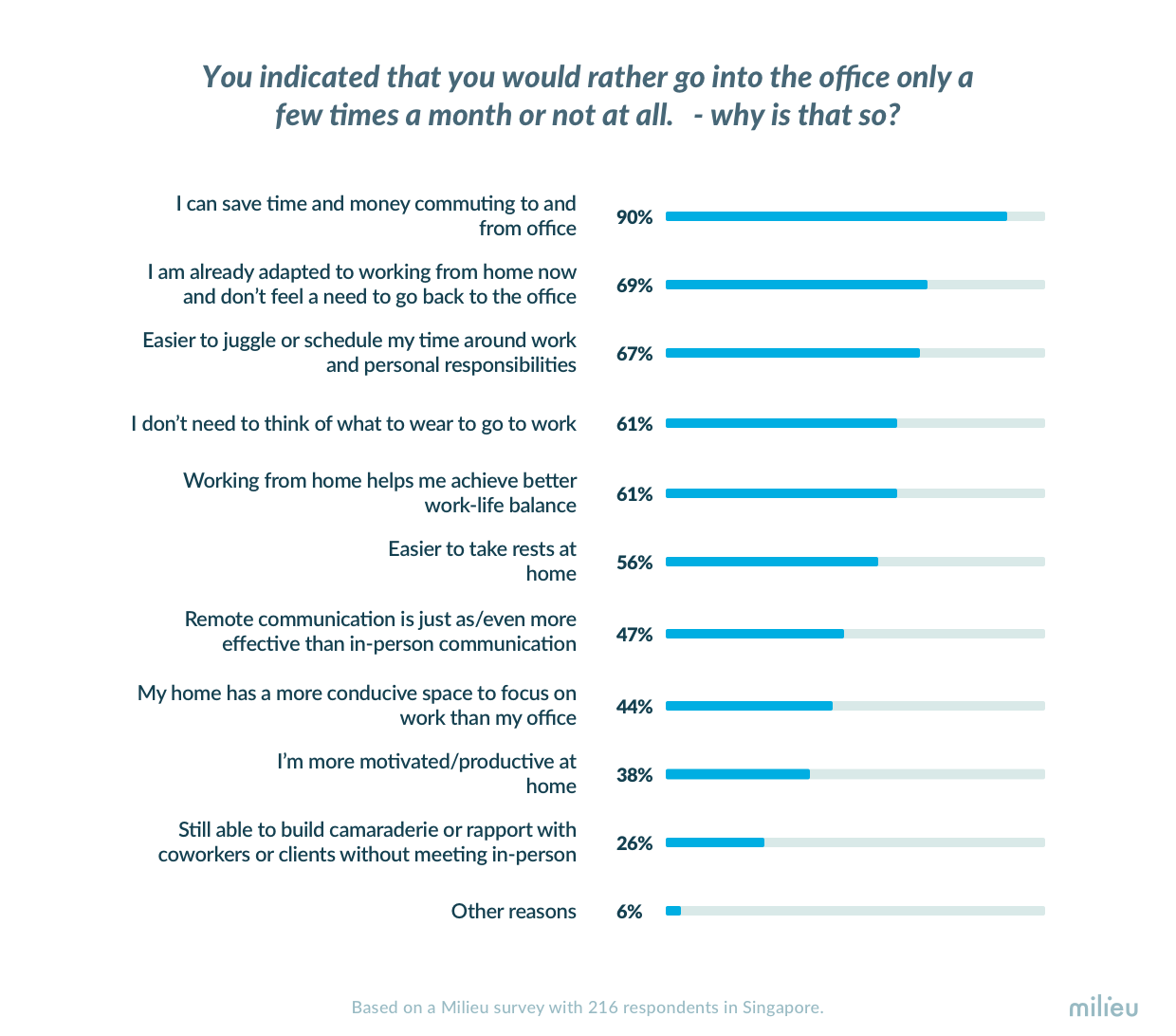 Making hybrid work a success
With the hybrid model designed for flexibility of working remotely, while still offering structure, stability and social advantages, we wanted to understand employees' primary motivation(s) for going into work.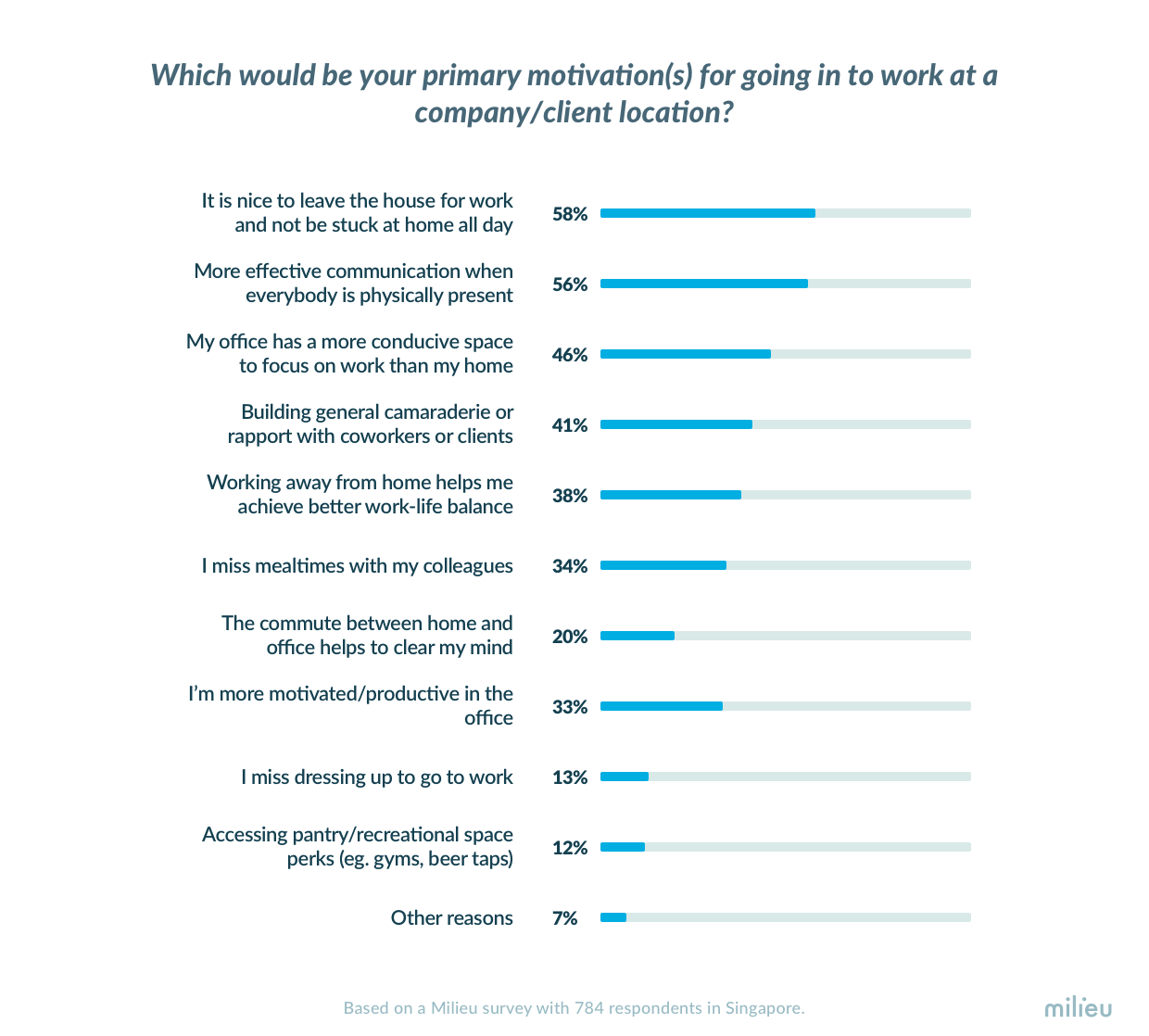 Our survey has shown that employees are motivated to go to the office to get together with their teams and colleagues, for collective work, brainstorming sessions, building connections and other social rituals. To be truly successful with a hybrid work arrangement, companies ought to consider transforming their office to cater to what these places will actually be used for – for employees to innovate, collaborate and connect.
For many employees, though, working from home meant they missed out on some office-based benefits as well as brought on additional costs such as higher utility bills. So, we also asked respondents what employee benefits they would like to have, if they were expected to work fully remotely or partially from home in a post Covid-19 world.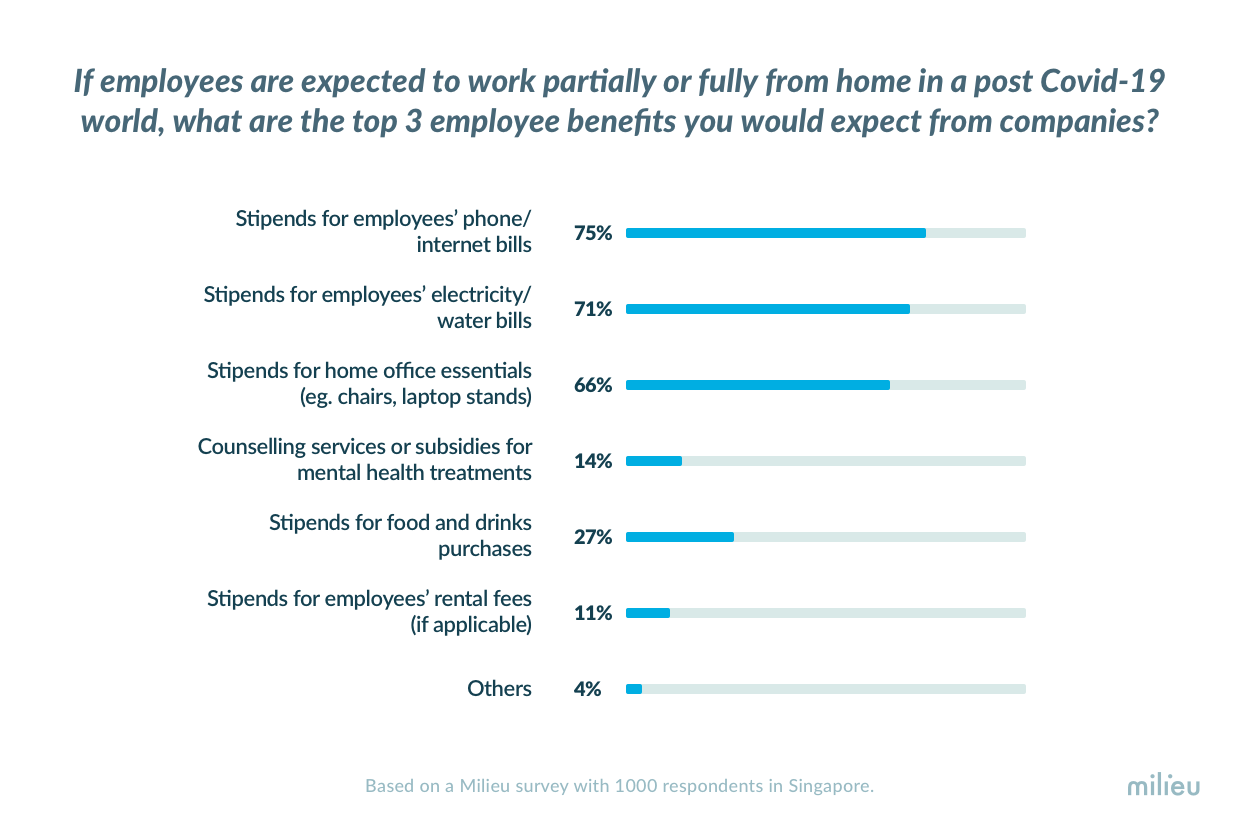 Onboarding – Setting the stage from Day 1
At times, the drive for constant business growth may create environments where all considerations other than success are given second place - how employees are performing becomes more important than how they're feeling, and unhappy employees may not perform as well as they might, lowering the organisation's productivity and potential for growth. With some hiring managers treating onboarding like a one-and-done task that can be handled in an afternoon, we surveyed new employees that have recently joined a company and hiring managers that have performed onboarding for new staff, remotely.
64% agreed that it was a relatively smooth experience to begin a remote job during the pandemic.

57% agreed that hiring new team members remotely proved to be a somewhat seamless process, as it would have been done in-person.
The results may seem quite modest, and it could be due to some companies still in the midst of adjusting their hiring and training processes to meet the evolving pandemic measures.
Is your company culture seduced by presenteeism?
35% of managers and employers don't have a preference

(neutral)

as to whether their direct reports work in an office or from home
Given that some company cultures or managers may be seduced by presenteeism, whether consciously or subconsciously, making a moderate effort to signal your productivity and communicate your contributions may be a good idea. That means creating a regular channel of communication with your teammates or superior(s), particularly during the transition to the hybrid model, to ensure new working patterns remain effective.
61% of managers and employers agree that work performance can effectively be evaluated while working remotely.
As new working models have emerged, there's been debate about whether remote workers may find themselves on the side-lines when it comes to a promotion, because if they're not in the office, their contribution may be less obvious. As a result, on their in-office days, workers may feel the need to prove to managers that they are being productive.
It's clear that remote work is here to stay, at least for the foreseeable future. So how can companies assess its impact on employees' well-being and adjust their systems and strategies accordingly? There is no one-size-fits-all mandate. We believe 'the basic of this is providing employees with the technology and tools that allow them to collaborate with teams and access all applications and information they need to succeed in their role'.
At the same time, 'maintaining company culture, team camaraderie and overall employee engagement at all levels will play a decisive role in the success or failure of hybrid work arrangements'.
Methodology
This survey was conducted via Milieu Insight's proprietary survey community in Singapore (N=1000). The data is representative of employed persons aged 16 and above, and the margin of error is +/- 3% at 95% confidence level. Data was collected in August 2021.