Chart of the day: Energy stocks are the most traded in first two months of 2022
An average of $1.41b in average daily turnover was recorded in the same period.
This chart from the Singapore Exchange shows that the energy stocks lead in terms of contributing to the market's performance in January to February 2022 at a 21% average price performance.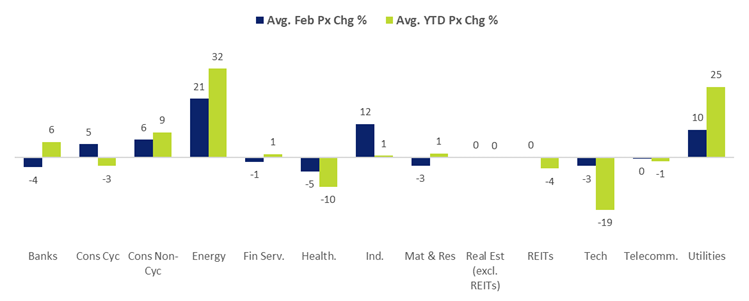 The energy sector also leads in terms of average year-to-date price performance at 32%.
Whilst this industry leads in terms of price performance, it is only one of several sectors, such as Telecommunications, Real Estate (excl. REITs), Consumer Non-Cyclicals, Consumer Cyclicals, Utilities, Financial Services (excl. Banks), and Materials and Resources, that have recorded net institutional inflows.
A $1.41b in average daily turnover was recorded over the first two months, with the country's 100 most traded stocks making up $1.34b. These 100 stocks also represent an estimated 75% of the total market capitalisation of all primary and secondary-listed stocks on the exchange.
Overall, the Straits Time Index's total return for the period was pegged at 4%, higher than the 2.8% return for the FTSE ASEAN All-share Index.