YCP Holdings wins award for largest IPO deal through the JDR scheme
Tagged as Asia's Game Changer, YCP Holdings wins the Management Consulting award in SBR National Business Awards.
YCP Holdings first began in August 2011 as Yamato Capital Partners, a management services firm headquartered in Japan. In 2021, YCP Holdings moved its headquarters to Singapore to expand its presence and foster an Asia-focused business driving growth for its clients and employees.
Currently, YCP Holdings operates two businesses: Management Services Division, known globally as YCP Solidiance/YCP Auctus, and Principal Investments Division, which manages the Group's portfolio businesses.
Last year, YCP Holdings was listed on the Mothers Market of the Tokyo Stock Exchange (TSE) where it was able to further its recognition for the innovative service solutions and profitable alliances brought to the Asian Market.
To accelerate business growth, YCP cultivated three core strengths:
Cross-Border Business Development through its global network of offices

M&A expertise that allowed YCP Holdings to be part of some of the region's best financial deals

Digital Transformation (DX) enables our clients to adopt transformative digital strategies into their Asian growth agenda.
This combination has enabled YCP Holdings to bring expanded service capabilities with up-to-date and best-practice solutions for its growing roster of clients.
In November 2021 YCP Holdings announced that the Tokyo Stock Exchange (TSE) had accepted its Japanese Depositary Receipt (JDR), which allowed the company to be listed on the Mothers market of the TSE starting in December of that year. This listing through the JDR scheme is only the third-ever such listing in the history of the TSE. Not only was YCP Holding's IPO the largest deal size through JDR, but it was also an initiative backed by both the Singaporean and Japanese governments.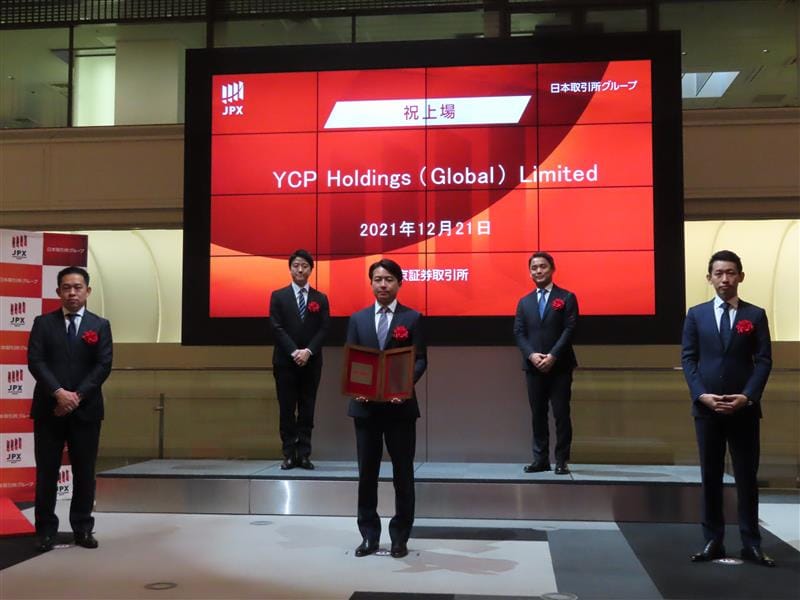 Having an Asia-focused company with direct invested ties to countries across Asia-Pacific proved to be beneficial for Singapore's growth as a global hub and Japan's recognition as a credible IPO destination.
In total, the firm has generated JPY 3,275,691,280 (US$24,397,207.80) from the IPO to date.
For its innovative solutions, the company was given an award in Management Consulting in the recently concluded SBR National Business Awards. The prestigious annual awards programme launched in 2016 honours local and homegrown companies in Singapore and recognises outstanding projects that greatly contribute to Singapore's fast-growing economy. In giving this award, the judging panel recognised the various milestones achieved by YCP Holdings since its IPO listing such as:
Introducing new BU's within its Management Services Division in May 2022 to include Digital Transformation, Interactive Solutions and Sustainability, via a partnership with Singapore-based SaaS platform, Rimm Sustainability.

Establishing Lifemate Animal Emergency Center, Inc. in July 2022 following the successful acquisition of Animal Medica Co., to expand its roster of animal hospitals across Japan

Expanding its F&B investments through the acquisition of ARUKI Corporation, a restaurant group operating the brands Umi Hachikyo, Mare Hachikyo, and Crab Gang Hokkaido Ramen.

Investing significantly in the region through the acquisition of India-based consulting firm, Auctus Advisors in December 2022, and forming a business alliance agreement for a joint venture with Singapore-based investment banking firm, TC Capital.
Looking ahead to the 2023 forecast, YCP Holdings is gearing up to surpass its record growth in 2022 by focusing on pioneering innovative solutions through technology and regional expansion.
The SBR National Business Awards is presented by Singapore Business Review Magazine. To view the full list of winners, click here. If you want to join the 2024 awards programme and be acclaimed for your company's exceptional contributions to the local business landscape in Singapore, please contact Bianca Peñaranda at bianca@charltonmediamail.com.