Chart of the day: Singapore's rich are getting poorer
More than 2 in 5 Singaporean rich have had their income decreased in 2021.
This chart from analytics firm FICO's recent whitepaper shows the income change of retail banking customers and mass affluent customers from seven markets including Singapore.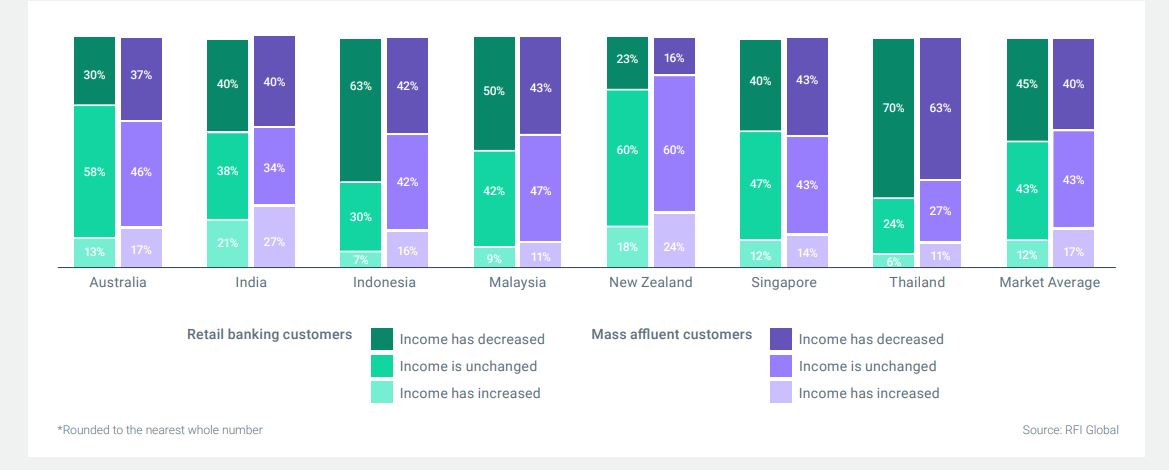 43% of Singapore's mass affluent customers saw their income decrease in 2021, with only 14% saying it increased during the year. The income decrease is above the market average of 40%.
READ MORE: Singapore's ultra wealthy population continues to rise
However, around the same number also said that they experienced neither increase nor decrease in the year.
Meanwhile, 40% of Singapore's retail banking customers saw their income decrease however 47% have said they experienced neither an increase nor decrease in the year. 12% have stated it has increased.
"It's hardly surprising, then, that more than 50% of retail banking customers indicated a high level of concern around money. With many still feeling the aftermath of the pandemic, the regional average showed that only one in five didn't feel worried at all about their finances following a change in their income. While we'll address the shift in consumer intentions that this has triggered, it's important to note that mass affluent respondents generally felt confident in their finances," FICO said.