Stock photo. Credits to Unsplash.
Chart of the day: Vacancy stock resumes rise in Q2
The increase in vacancy stocks was attributed to a large number of completions.
This chart from Savills shows the number of vacant stocks and vacancy rate from 2017 to the second quarter (Q2) of 2022.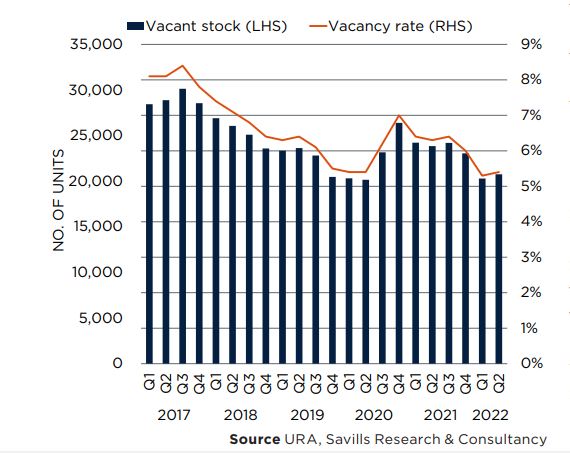 Following two quarters of decline, vacant stock expanded by 2.3% quarter-on-quarter (QoQ) in Q2 2022 to 20,765 units. The increase was mainly attributed to a 2.8% increase in the vacant stock of non-landed units as well as new completions in the quarter.
ALSO READ: How realtors dealt with the new realities of the real estate market
The bulk of the new completions in the quarter came from Stirling Residences (1,259 units), Whistler Grand (716 units), Parc Botannia (another 357 units) and The Hyde (117 units).
Savills said that as the vacant stock increased, the vacancy rate of private residential properties inched up marginally by 0.1 of a ppt to 5.4%, a reversal from the two consecutive quarters of decline.