How advisors can remain relevant as more customers turn online
MoneySmart provides data-driven insights on the 'phygital' experience that customers want.
Will insurance agents soon be phased out by bots? Most insurers rely on the personal relationship between customers and advisors, but pandemic-related restrictions have thrown a wrench into this time-tested business model. With the proliferation of digital services like chatbots, self-serve portals, and video conferencing, will personal interactions with insurance advisors soon become a thing of the past?
A new survey by MoneySmart found that although customers have welcomed digital innovation in insurance, a large majority still prefer to have human interaction and relationships at certain points in their insurance journey. This is where the "phygital" experience comes in, the balance between "bots and bodies."

In particular, customers believe that digital channels do not adequately answer questions about products, premiums, and coverage. Chatbots are incapable to fully answer unique queries that customers may have about a particular product, especially for more complex services, like hospitalisation insurance, which tend to have the highest preference for human consultation amongst buyers due to complexities in processing. The doubts and fears of customers cannot be fully addressed by digital channels, leading many clients to believe that an actual advisor's involvement will yield better outcomes. This lack of understanding around what risks need coverage, what premium amounts will be, and how reimbursement is settled, represent a need for insurers to properly educate customers in a more effective manner.
In comparison, critical illness insurance (CI) is easily purchased online because insurers can instantly provide online a wealth of information regarding policy specifications and what the coverage entails, hence customers are more likely to buy from online platforms than go through a financial advisor. Some even find the purchase of such a policy easy after getting reassurance that their choice of insurer and product is correct. For other products, however, such as life insurance, it can be surmised that customers cannot solely rely on digital channels to address their complexity.
Know your customer

MoneySmart's survey highlighted the changing habits of insurance customers. For instance, when shopping for an insurance product, customers visit multiple online sources in search of content to educate themselves on the basic principles of their preferred policies. They also compare their different products using online finance aggregators or review sites.
Before buying an insurance policy, customers first validate any information found online through friends, family, or advisors that they trust. MoneySmart's survey showed that a cross-check is almost always necessary in getting customers across the line.
The survey further revealed that half of the respondents have bought insurance online; and the other half, from a financial advisor. This means that insurers also need to be visible online in order to be considered by customers. Insurers with poor Google search results may be easily overlooked. Those who provide inadequate content on their websites are likely to be bypassed by customers, as well.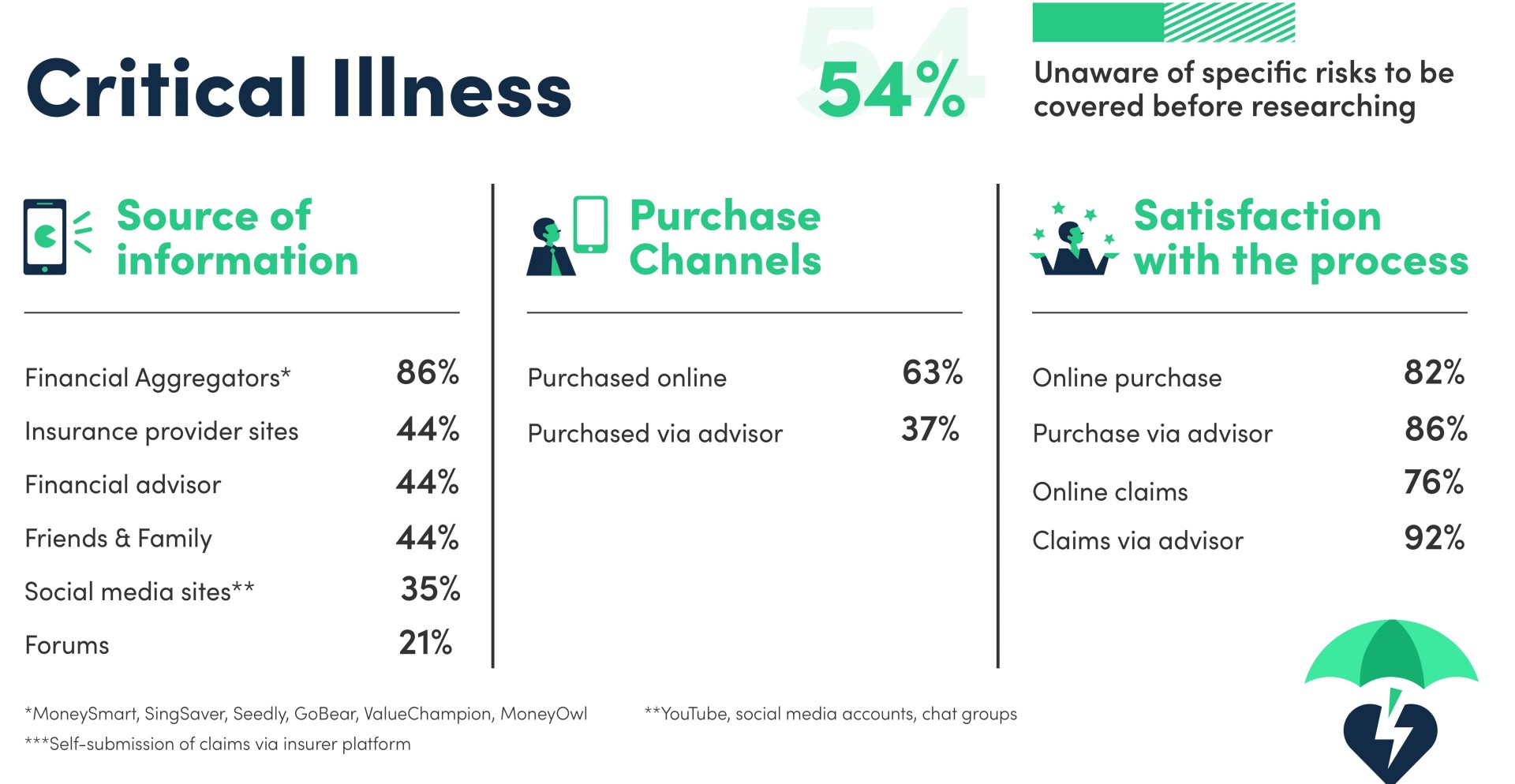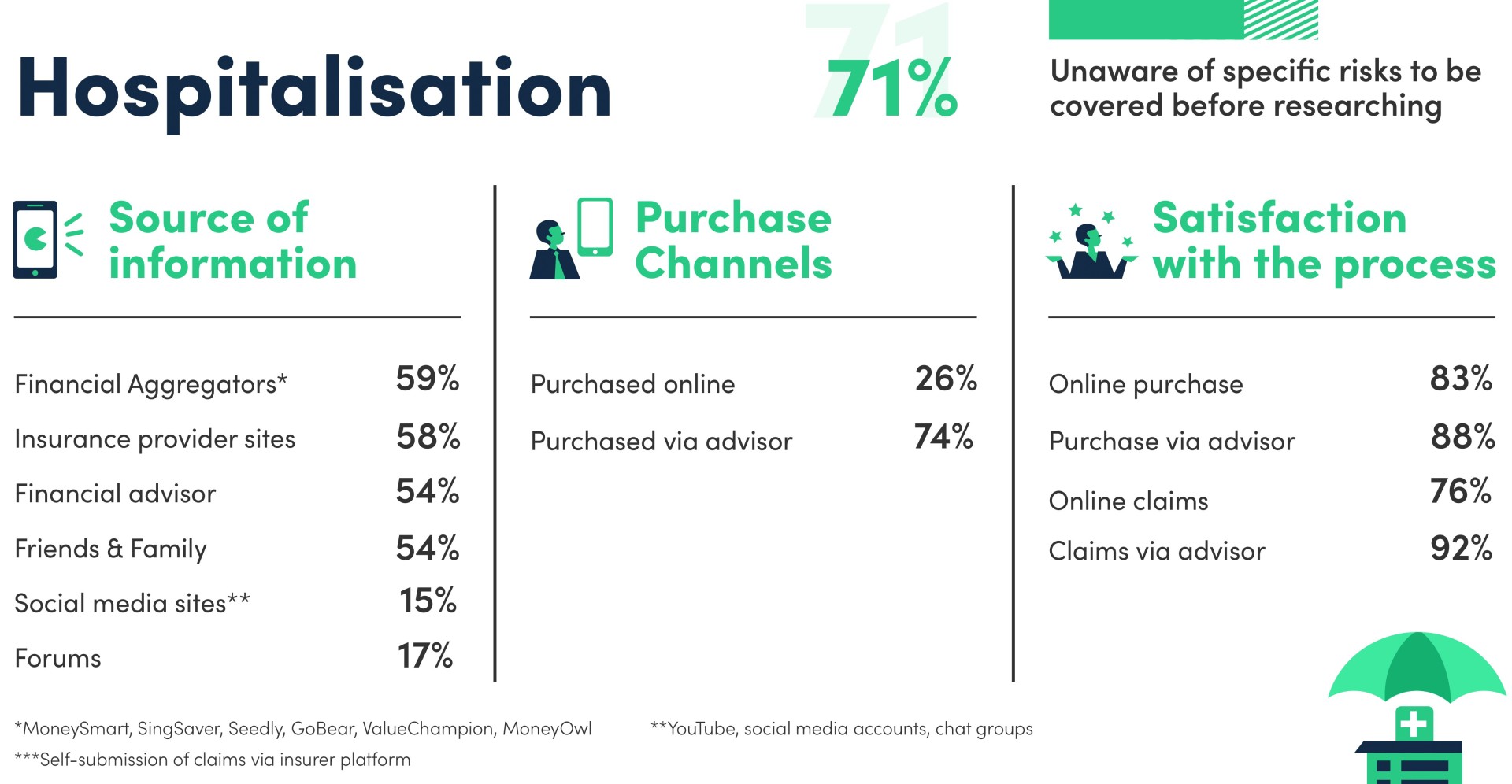 Customer behaviour changes when it comes to making a claim on the policy. At this stage, most customers prefer to go through their advisors to make claims, as opposed to using digital self-serve options. In particular, customers prefer to have an advisor assist them in document assembling and claims processing and submissions. Customers appreciate the sense that someone on the "inside" is working hard in their best interest, and this experience cannot be found in digital platforms at the moment.
These findings showed that whilst customers seek the convenience that digital platforms provide, the assurance and trust earned from customers, through sincere advisors who help them navigate emotionally difficult times, is still sought after in the insurance journey.
A human touch
Given the changing needs of insurance customers, insurers need to strike a balance between providing convenient digital services and responding to a customer's desire for trust, assurance, and accountability through an advisor. This can be done by better integration of both the digital and physical service experiences, which will result in the greatest satisfaction for customers.

In particular, digital materials developed by insurers may also need to be further simplified in order to ensure understanding and comprehension to wider segments of audiences. Chatbot algorithms must be fine-tuned to provide better answers for unique queries, although they may still incorporate extensive use of templated answers. On-demand video calls with qualified advisors could also be provided. This is a unique and personalised offering that truly addresses customer needs, beyond just write-ups and blog posts from insurers.
Balance must be at the core of the transformation of the insurance industry. As more processes become digitised, insurers and personal finance aggregators have a responsibility to ensure that the crucial human element is not lost. The nuances of human interaction in the insurance purchase journey are still of tremendous value in the eyes of the customer and need to be integrated into the digitisation efforts of the industry.
Dive deeper and learn the perfect mix between digital and human interaction to give the "phygital" experience that customers need and want, especially in this pandemic. Download MoneySmart's white paper HERE.