How upskilling transformed a junior chef into a Head Honcho in a leading hotel group
Millennium & Copthorne Group's Mr Kung Teong Wah shaped his career through an unwavering determination to continue learning and upskilling.
When Mr Kung Teong Wah started his career as a junior sous chef in the early 1990s, he thought that he was in for a life of hard work. He rendered long hours, often labouring in the kitchen for over 12 hours a day and endured various difficulties.
Little did the 20-year-old junior chef know that he would one day become a renowned hotelier, managing top hotels both in Singapore and abroad such as Cambodia, China, Malaysia, Indonesia, and Thailand. Through a combination of grit and a tenacious desire for self-improvement, Mr Kung propelled his career to great heights by cultivating a relentless passion for learning.
Humble beginnings
"For my first job, I spent 12 years in the kitchen. I was a good cook because I had training, but I did not want to settle for that. Once I saw my executive chef working on his computer—remember that this was the 90s, and computers were rare then, I thought to myself: 'I know that will be the future – to have a chance to go into his office to use his computer', Mr Kung shared.
He set his heart on learning and bravely ventured out of his comfort zone. He began to learn how to type, transcribe recipes and even newspaper articles to practice his computer skills when he saved up and bought his own computer. When the hotel underwent restructuring, he studied the cost spreadsheets in his free time and taught himself how to create spreadsheets using the now-defunct software Lotus 1-2-3. He did all these on top of his full-time job, and even during this time, he still managed to become an executive chef less than a decade after he first started working – a feat that is attainable by only experienced or talented chefs de cuisine.
"I was posted to China to work as an executive chef. Two years later, I was asked to come back to become a Food and Beverage (F&B) Manager. I worked for seven years and eventually became director of F&B. After that, I became the Executive Assistant Manager of Rooms, then a hotel manager. Soon I was named the General Manager, and I travelled to places like Malacca, Indonesia to work and manage the hotels there," he said.
This equipped Mr Kung with a diverse working experience which provided him with the versatility needed to manage top hotels with an international workforce. Now, after over 30 years in the hospitality industry, he currently serves as the Cluster General Manager at Copthorne King's Hotel and M Hotel Singapore. Apart from on-the-job training, Mr Kung also supplements his professional development by attending several training programmes annually. Mr Kung makes it a point to attend a 5-day course every quarter and enrols himself for shorter courses spanning between one to two days. He shared that he has been upskilling across numerous domains, ranging from sustainability, digital transformation, digital marketing to lean management. Having benefitted from regularly upskilling himself, he now cultivates the same love for learning and self-improvement among those who work under his leadership.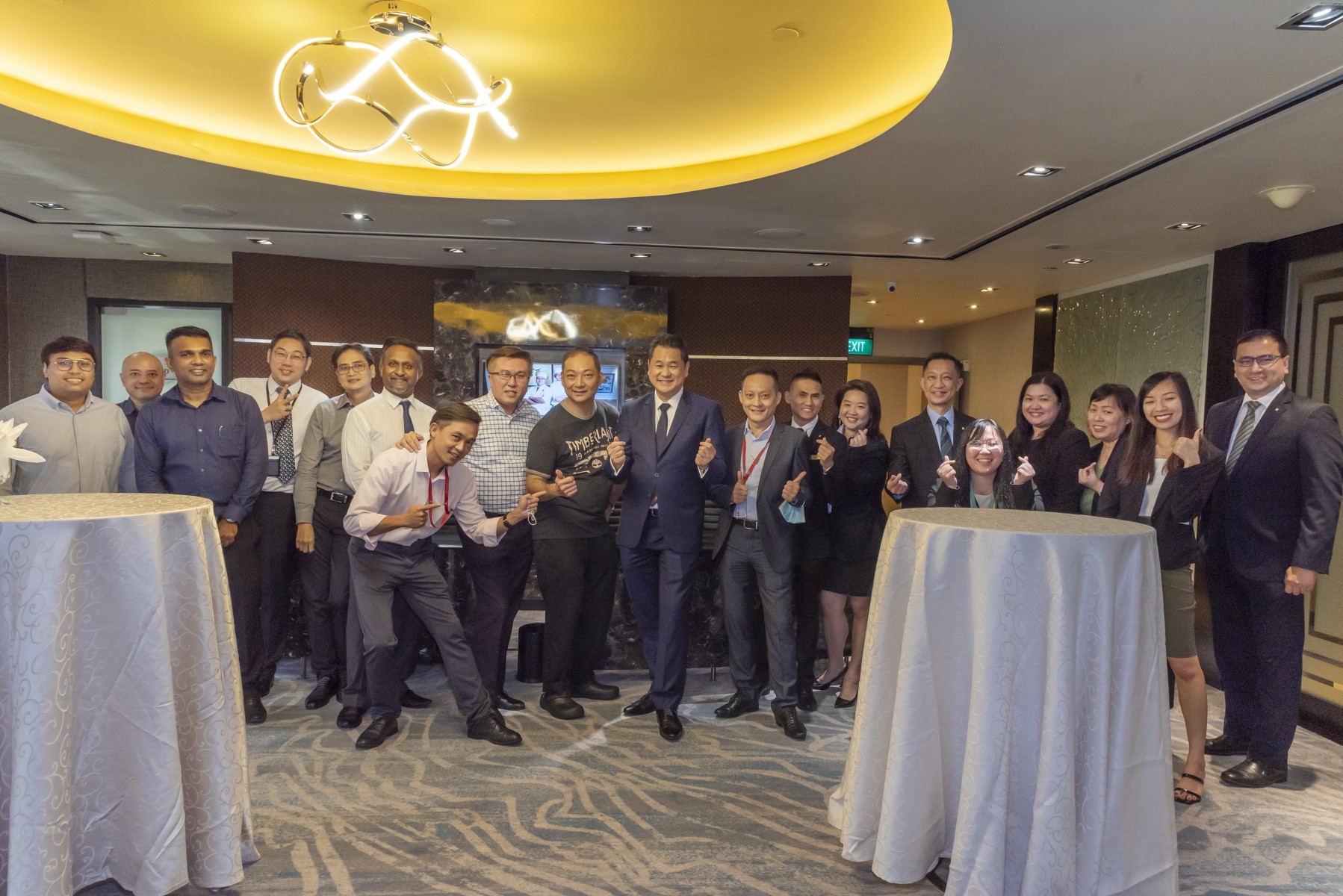 Mr Kung Teong Wah and hotel employees

Cooking up a better future
With Mr Kung's support, Copthorne King's Hotel and M Hotel Singapore has collectively raked in almost 90,000 training hours in the last two years – where his advocacy and passion for upskilling have benefitted over 230 employees in his workforce. Mr Kung actively encouraged his employees to upskill and has made learning and development (L&D) a crucial part of the hotel's human resource strategy.
A tool which has been specifically useful for Mr Kung's workforce is the NTUC LearningHub Learning eXperience Platform (LXP). LXP is a one-stop online learning mobile application which offers a suite of over 75,000 courses across 135 categories to support individuals' as well as organisations' training for their staff.
"We have a 'four skills principle', where everybody must attain four skills. We would fund everything, and we give incentives when people finish courses," he noted. "For me, employability does not mean having and building only one skill. Employability is multi-skills – preparing you for certain phases of life where you can still continue to work. Since I've been through that journey, I want to cascade that journey down to our people."
"L&D is a long-term business strategy where organisations can benefit from capability building, progressive wage increase and staff loyalty. For example, I have bell captains doing security, security doing bell, and housekeeping learning how to do a bit of facility management jobs – plumbing, changing lightbulbs, etc. – in order to enhance their capabilities and receive market adjustments as a result of improved capability and performance," said Mr Kung.
The core training offered to employees involves four parts, the first part was developed to equip people with the skills or the license and certification because of operational needs. The second part is the continuity of employee development, and third would be "freestyle" which means employees are free to choose what they want. Last but not least, there is online training which is where LXP comes in.
With LXP, employees such as Housekeepers, Bell Captains, Sous Chefs, Security Officers, Duty Managers, and Directors of Sales can learn at their own pace and at their own time, which is useful, especially for those in operationally intensive roles. Mr Kung shared that LXP's courses on data analytics and project management were popular among his employees. "Business benefits from better profit margins and the staff get a progressive wage increase. I target to have 50% of my workforce enrolled in LXP by 2022, and I hope by 2023 it will be 90%." This is reflected by a drop in their business volume by 50%, but profitability remains healthy and profit margin is on par or better than pre-pandemic.
"I think all of us have a lot of responsibility to our workers and every worker matters. Especially for older workers, we as leaders have to prolong their employment, to ensure that they remain employable even after they reach a certain age. How do we prolong their work age? The answer is in corporate training and investment in equipment and technology; this helps more mature workers stay employable for a longer time," he said.
Speak to NTUC LearningHub's Corporate Sales Account Managers today. Visit https://www.ntuclearninghub.com/lxp/enterprise for more details.