Chart from PwC's report.
CHART OF THE DAY: IPOs in Singapore and neighbouring markets
IPOs raised $614.7m (US$0.44b) from January to May 2022
Singapore's initial public offering (IPO) posted $617.4m ($US440m) funds raised from January 2022 to May 2022 from 10 offers, PwC said in its report.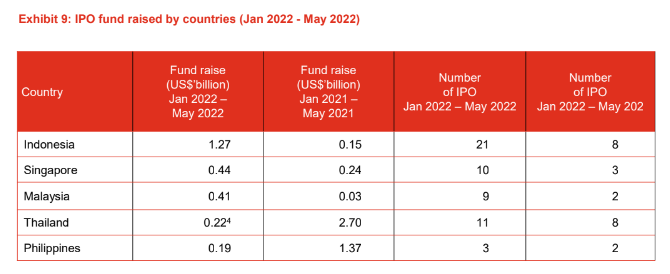 According to PWC'sH1 2022 Equity Capital Markets Watch, Singapore IPO for the first half of 2022 was higher than the $335.4m (US$240m) raised in the first half of 2021.
PwC also said Singapore IPO volume in H1 2022 was the highest since 2017.
In other regional markets, Indonesia raised $1.77b ($US1.27b) in H1 2022, with 21 IPOs.
Malaysia raised $572m (US$410m) with nine IPOs whilst Thailand recorded $307m (US$220m) with 11 IPOs.
The Philippines, meanwhile, had 3 IPOs at $265m (US$190m).
$1 = $US0.72