Chart from Savills.
Chart of the day: Private residential launches picks up in Q2
However, this was still lower than the launches in same period in 2021.
This chart from Savills shows the number of private residential units launched and sold in the primary market from 2017 to 2022.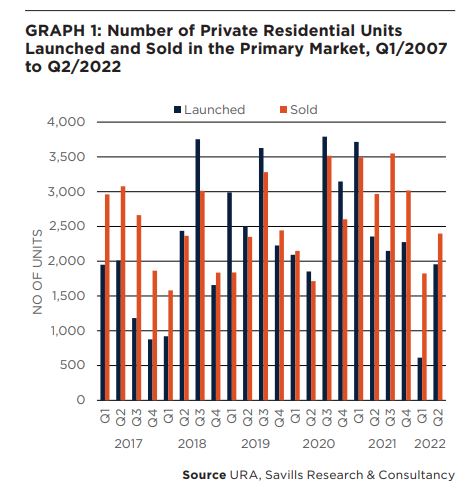 The chart shows that the number of units launched reached 1,956 units in the second quarter (Q2) of 2022, triple the 613 units launched in the previous quarter.
However, this was still lower than the 2,356 units that were launched in the same period a year ago.
ALSO READ: Primary residential market sales volumes grows 31.3% QoQ
Savills attributed the quarter-on-quarter increase to the new launch of larger projects in Q2 than in Q1. There were two new projects launched in the quarter in review, each with over 200 units. On the other hand, the largest new launch in Q1/2022 was Belgravia Ace, where 85 of the 107 units were released for sale.
Savills predicts that private residential home sales would go on to set record prices in the mass and mid-tier markets.