Allgreen Properties Limited receives Information Management - Real Estate accolade at the 2023 SBR Technology Excellence Awards
It was recognised for championing digital innovation to deliver experiences to its customers whilst staying ahead of the curve in the real estate industry.
Allgreen Properties Limited (Allgreen), one of Asia's leading real estate groups, has been awarded the Information Management - Real Estate accolade at the 2023 SBR Technology Excellence Awards.
Organised by Singapore Business Review (SBR), the awards aim to identify companies that have utilised technology to enhance their business operations, create value for their customers, and promote growth and development in their respective sectors.
In early 2020, Allgreen began a digital transformation journey to upgrade its infrastructure and invest more in technology. The company manages a diverse portfolio of properties, including residential, retail, commercial, and serviced apartments, and was facing challenges in maintaining system availability and security due to ageing hardware and infrastructure.
To address these challenges, Allgreen increased IT spending annually and invested in new headcounts to accelerate digitisation. The company also implemented cloud-based solutions across its business units, replacing on-premises legacy applications and improving business efficiency, governance, and customer satisfaction.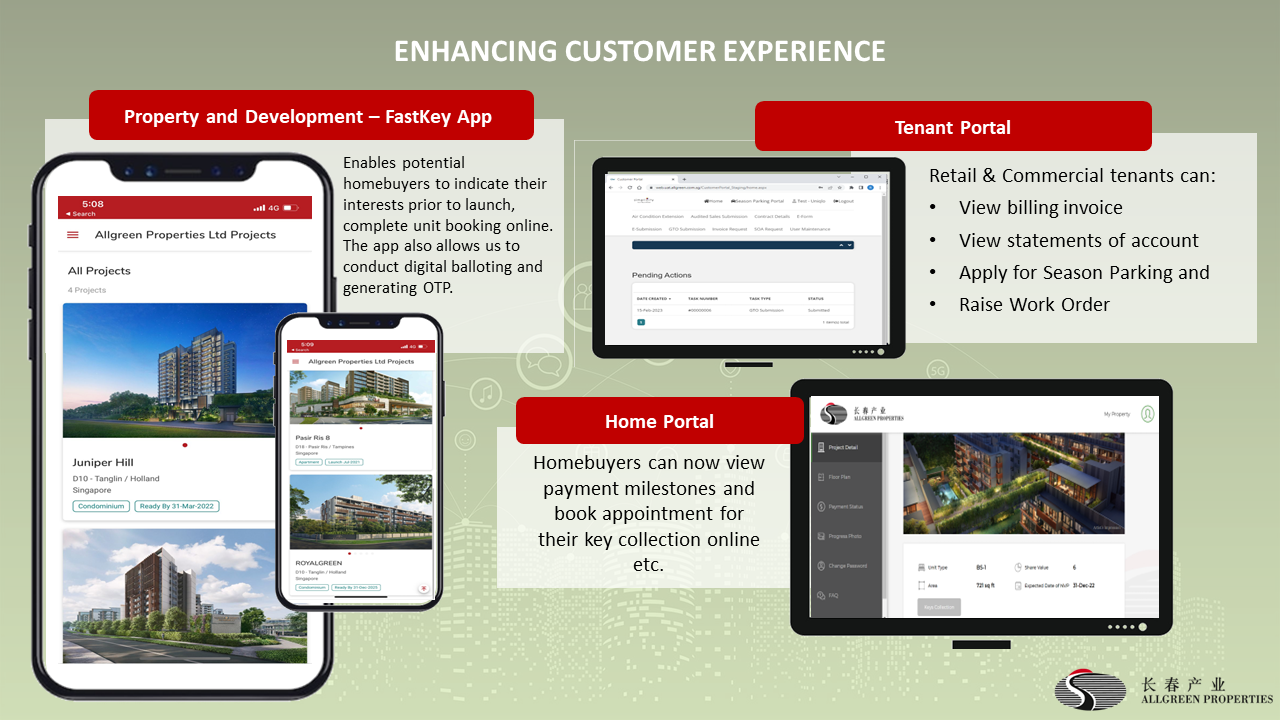 For property development, Allgreen launched the Home Portal to provide a seamless experience for homebuyers to receive timely updates for construction progress and payent milestones, and book key collection appointments online. In the Retail and Commercial business unit, Allgreen redesigned the Great Rewards Loyalty App to better engage shoppers with faster processing of receipts, and carpark dollar redemption. The Tenant Portal was also launched for retail and office tenants to request air-con extensions, view invoices, and apply for season parking online.
The launch of the Great World Serviced Apartment (GWSA) App has enhanced the service delivery and fulfilment journey as well as the guest experience through digitisation. Guests can receive the latest notices on events/happenings and submit requests for room service and other services easily via the app.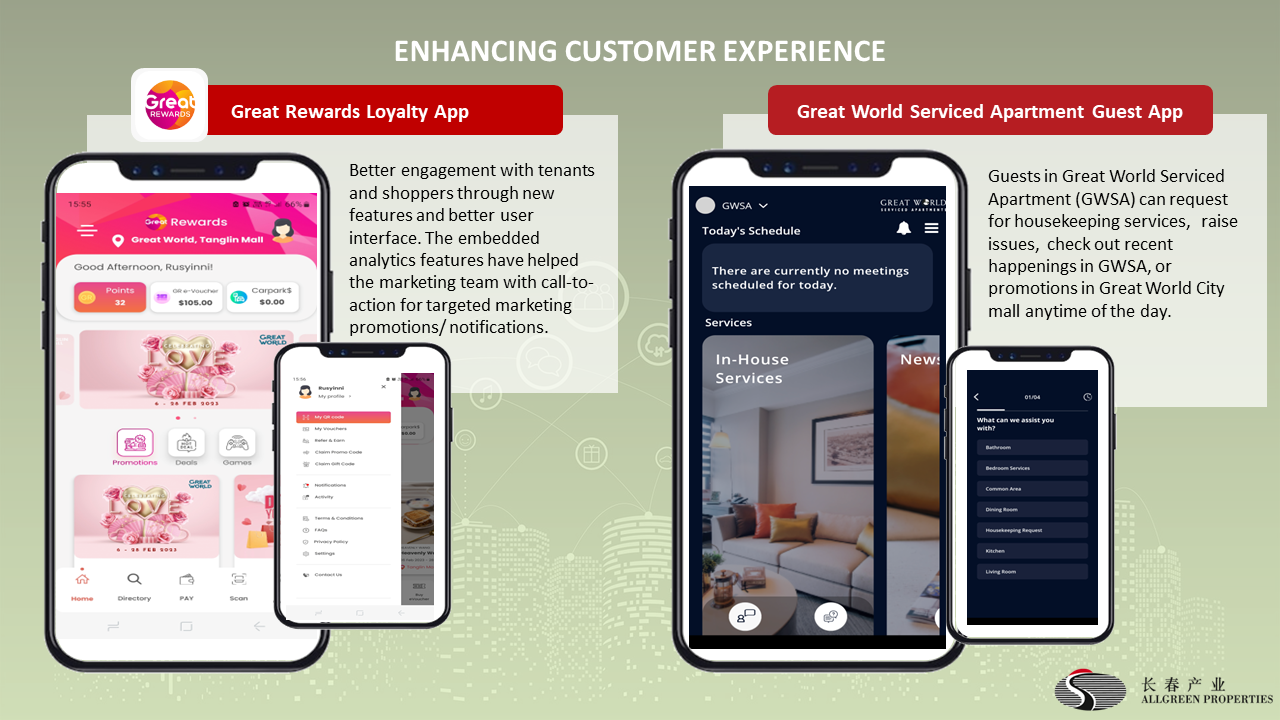 Furthermore, Allgreen moved four other key systems to the cloud to increase its service availability and modernised and secured interfaces between systems to ensure information alignment, data integration, interoperability, and communication between systems and processes.
With more data captured and managed in systems, Allgreen invested in the implementation of a data warehouse and data visualisation/analytics tools to gain better business insights. This has allowed respective business units to make well-informed and timely business decisions, such as conducting demographics analytics of its retail properties to assist in tenant-mix planning for the upcoming Pasir Ris Mall and evaluating guest reviews from various online travel agencies to understand the strengths and weaknesses of Allgreen's Serviced Apartments and that of its competitors.
Allgreen is a member of the Kuok Group, a global conglomerate with a presence in many industries, including real estate, shipping, and commodities.
Over 70 years, the Kuok Group has grown to become one of Asia's most dynamic multinational conglomerates, with operations spanning six continents in logistics, real estate, shipping and shipping related businesses, amongst others.
Incorporated in 1986, Allgreen has since grown to become a leading real estate group in Asia. The company has a strong reputation for excellence in design, construction, and management, and is committed to sustainable development and environmental conservation.
The SBR Technology Excellence Awards is presented by Singapore Business Review Magazine. To view the full list of winners, click here. If you want to join the 2024 awards programme and be acclaimed for your company's outstanding contributions in pursuit of technological innovation, please contact Jane Patiag at jane@charltonmediamail.com.