Bringing sustainable supercomputing to the tropics
National Supercomputing Centre (NSCC) Singapore wins in this year's SBR Technology Excellence Awards.
Supercomputing in data centres (DC) requires two things: power and temperature management. This means that the majority of the world's most capable supercomputing DCs are located in colder climates with lower humidity in order to operate safely and with lower costs.
The National Supercomputing Centre (NSCC) Singapore took this challenge on and established a new purpose-built DC at NUS' Innovation 4.0 (i4) building that is Southeast Asia's first tropical DC designed specially to support supercomputing in the tropics. The DC houses Singapore's newest next-generation national supercomputer, the ASPIRE 2A, which is a green, warm water-cooled system. This achievement has earned them the Data Centre Award at the 2023 SBR Technology Excellence Awards.
The awards programme recognises the breakthroughs and innovations of Singapore companies in producing high-quality or world-first products and services, and NSCC has distinguished themselves by designing a DC that incorporates sustainability and promotes the development of more energy and cooling-efficient supercomputing DCs.
While most DCs are cooled to around 20°C to 25°C, with lowered humidity levels hovering around 50% to 60%, the main compute room in NSCC's DC, which houses the ASPIRE 2A, does not rely on a conventional computer room air handler (CRAH) or computer room air conditioning (CRAC) for cooling. In other words, the unique compute room is aircon-less, which saves on power consumption, therefore enabling the ASPIRE 2A to operate at temperatures between 33.5 to 39.5°C. Another unique design feature of the DC is a Hot Hall ambient temperature Water-Dry Cooler system for the computer which uses warm water cooling (at a temperature of around 40°C so as to reduce additional power required for water cooling) and an external ambient atmosphere in the cooling of the DC.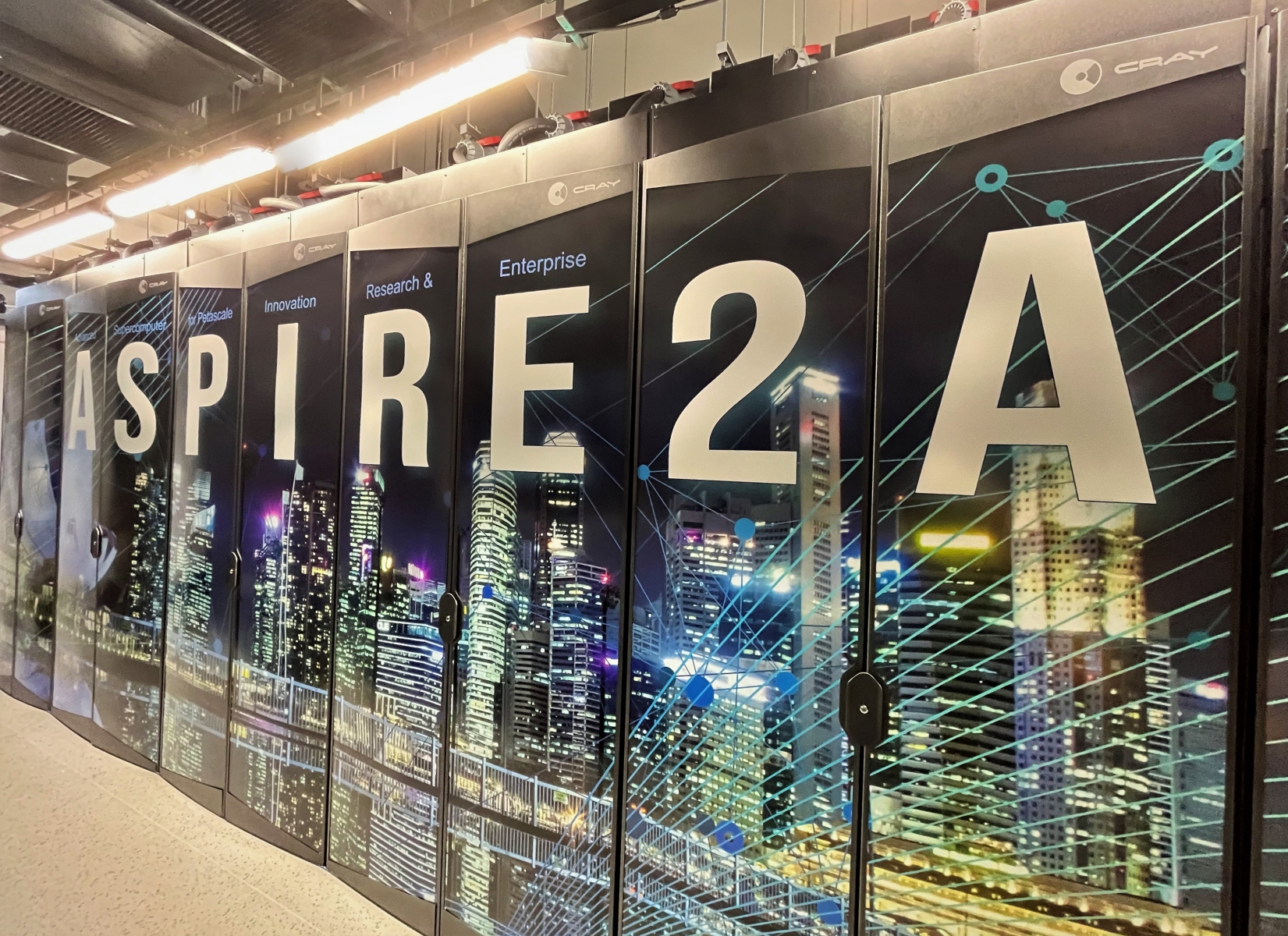 NSCC also leveraged made-in-Singapore technology such as KoolLogix's Cool Hall rear-door heat exchangers (RDHXs) that utilise a unique Thermosiphon gas system as well as an IOT sensor array and digital monitoring of the DC operations.
All these power-saving measures put in place have enabled the DC to achieve a target PUE (power usage effectiveness) of below 1.18. This is one of the lowest recorded PUEs for any Singapore-based DCs and is estimated to decrease NSCC's carbon footprint by up to 40%. The new DC has also been awarded a Singapore Building and Construction Authority (BCA) Green Mark Platinum Award (2021).
NSCC's tropical DC at NUS' i4 no longer serves as just a proof of concept as the deployment of the equipment and methods used in the DC, such as liquid-to-chip cooling, cold plates, natural air cooling, and waterless DC not only demonstrates how the use of technology, innovation and out-pf-the-box thinking can be used in developing more sustainable DCs, it also showcases what DC providers and enterprises can undertake to meet IMDA/BCA requirements and better contribute to the country's sustainability efforts. The NSCC DC serves as a model to lead the way in the development of next-generation DCs in Singapore.
The SBR Technology Excellence Awards is presented by Singapore Business Review Magazine. To view the full list of winners, click here. If you want to join the 2024 awards programme and be acclaimed for your company's outstanding contributions in pursuit of technological innovation, please contact Jane Patiag at jane@charltonmediamail.com.