Buy your next property in the comfort of your home
City Developments Limited (CDL) wins Digital - Real Estate Award in this year's SBR Technology Excellence Awards.
In real estate, property sales is a complex and time-consuming process, involving multiple parties, such as homebuyers, property developers, agencies, architects, conveyancing lawyers, banks, and regulators and numerous exchanges of documents. There was a shortage of digital platforms and players to optimise this multifaceted process, so CDL designed and built its own platform to bridge this gap. CDL Homes Sales (CHS) is an in-house proprietary electronic system designed to provide homebuyers with a more transparent and efficient buying experience – an industry-first platform by a property developer. This earned CDL the Digital - Real Estate Award at the 2023 SBR Technology Excellence Awards.
The awards programme commends the efforts and achievements of companies in Singapore that have strived to use digital innovations to transform their businesses into industry game changers.
The COVID-19 pandemic provided the perfect opportunity for CDL to re-imagine the customer journey throughout the overall homebuying process, as health and safety protocols restricted prospective buyers from physically viewing and purchasing homes. CDL quickly formulated a digitally-aided process that starts by streamlining balloting and buying for homebuyers and property agencies, leveraging digital technologies like mobility, onsite, and remote digital signing, and enhancing buyer experiences in satellite sales to achieve end-to-end orchestration between ecosystem partners.
CHS works with an agile approach in sales, as the platform was specifically designed and built to be optimised for users' unique needs, such as electronic balloting via Zoom, "thinking boxes" for buyers needing to review units, secure electronic signatures for multiple documents using DocuSign either onsite or remotely, and integrating Singapore's National Digital Identity (NDI) initiative, MyInfo, to securely retrieve and validate buyers' information.
By collating the processes onto a single platform, partners and agents can familiarise themselves with the processes, enabling collaboration and innovation that results in a smoother buying experience.
CHS delivers great buyer experiences and favourable business outcomes for partners, with measurable results such as the number of sales done digitally, customer satisfaction ratings, e- balloting hours, and paper usage yield operational data for the businesses involved.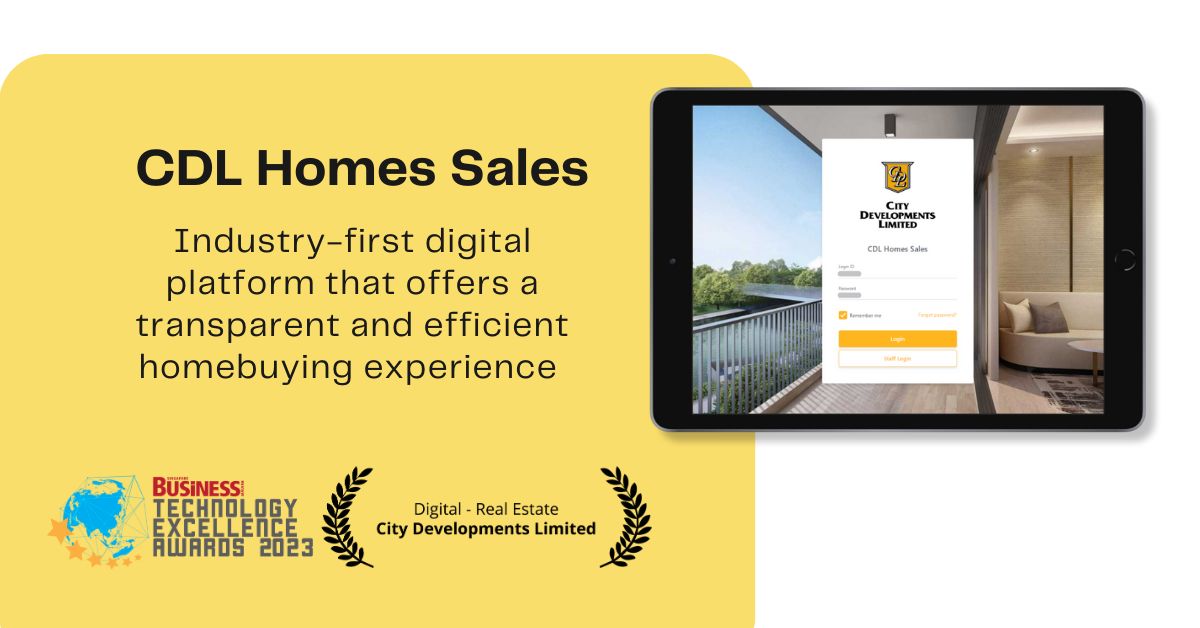 The cloud-based platform uses open APIs to deliver faster and more personalised experiences to customers and allows the use of industry-wide processes with traceability and accountability.
Reduced costs, increased generated revenue, and improved productivity of more than $150,000 in five projects (with more coming soon) can be directly attributed to the convenience offered by CHS. The platform's benefits also include increased efficiency across ecosystem reporting and management, increased speed of innovation for products and services, and sustainability.
To better serve the needs of buyers and users from various stakeholder groups, CDL plans to integrate CHS within the larger company in-house ecosystem, which comprises other digital solutions such as:
CityNexus mobile app:

First rolled out in 2019 for the office community at Republic Plaza, CDL's flagship commercial property, the app allows building users to gain access into buildings, call for lifts using contactless technology, and check the availability of parking lots in real time, amongst other value-added services.

My CDL Home app:

Allows homebuyers to view monthly updates on the construction progress of the development, including estimated Temporary Occupation Permit (TOP) and information specific to their apartment unit. The app also allows homebuyers to view their billing schedule and payments made, submit a request for change of their personal particulars, or schedule an appointment for key collection after TOP.
This planned integration of CDL's digital solutions will enable us to provide users with a more refined end-to-end customer experience.
The SBR Technology Excellence Awards is presented by Singapore Business Review Magazine. To view the full list of winners, click here. If you want to join the 2024 awards programme and be acclaimed for your company's outstanding contributions in pursuit of technological innovation, please contact Jane Patiag at jane@charltonmediamail.com.