Delta Secures Technology Excellence Award for IoT - Food Manufacturing Solutions
Its Smart Farm Solutions can be customised to grow up to 46 types of vegetables and herbs.
As Singapore works towards its 30 by 30 goal, in which it aims to increase the capabilities and capacity of its agri-food industry to locally produce 30% of its nutritional needs by 2030, the government has placed an emphasis on using technology to produce more food quantities whilst ensuring its quality. But given how the current production rate sits at 10%, there is an urgent need to accelerate the growing process with automated and advanced agricultural solutions. This is where Delta stepped in to introduce its Smart Farm Solutions.
Delta unveiled its 12-metre vertical containerised smart farm located at the Punggol Digital District in Singapore on 28th July 2021. As one of the four initial corporations joining the district, Delta integrated a broad range of energy-efficient industrial automation, thermal management and LED lighting systems to enable a 12-metre containerised smart plant factory capable of regularly producing vast amounts of pesticide-free vegetables with only a fraction of carbon and space footprint as well as less than 5% the water consumption of traditional farmland.
To optimise the profitability of the farm, they will be gathering data on the types and sizes of vegetables customers want to purchase, and then adapting their smart farming technology to create the ideal environment for producing such vegetables. The data collected by the container farm is linked to the Open Digital Platform (ODP), making it available not just to the firm but to other farmers in Singapore.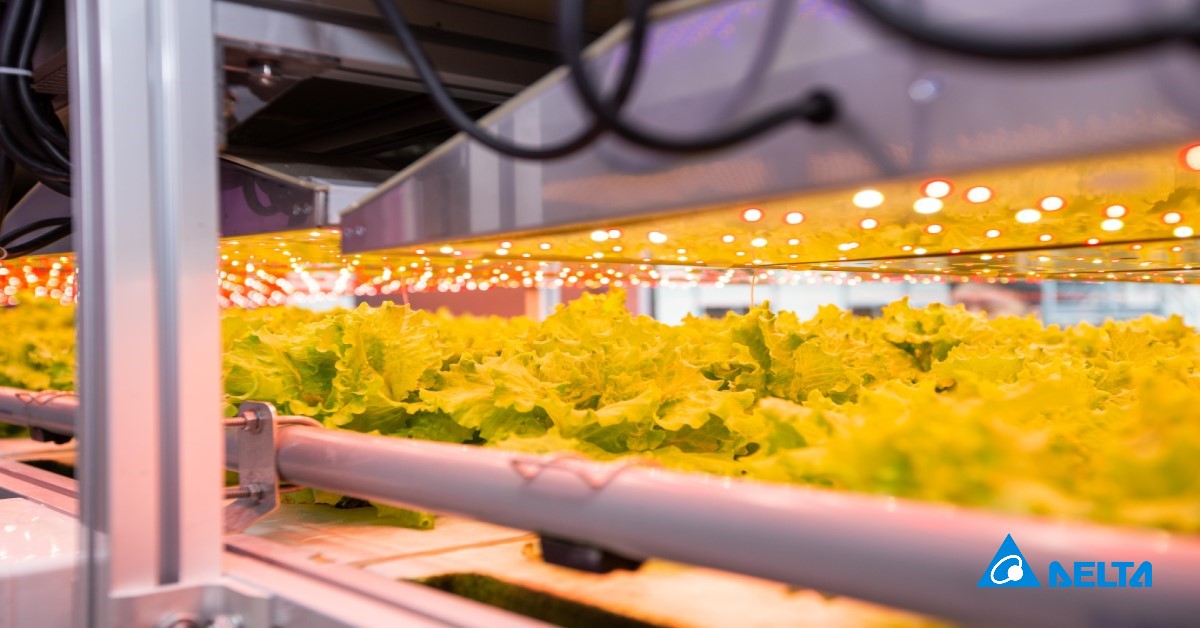 Unlike most hydroponics vertical farms, Delta's smart farm solution adopts a modular system, giving flexibility for the expansion of production scales and allowing farmers to extend their farms without having to worry about space constraints. The solution can also be customised to produce up to 46 different types of vegetables and herbs whilst ensuring a stable and constant supply of quality yield. With monitoring and data analytics on the environmental and machine metrics available via the solution, farmers can make more informed decisions about their production process.
In comparison with traditional farming methods, which require 40 to 45 days to complete growth, Delta's smart farming system allows harvesting in just 35 days with a more consistent weight and quality. Farmers will be able to harvest in lesser time and enhance their production efficiently and effectively.
Thanks to its smart farming solution with a modular design scalable to fit space and maximise output for Singapore's farmers, Delta won the IoT - Food Manufacturing Solutions award at the recently concluded Technology Excellence Awards, presented by Singapore Business Review. In its fourth year, the awards event lauds companies in Singapore that have pioneered ground-breaking IT products, solutions or initiatives that are leading the technological revolution and digital journeys of their respective industries.
Delta Manufacturing Execution System DIAMES, is mobilised for one-stop management of all key elements a plant factory requires. In addition to environmental monitoring, human resources, production scheduling, alarms, remote/real-time monitoring and material controlling, product traceability and cost analysis are also enabled.
Farmers can easily monitor and operate it from anywhere using smart mobile devices. The smart farm's microclimate system adjusts the temperature, wind field and lights to provide the ideal environment and economise on electricity consumption.
Watch the interview below to know more about their winning project: