DSTA recognised at SBR Technology Excellence Awards 2023
The Defence Science and Technology Agency received another feather in its cap for inspiring collaboration and its innovative IT approaches.
Innovation is often the result of strong and synergistic collaboration by multiple parties, sometimes cutting across government agencies and commercial entities, and it is no different for defence technology.
As one of Singapore's top agencies responsible for delivering state-of-the-art capabilities to make the Singapore Armed Forces (SAF) a formidable fighting force, the Defence Science and Technology Agency (DSTA) developed the Digital Factory to bring bright minds together in partnership to drive innovation, facilitate experimentation, and scale up digital solutions at an enterprise level effectively and efficiently.
For their efforts, the DSTA won the Digital - Non-Profit or Government Organizations Award at SBR Technology Excellence Awards 2023, which recognises Singapore organisations that leverage technology to achieve unparalleled innovations. DSTA received the accolade for adopting an ecosystem strategy where people, processes, policies, and technologies converge to achieve the optimum results in DSTA's journey to accelerate digitalisation.
Tapping a Unique Community for Collaboration
An amalgamation of DSTA's innovative approaches to deliver IT solutions, partner industry experts, and create a space for collaboration, the Digital Factory provides a platform for product owners, product managers, software developers, UX designers, and agile methodology facilitators to design, develop, test, and deploy user-centric and secure digital products up to three times faster. Such tech partnerships are also extended to key industry players to accelerate resource provisioning, creating capacity to enable a fast-paced development of DSTA's digital initiatives.
Beyond physical spaces, the Digital Factory also engages industrial and academic experts to tap their expertise in their appointed roles as Distinguished Engineers and Professors. Through these appointments, they provide technical leadership and guidance to facilitate further tech development and capability build-up in various areas such as cloud modernisation, DevSecOps implementation, and help refine existing methodologies for data science projects.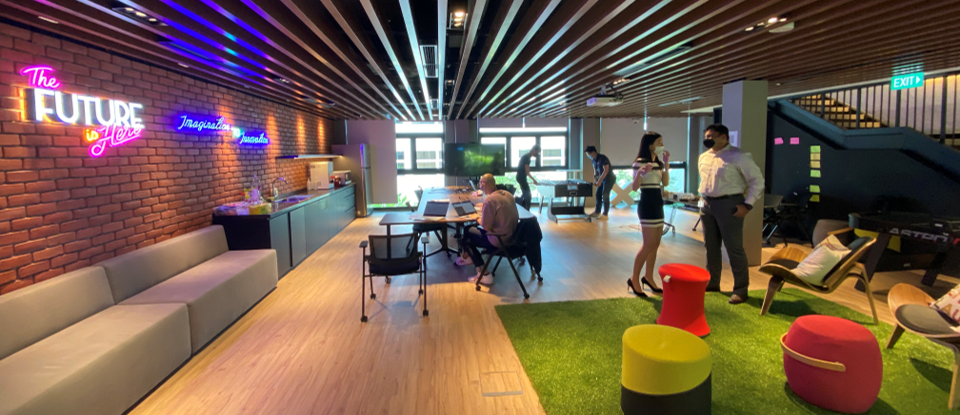 Achieving Speed and Security through Robust Digital Platforms
Another key pillar of the Digital Factory is the provision of a variety of resources to help product teams better focus on product development.
These include various tools that facilitate digital product development, such as a technology stack and a common digital platform. In particular, the common digital platform helps jumpstart the app development journey by providing a continuous integration and delivery pipeline that automates development orchestration, code quality and security scans, as well as deployment releases. This results in shorter release cadences to achieve agile software development. Its robust pipelines and processes also mean that the digital platform is aligned with the technology stack and qualified by cybersecurity agencies in MINDEF and the SAF. This results in apps that can be built in a shorter timeframe while remaining cybersafe by design.
Separately, the Digital Factory also features a suite of specially curated enterprise-level technical components for frequently used features to further speed up app development, and ensure the coherency of functionalities across all digital products.
Another of its draw is the Enterprise Data Analytics Platform. By pulling data from enterprise systems into a single data lake, the platform enables data sharing across departments and business domains to support operations and deliver policy insights for MINDEF and SAF. It also helps to build models that can be embedded into applications to make them smarter.
In addition, product teams are able to tap the expertise of a special policy enablement team in the Digital Factory to better manage policy or process re-engineering and achieve business transformations.
Developing a Reference Model
Various business domains have already benefited from the close collaboration enabled by the Digital Factory and its platforms.
In the medical realm, the Soldier Health and Mobile-Electronic Medical Records Team leveraged the Digital Factory's resources to develop a digital mobile healthcare platform to enhance soldier touchpoints for medical services. The Digital Factory has also been a tech enabler in the development of the OneNS app, a next-generation digital touchpoint for Singapore's National Servicemen.
The Digital Factory can provide a reference model with an established homogeneous process across the defence sector for those looking to improve app development agility and develop more cyber-safe products. In the future, the Digital Factory will be further scaled up to meet digitalisation requirements for MINDEF and the SAF.
The SBR Technology Excellence Awards is presented by Singapore Business Review Magazine. To view the full list of winners, click here. If you want to join the 2024 awards programme and be acclaimed for your company's outstanding contributions in pursuit of technological innovation, please contact Jane Patiag at jane@charltonmediamail.com.