PerkinElmer Scientific Singapore Pte Ltd Wins Machine Manufacturing Award for Innovative and Sustainable GC 2400- Platform
With the launch of this platform, the company is helping labs achieve unprecedented levels of productivity, efficiency, and sustainability.
In today's fast-paced world, laboratories face the challenge of maximising productivity whilst ensuring efficiency. As the trend towards hybrid work models gains traction, gas chromatography users demand remote access to their instruments regardless of location. At the same time, the imperative to adopt sustainable practices has become an urgent priority for businesses, including analytical laboratories.
To address these needs, PerkinElmer has launched its latest innovation, the GC 2400- Platform, a revolutionary gas chromatography system with breakthrough technologies that provide smart connectivity, simplified operations, and sustainable design. PerkinElmer's Singapore was selected as the only Manufacturing site for the PerkinElmer GC 2400- Platform for the global market.
By aligning with the United Nations' 2030 Agenda for Sustainable Development, the GC 2400- Platform offers advanced Gas Chromatography (GC2400), plug-and-play AutoSampler (AS 2400 Liquid Sampler), Headspace Sampler (HS 2400 Headspace Sampler) and Mass Spectrometry (MS 2400 SQ Detector) solutions.
Smart connectivity
The detachable touchscreen tablet allows for remote monitoring and control of workflows, including each instrument, from any location in the lab. The platform's web app also enables the monitoring and control of workflows from any location in the lab and beyond. The SimplicityChrom CDS Software enables intuitive data acquisition, processing, and review via both the detachable touchscreen and the web app. These capabilities enable accelerated, on-the-go decision-making and maximise lab productivity and sustainability.
Simplified operations
To maximise productivity and profit, labs need autosamplers that enable high throughput whilst also delivering simplified operations. The AS 2400 Liquid Sampler features plug-and-play towers that can be easily moved from one analytical channel to another, or from one GC to another, without the need for manual reconfigurations. Downtime is significantly minimised, enhancing the lab's overall output and ROI. It's the perfect balance between investment and profit, making the lab economically sustainable.
Sustainable solutions
The GC 2400- Platform also addresses the sustainability concerns of labs with its innovative features such as a built-in hydrogen sensor that is controlled by the SimplicityChrom CDS Software. When a hydrogen leak is detected, the system is immediately set in safety mode.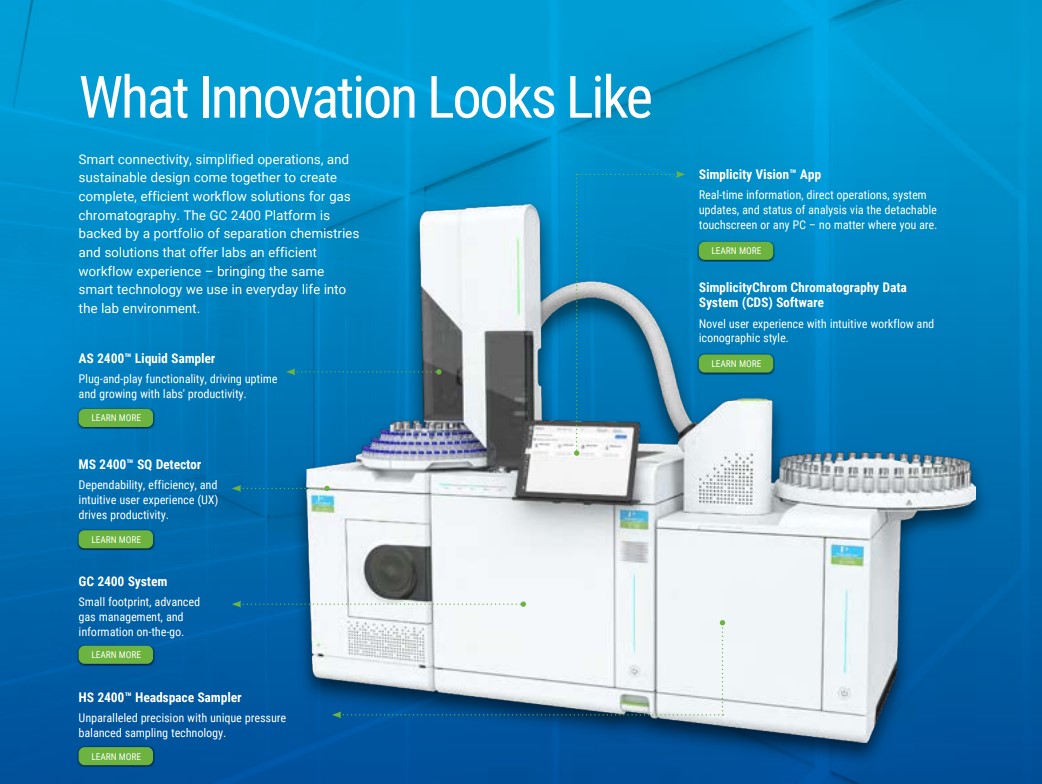 The PerkinElmer GC 2400- Platform enables laboratories to achieve sustainability, efficiency, flexibility, and scalability. The GC 2400- Platform is a comprehensive workflow with a small footprint that saves valuable bench space. The platform is also easily reconfigured with different autosamplers and injectors, with the SimplicityChrom CDS Software auto-recognising and auto-configuring them. Flexibility and automation such as this not only increase efficiency but also allows for the adoption of scalable solutions to match growing laboratory needs.
With these innovative efforts, PerkinElmer Scientific Singapore Pte Ltd has won the prestigious Machine - Manufacturing award at the 2023 SBR Technology Excellence Awards.
PerkinElmer is a leading provider of analytical instruments, services, and solutions to laboratories worldwide. The company is committed to developing innovative solutions that help customers sustainably achieve their goals.
With the GC 2400- Platform, PerkinElmer has once again demonstrated its commitment to innovation, sustainability, and excellence in the field of gas chromatography.
The SBR Technology Excellence Awards is presented by Singapore Business Review Magazine. To view the full list of winners, click here. If you want to join the 2024 awards programme and be acclaimed for your company's outstanding contributions in pursuit of technological innovation, please contact Jane Patiag at jane@charltonmediamail.com.