Re-imagining Enterprise Experiences - Increased focus on employee experiences
The pandemic has given an exponential push to digitalisation across public and private organisations. It has fundamentally changed how we work, learn, connect, and shop. Whilst the underlying trend of increasing digital services and content consumption was prevalent due to the introduction of smart devices and 4G/5G connections, the pandemic has essentially accelerated the digital timeline, leap-frogging by about five years.
The good news: organisations are becoming bolder in their transformation journeys and thinking beyond 'Customer / Citizen Experiences' and extending their mindset to 'Enterprise Experiences'. The enterprise experience takes a holistic view of the organisation and the many different roles — from employees to partners — whose own experiences ultimately shape the experiences delivered to the customers/citizens. This translates into the need to define a common and inclusive vision or a 'North star' for enterprise experiences. It serves as a common set of principles and goals to deliver best-in-class citizen and employee experiences.
To build an effective enterprise experience, organisations will need to build a strategy on how they can do the following:
1. Elevate human-technology partnerships: Embed the enterprise experience everywhere, which includes understanding how the organisation's purpose: shapes the customer/citizen, employee, and ecosystem partner experience; ensures a continuum between them; and establishes the human-centred design that is the foundation of innovation.
2. Cultivate smart leadership, skills, and culture: Develop leaders with a combination of business and technology acumen and the capacity for open engagement beyond traditional industry networks, who are accountable for creating a continuous learning and skills culture and proactively managing the redeployment of skills along intelligent workflows.
3. Perform with purposeful agility: Drive purposeful agility that optimises the flow of value and time to market, infuses structure to avoid agile chaos even as the organisation lets go, and unfreezes the organisation to move fast as it reinvents its core.
At IBM, we have been working tirelessly to help our clients transform and build better enterprise experiences. The Employee Experience Compass is a diagram that we use to help organisations improve and align their transformation initiatives. The Employee Experience Compass captures critical dimensions of the employee experience which can be harnessed to improve the overall enterprise experience.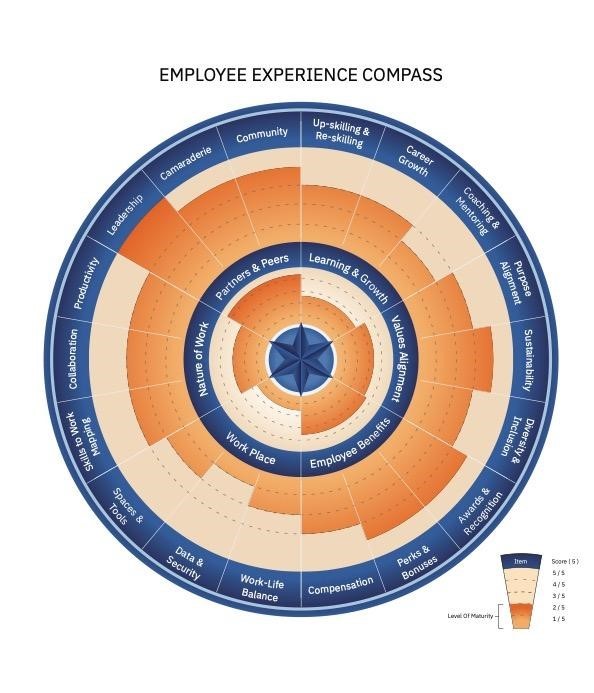 Employee Experience Compass
The six dimensions of the Employee Experience Compass describe what improvements we can bring to people, processes and systems. Each of these dimensions is made up of three subdimensions. Below are the descriptions of these dimensions.
1. Learning & Growth
How employees experience Learning and Growing their expertise in the organisation. It entails formal and informal aspects of the process.
Upskilling & Reskilling

Career Growth

Coaching & Mentoring
2. Values Alignment
How employees feel their values are aligned with the organisation, providing them with a sense of purpose and belonging.
Purpose Alignment

Sustainability

Diversity & Inclusion
3. Employee benefits
How employees feel they receive fair benefits from the organisation in terms of material compensations and immaterial gains.
Compensation

Perks & bonuses

Awards & Recognition



4. Work Place
How employees perform their day-to-day work using the necessary space and tools provisioned and approved by the organisation.
Space & Tools

Data & Security

Work-Life Balance



5. Nature of Work
How employees execute all aspects of work and how they spend their time in each aspect, e.g. domain-specific, administrative, financial, communications, give back etc.
Skills to Work Mapping

Collaboration

Productivity
6. Partners & Peers
How employees work with others in the organisation on a long-term basis, according to their roles and responsibilities. This may include formal and informal relationships.
Leadership

Camaraderie

Community
The Employee Experience Compass is used to chart the current maturity level of each dimension and prioritise the areas where the organisation wants to transform the most. Using the compass, organisations may find inspiration to ideate for new initiatives or find it necessary to re-align or re-classify ongoing initiatives, resulting in timeline adjustments. Improving employee experiences is the most critical strategic move for organisations today, to remain competitive in the future.