Who are eligible for the $500m Jobs and Business Support Package?
The package consists of the Small Business Recovery Grant and the Jobs Growth Incentive.
Singapore has unveiled a $500m jobs and business support package to support workers and businesses in industries where recoveries are slower.
The package has two forms of assistance, the first of which is the Small Business Recovery Grant which provides one-off cash support to small businesses most affected by COVID-19 measures in 2021.
Eligible firms will receive a payout of $1,000 for each local employee — including those who are also shareholders and directors of the company — with mandatory CPF contributions in the period from 1 November 2021 to 31 December 2021, up to a cap of $10,000.
Sole proprietorships and partnerships run by at least one local business owner but do not hire any local employees, meanwhile, will receive a flat payout of $1,000.
Only Singapore citizens or permanent residents are considered "local employees" and "local business owners."
To avail of the payout, firms must also meet the following requirements:
Should be a 'live' business entity that is physically present in Singapore and registered no later than 31 December 2021.

For sole proprietorships, partnerships, limited liability partnerships, and companies, a "live" status with the Accounting and Corporate Regulatory Authority will be needed.

For operators and stallholders in markets, hawker centres, coffee shops, food courts, and canteens, an active Singapore Food Agency license should be presented.

Societies in the performing arts and arts education; museums, art galleries and historical sites; and sports sectors have to be registered under Section 4 or 4A of the Societies Act.

Has an annual operating revenue of less than $100m, filed with Inland Revenue Authority of Singapore (IRAS) in the Year of Assessment 2021 by 31 December 2021; or have fewer than 200 employees as of 31 December 2021.
Must be in one of the following sectors:
- Food and Beverage
- Hawker Centres, Markets, Coffeeshops, Food Courts, and Canteens
- Retail
- Performing Arts and Arts Education
- Sports
- Cinema Operators
- Museums, Art Galleries, and Historical Site
- Indoor Playgrounds and other Family Entertainment Centres
- Tourism, Hospitality, Conventions, and Exhibitions
Specific qualifications for each sector can be seen below: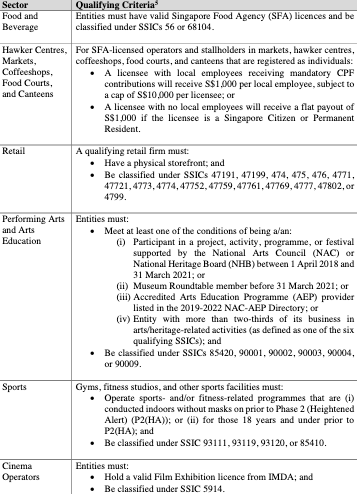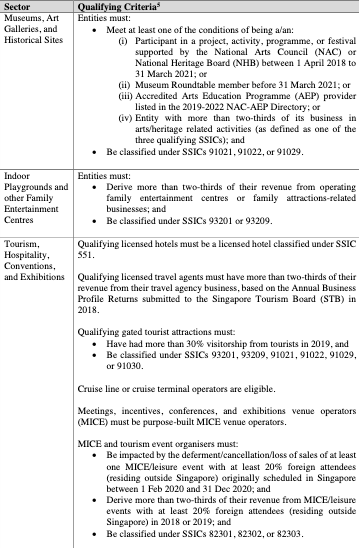 Firms eligible for the grant will receive a notification from IRAS starting June 2022.
As for the Jobs Growth Incentive, the MoF said the salary support scheme will cover "mature workers aged 40 and above who have not been employed for six months or more, persons with disabilities, and ex-offenders."
The rates for the assistance, however, have been "stepped-down" following improved market conditions. The scheme will last until September 2022.