File photo from Unsplash.
Chart of the day: Retail and F&B sectors recovers in Q1
F&B, however, weakened in February and March.
This chart by Savills Research and Consultancy shows the pace of growth in sales in the retail and food and beveerage (F&B) sectors amidst higher spending during the Chinese New Year and easing of restrictions on dining.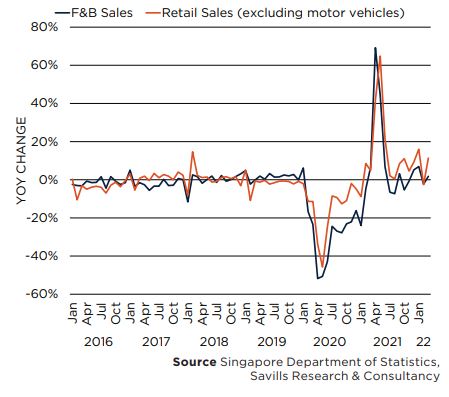 The chart shows how retail and F&B sales plummeted at the height of the pandemic in 2020 and surged in 2021 and evened out again in the first quarter of 2022. The retail trade sector grew by 4.7% year-on-year (YoY) in the first quarter whilst the F&B services sector reversed a two-quarter decline with a 2.1% YoY growth.
The growth in the retail sector was owed to higher spending on segments including fashion apparel, cosmetics as well as watches and jewellery (excluding sales in motor vehicles).
Meanwhile, the increase in dining group sizes from two to five at the end of 2021 boosted the F&B sector in January which rose by 6.9% YoY on the back of sales recovery in restaurants and food caterers. Despite the continued sales rebound in food caterers, F&B sales still started to weaken over the next two months ending March alongside slower sales growth in restaurants and fast food outlets.