Clearer and more vibrant sounds with Sound Blaster X5
Creative Technology Ltd wins in this year's SBR Technology Excellence Awards.
Producing ground-breaking innovations in the audio industry can be challenging, as such initiatives require a large amount of engineering and design expertise. Creative Technology pooled its best talents and produced the Sound Blaster X5, their latest USB digital-to-analogue converter equipped with audiophile-grade components to achieve exceptional audio quality.
As a headphone amplifier and audio hub, the Sound Blaster X5 delivers high-resolution lossless playback in 32-bit / 384 kHz over PCM with an ultra-high dynamic range of up to 130 dB DNR. With many more features, the Sound Blaster X5 earned the company the Hardware - Electronics Award at the 2023 SBR Technology Excellence Awards.
The awards programme recognises the achievements and success of companies in Singapore in providing world-class products and services aided by digital innovations, and Creative Technology distinguished themselves with their one-of-a-kind Sound Blaster X5 that offers unparalleled performance in the audio industry.
The Sound Blaster X5 supports audio decoding formats in DoP128 and DSD256 for high-fidelity audio streaming, ASIO 2.2 for low latency playback and recording, as well as easy access to multiple audio inputs and outputs. Users can expect zero audio distortion thanks to the oversampled multi-bit modulator that causes an incredibly low Total Harmonic Distortion rating of 0.00018%, on top of a wide frequency response of 10Hz to 90kHz.
Peripherals such as studio-grade headphones that impede up to 600 ohms as well as the most demanding planar-magnetic headphones, to sensitive in-ear monitors (IEM), the Sound Blaster X5 handles them effortlessly with its dual DAC coupled with two dedicated proprietary Xamp circuits that amplify each of the left and right channels separately in isolation throughout the entire chain.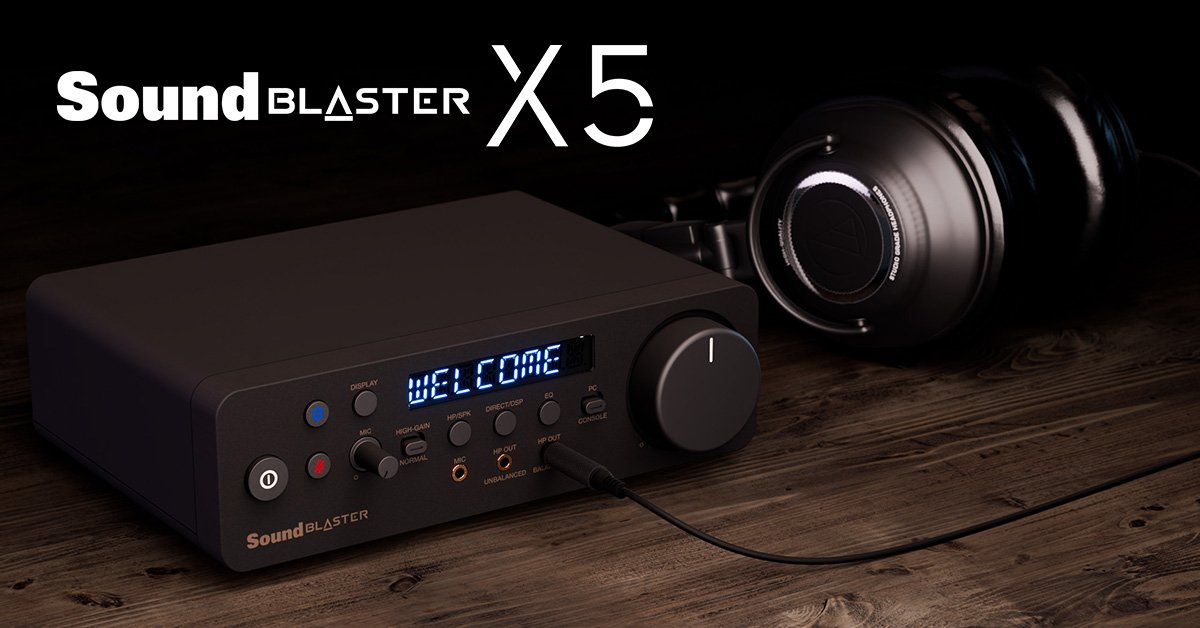 For less than USD 300, the Sound Blaster X5 effectively eliminates in-circuit interference, noise, and cross-talk to deliver high fidelity and a fully balanced headphone audio experience. Customisation of audio signatures is also possible with the Sound Blaster X5 through the use of the Creative App on PC, Mac, Android, or iOS, where a 10-band equalisation frequency graph can be used to make any adjustments.
Audiophiles can add on Acoustic Engine effects like Surround, Crystalizer, Bass or Dialog+, or use CrystalVoice to improve communication quality, and gamers can utilise Scout Mode which enhances in-game audio cues to highlight details for a competitive edge.
Gaming consoles, DVD players, and entertainment systems are compatible with the Sound Blaster X5, facilitated by the DAC's two-way RCA and TOSLINK Optical connectors, a convenient USB-C audio and power port, and a 3.5 mm microphone-in port with an easy-to-access mic gain knob.
Gold plating is used for all 3 ports for better performance, and a Bluetooth® 5.0 receiver and a dedicated USB-A host audio port allow the Sound Blaster X5 to connect to wireless audio transmitters.
Creative Technology Ltd developed the Sound Blaster X5 to be a powerful yet low-powered USB DAC, able to drive high-end headphones with just the power from a standard USB port. This, coupled with the auto-upgrade feature for its firmware and software drivers enable it to be continuously upgraded for optimum performance and be continually relevant.
The SBR Technology Excellence Awards is presented by Singapore Business Review Magazine. To view the full list of winners, click here. If you want to join the 2024 awards programme and be acclaimed for your company's outstanding contributions in pursuit of technological innovation, please contact Jane Patiag at jane@charltonmediamail.com.