Wavin Singapore wins for launching an innovative fitting solution
The Wavin Tigris K5/M5 won in the Construction Technology category at the SBR International Business Awards.
Water damage is the second most frequent cause of loss during building projects. Pressure testing with air assures that there will be no defects caused in electrical installations, new flooring, or fresh drywall.
World-leading solutions provider for the building and infrastructure industry Wavin Singapore Holding Pte Ltd (Wavin) has expanded its line-up of innovative pipe and fittings solutions with the launch of the Wavin Tigris K5/M5 in the APAC region.
Released in APAC in 2021, Wavin Tigris K5/M5 is the world's first fitting with an acoustic leak alert designed with the needs of contractors and built installers in mind.
It is the next generation of the successful Wavin Tigris K1/M1 which has been used in various building constructions across the globe, APAC, and Singapore. This includes the Outram Community Hospital located within Singapore General Hospital, the eight-story Tampines Care Home, and the Watercove Seafront Village.
During the necessary leak and pressure tests using air, this cutting-edge fitting enables quick and effective detection of leaks that help identify the loose fittings in any construction and built environment: any unpressed fitting will make a loud and clear whistle sound of up to 80dB, making it easier to locate the source of the leak. The Wavin Tigris K5/M5 is the first and only fitting to be equipped with such a leak detection system.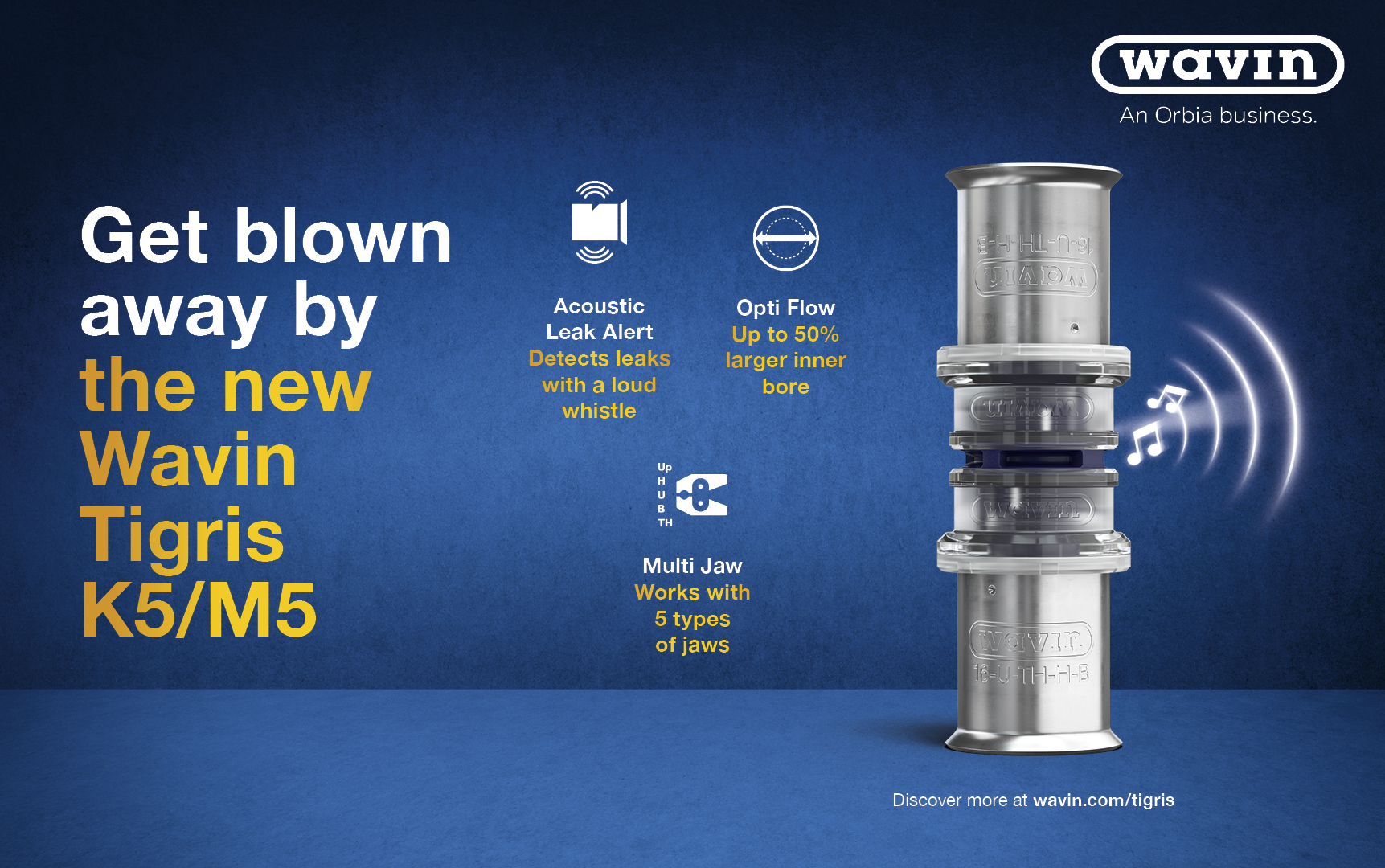 Leakage testing using air has a number of benefits, including the avoidance of bacterial (Legionella) development as a result of water stagnation between testing and use. The air testing method operates at 0.15 bar is rapid, clean, safe, and is the ideal tool for inspecting prefabricated installations.
Pressure tests in the winter are also now made possible without worrying about pipes freezing. On top of this, there is no need to have a water supply on-site, as it is sufficient to use a basic air compressor.
But that's not all, there are more benefits that this fitting brings:
The Wavin Tigris K5/M5 fittings' multi-jaw feature makes it simple for installers to switch to the Tigris without purchasing new equipment or tools. At the same time, they can keep their system warranty because it works with the majority of pressing jaw profiles.
It also has optimal flow due to its enlarged inner bore, which provides up to 50% more flow area than a standard radial press fitting. This reduces pressure losses and allows for a better flow rate.
For this innovation, Wavin was rewarded under the Construction Technology category in the recently concluded SBR International Business Awards.
This prestigious annual awards programme hosted by Singapore Business Review honours foreign companies in Singapore and recognises outstanding projects that successfully earned them a foothold in the Lion City.
++++
Orbia's Building and Infrastructure business Wavin is an innovative solutions provider for the global building and infrastructure industry. Backed by more than 60 years of product development experience, Wavin is advancing life around the world by building healthy, sustainable environments for global citizens. Whether it's to improve the distribution of clean drinking water, to make sanitation accessible for everyone, to create climate-resilient cities, or to design comfortable living spaces, Wavin collaborates with municipal leaders, engineers, contractors, and installers to help future-proof communities, buildings and homes. Wavin has 12,000+ employees around 65 production sites worldwide, serving over 80 countries through a global sales and distribution network.
The SBR International Business Awards is presented by Singapore Business Review Magazine. To view the full list of winners, click here. If you want to join the 2024 awards programme and be acclaimed for your company's outstanding contributions in your organisation's growth, please contact Bianca Peñaranda at bianca@charltonmediamail.com.