Manufacturing PMI to remain expansionary in H1 despite COVID threats—RHB
The manufacturing PMI inched up by 0.1 to 50.7 in December 2021.
Singapore's manufacturing Purchasing Manager's Index (PMI) will continue to be expansionary in the first half of the year despite threats of new coronavirus infections after posting an uptick in December 2021, according to RHB.
The manufacturing PMI rose by 0.1 to 50.7 in December 2021 from 50.6 in the previous month. The country's manufacturing PMI continues to expand, remaining above 50, for 18 straight months.
"The stronger end to 2021 PMI, after consecutive declines from July to November, puts forth stronger footing for the momentum of manufacturing activities heading into the first half of 2022," RHB said.
"PMI indices such as input prices, supplier deliveries, and order backlogs have started to decline which may indicate improvements in supply chain issues," it added.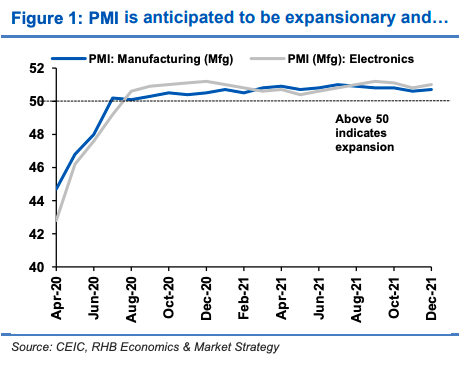 RHB also noted that the December 2021 manufacturing PMI is in line with the rising sentiment in manufacturing across the region, citing the IHS Asean PMI which increased to 52.7 in December from 52.3.
It also said that China's official PMI increased to 50.3 from 50.1.
"This may stipulate improvements in manufacturing demand, but downside pressure persists from instability in controlling infections cases. Additionally, risks from the spread of Omicron virus remain as infections continue to rise across the region and government responses are still fluid," RHB said.
The electronics PMI in Singapore in December last year also increased to 51 from 50.8.