M1 wins award for launching the world's first and largest Maritime 5G testbed
It will execute a 5G standalone offshore coverage for the Southern coast of Singapore.
Last year, M1 Limited (M1) announced its ambitious multi-year project that aims to provide ubiquitous 5G standalone (SA) offshore coverage for the Southern coast of Singapore, including the surrounding waters of the southern islands.
In collaboration with the Maritime and Port Authority of Singapore (MPA) and the Infocomm Media Development Authority (IMDA), M1 will provide a 5G SA network to test, develop, and deploy new maritime 5G use cases and applications. This marks the world's first and largest maritime testbed at sea.
M1's 5G SA network provides low-latency, responsive, secured, and high-throughput mobile connectivity, ensuring more precise and reliable communications between the ships and the port.
It has the capability to resolve long-standing challenges such as manpower constraints, safety, and efficiency issues. By resolving this, 5G will become the natural technology of choice for the maritime industry, unlocking possibilities for new 5G use cases and applications.
This is an important step in the maritime industry's digital transformation efforts, to attain M1's goal of becoming the next engine of growth for Singapore.
Most recently, M1 unveiled its 5G SA-powered solution-in-a-box suite which includes M1 SMARTsafe, M1 SMARTsecure, M1 SMARTasset, and M1 SMARTops, the first of its kind in Southeast Asia.
Under SMARTsafe, Fullerton and M1 will collaborate to provide 5G-powered telemedicine services for the maritime sector, including live teleconsultations with shore-based healthcare professionals and 5G-enabled drones to deliver medicine to ship crews from the shore.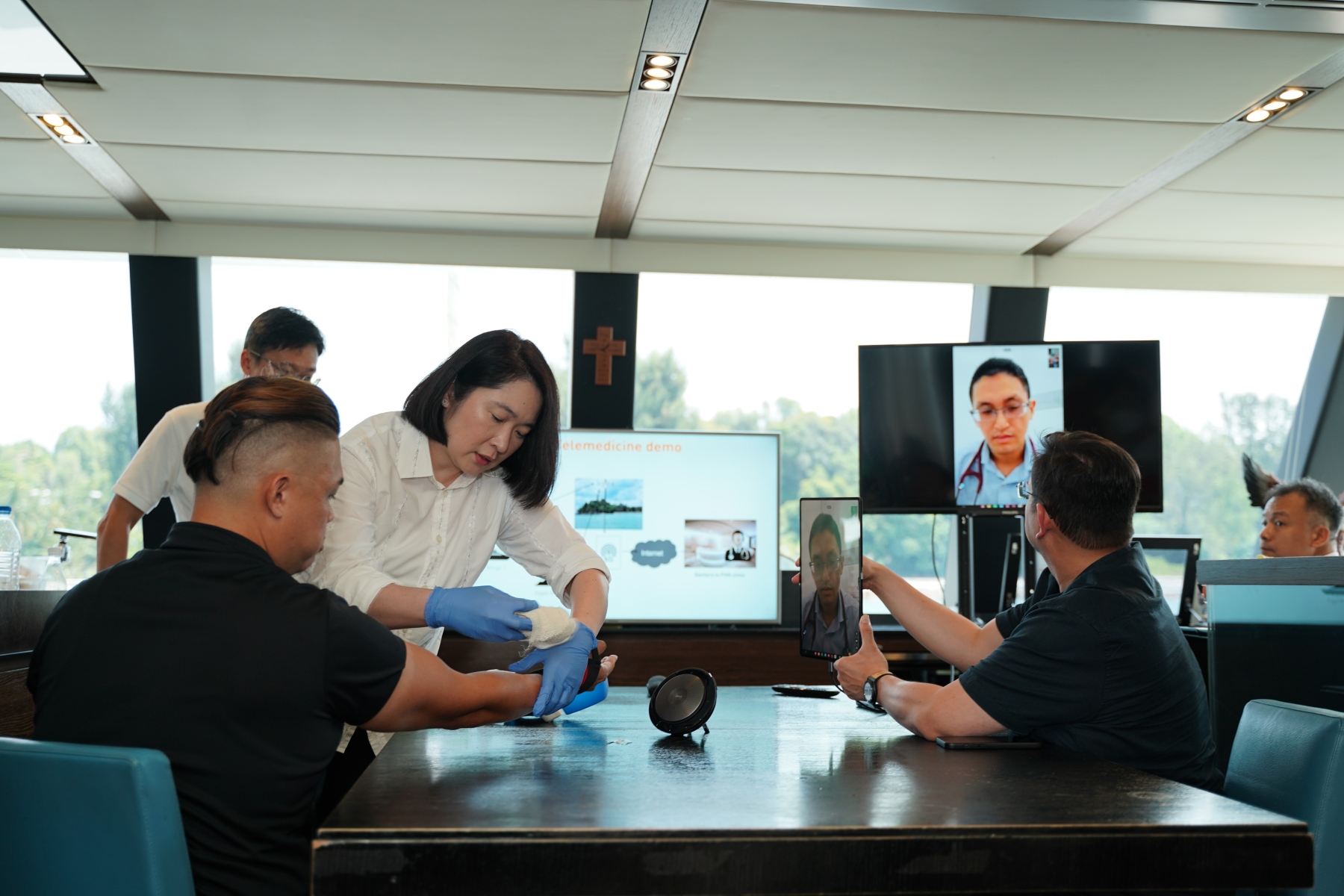 As part of their SMARTsecure solution offerings, they have launched a 5G-powered maritime surveillance for onboard security, allowing vessels at sea to set-up real-time surveillance systems and receive seamless footage with 5G connectivity offshore.
This marks the next phase of their wider efforts to provide ubiquitous 5G SA offshore coverage for the Southern Coast of Singapore and continued progress on the Maritime 5G testbed since their announcement last August.
With the roll-out of their latest 5G-enabled commercial solutions, M1 continues to lead the way in transforming maritime operations, taking steps to make maritime 5G a reality. From port to sea, M1 will continue to accelerate 5G-enabled revolutionary advancements with innovative 5G solutions and use cases to improve business efficiency and transform Singapore's maritime economy.
For their achievements in 5G maritime innovations, M1 has been given the Telecommunications award in the recently concluded SBR National Business Awards.
The prestigious annual awards programme launched in 2016 honours local and homegrown companies in Singapore and recognises outstanding projects that greatly contribute to Singapore's fast-growing economy.
The SBR National Business Awards is presented by Singapore Business Review Magazine. To view the full list of winners, click here. If you want to join the 2024 awards programme and be acclaimed for your company's exceptional contributions to the local business landscape in Singapore, please contact Bianca Peñaranda at bianca@charltonmediamail.com.