(L-R) Timothy Charlton, Chief Editor of Singapore Business Review Magazine, and Thomas Laboulle, Chief Executive Officer of Toku
Toku Wins Enterprise Software - IT Services Award at SBR Technology Excellence Awards
Its contact centre solution allowed an enterprise business with complex operations in APAC to empower agents, and enhance customer experience through a centralised platform.
Cloud communications technology provider Toku brought home the win in the Enterprise Software - IT Services category at the recently held SBR Technology Excellence Awards for their customisation of a complete, integrated contact centre solution with its own application programming interface (API) and customer relationship management (CRM) integration.
Adopted by a leading on-demand services platform
The contact centre solution has been adopted by an enterprise customer that is one of the leading platforms for on-demand services in APAC.
Toku Contact Centre includes separate agent-view and admin-view interfaces. The agent portal enables agents to make outbound and receive inbound phone calls, whilst the admin portal acts as a centralised portal for managers and team leaders. Through this, the client has been able to empower their agents with omnichannel communications and provide the same portal experience for all agents across the region, either from in-house or BPOs.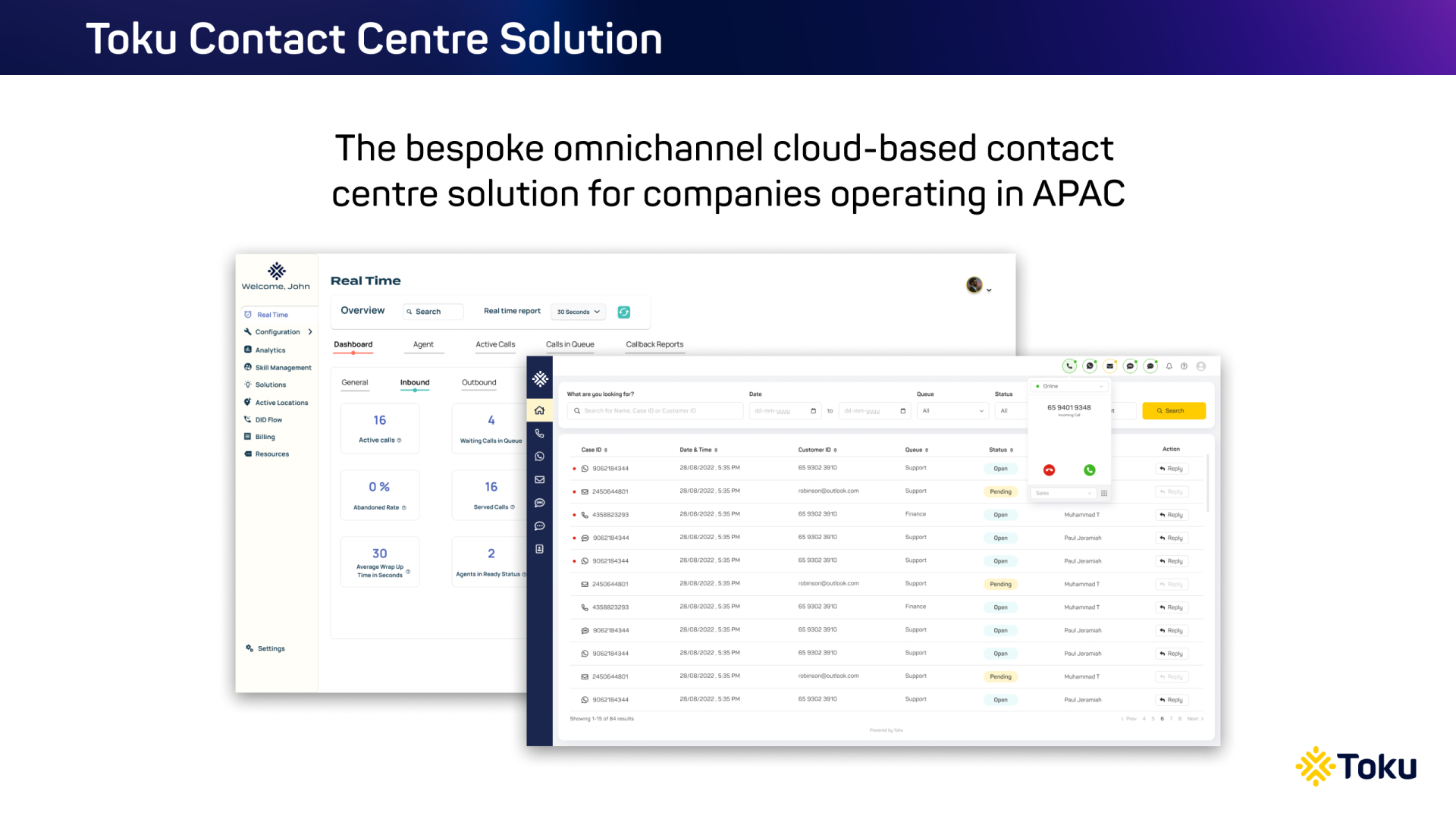 Centralised management and enhanced productivity
The contact centre solution also allowed the business to manage their agents, configure call flows, get real-time productivity reports, and monitor recorded and live calls from a centralised admin view.
Having a very complex operation that spans more than 10 markets, they also needed to maintain a level of standardisation across the customer experience. The client needed to work with a single technology provider who could integrate the different pieces together for them.
One-Stop provider with hybrid expertise
Toku's extensive telephony expertise in the APAC region with hybrid expertise in cloud communications enabled the client to establish connectivity and a local presence in all the markets they operated in within a short period of time whilst improving quality and latency and also providing a local presence in the markets they operate. It also boosted the client's operational efficiency by consolidating all their communications and connectivity needs with just one vendor and eliminated the hassle of hunting around for and dealing with multiple vendors.
Seamless flow of analytics and data integration
Toku understands the value of integrating data flows to enhance the customer experience and improve operational efficiency.
This is why our APIs are designed with flexibility in mind so that customers can seamlessly integrate insights gathered through them with insights from their products for improved understanding and decision-making.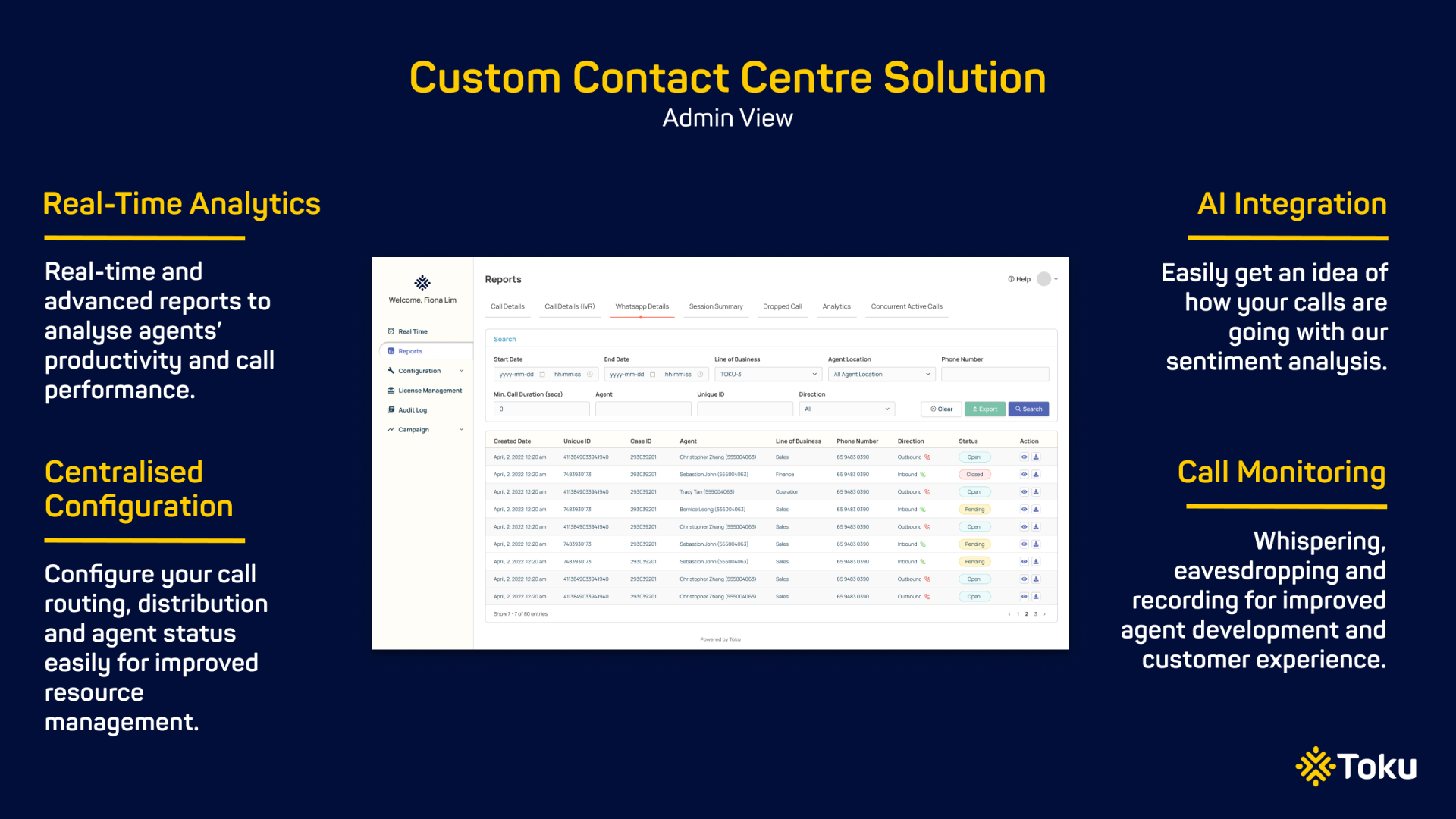 In fact, Toku Contact Centre was built to be enrichable with Toku's own in-app voice API + SDK. This integration enables the company to deliver a more comprehensive solution, offering the expertise required to seamlessly connect the contact centre with in-app voice capabilities.
The contact centre platform also fully integrated with the company's Toku for Salesforce solution, which made possible two things:
It helped boost agent productivity by making and receiving calls without leaving the CRM

It helped agents access all the customer data and call details they needed in one place
Empowering strategic decisions with comprehensive reporting
Integrations also allow enterprises to link up their contact centre with the analytics from their in-app voice calls, sync the customer data properly and customise data integrations on the backend.
The result?
More comprehensive, accurate and insightful reporting that informs strategic decisions in real-time.
Whilst the customer's communication channels have evolved into a healthy mix of chat and voice calls, moving forward the business aims to keep as many of these interactions on the app itself. This will allow them to be more in control of their customer experience end-to-end, whilst leveraging the valuable insights they are collecting through the data integration.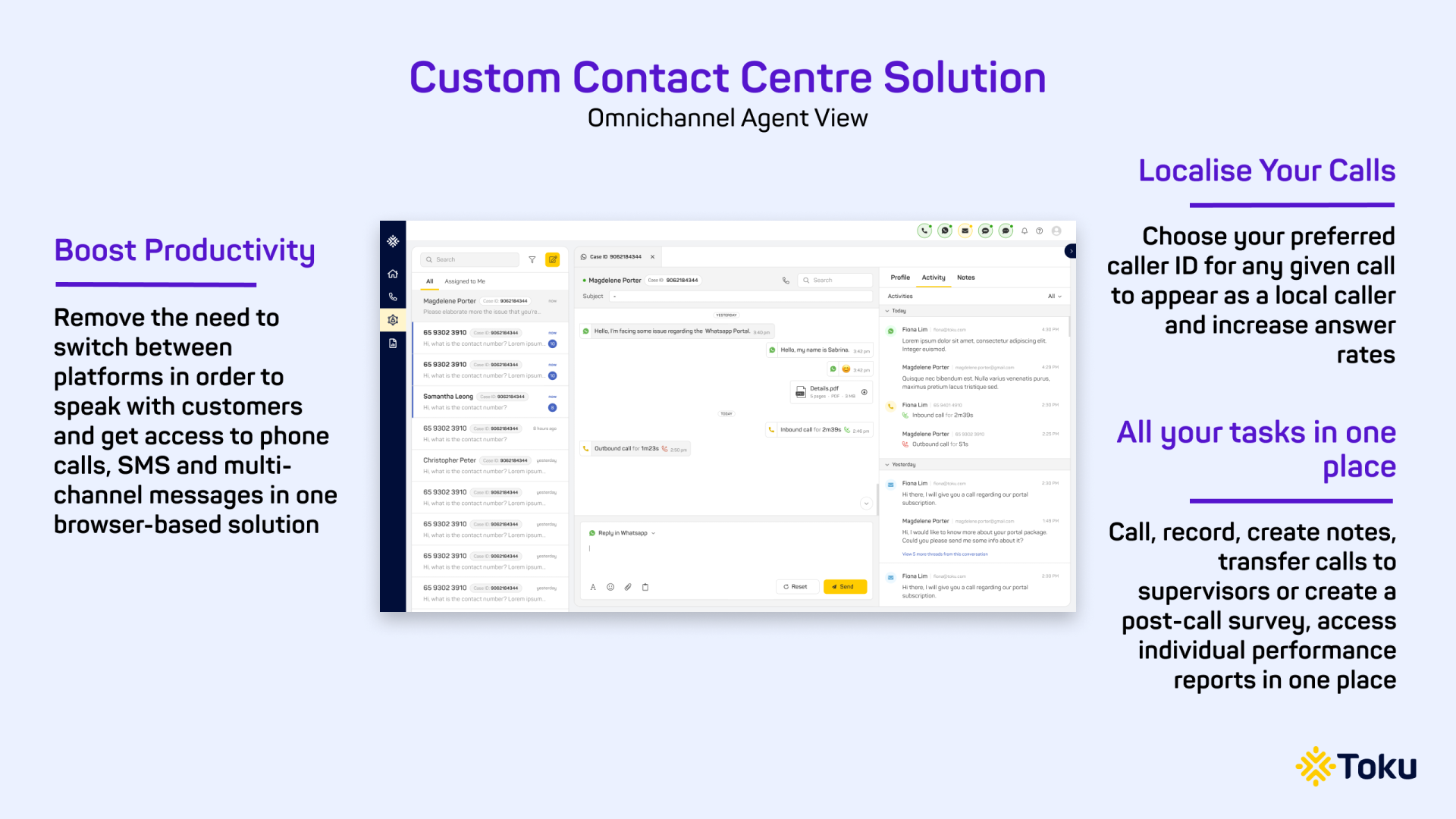 In conclusion, by leveraging Toku's innovative contact centre solution and its powerful integrations, enterprises can streamline communication channels, and enhance their customer experience whilst capitalising on valuable insights gleaned from better data integrations.
The SBR Technology Excellence Awards is presented by Singapore Business Review Magazine. To view the full list of winners, click here. If you want to join the 2024 awards programme and be acclaimed for your company's outstanding contributions in pursuit of technological innovation, please contact Jane Patiag at jane@charltonmediamail.com.