Stock photo. Credits to Unsplash.
Chart of the day: Higher demand and higher prices boosts domestic wholesale trade
The year-on-year increase was led by the chemicals and chemical products industry.
This image chart from the Department of Statistics shows the year-on-year (YoY) changes in the second quarter of domestic wholesale trade in Singapore with chemicals and chemical products leading the way with an increase of 65.5% YoY.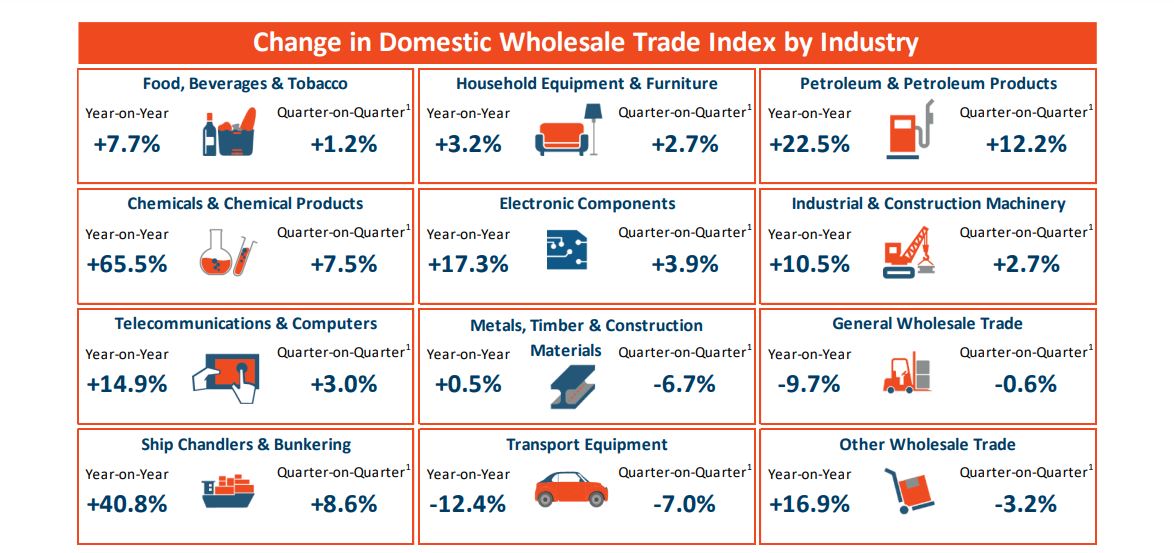 This was due to improved demand and higher prices of petrochemicals. The Ship Chandlers & Bunkering and Petroleum & Petroleum Products industries expanded by 40.8% and 22.5% respectively, due largely to the increase in oil prices. Similarly, domestic sales of the Electronic Components industry grew by 17.3%, attributed to increased demand and higher prices of electronic components.
ALSO READ: DBS' DDEx doubles trade volume in June from April
Meanwhile, domestic sales of the Transport Equipment industry decreased 12.4% due to lower demand for motor vehicles, whilst the General Wholesale Trade industry contracted by 9.7%. These two segments were the only recorded YoY decreases in the second quarter.